Bucha Body Count Continues Rising Two Weeks Later: 'They Shot Everyone'
The civilian death toll in Bucha, Ukraine, is continuing to rise as local authorities uncover the remains of those who were allegedly massacred by the Russian military.
On Tuesday, Bucha Mayor Anatoliy Fedoruk claimed that 403 bodies had been recovered in the Kyiv suburb of 37,000. On the following day, authorities recovered at least 17 additional bodies from a single mass grave, according to The Kyiv Independent.
A total of 72 bodies have reportedly been recovered from the grave, with dozens more assumed to still be underground. Many more bullet-ridden bodies have been found scattered around the town. The Ukrainian government and others have accused Russia of war crimes for deliberately targeting civilians.
"They shot everyone. It was enough to speak Ukrainian," Ruslan Kravchenko, Bucha's chief regional prosecutor, told The Kyiv Independent, reportedly while wearing a jacket with "War Crimes Prosecutor" written on the back.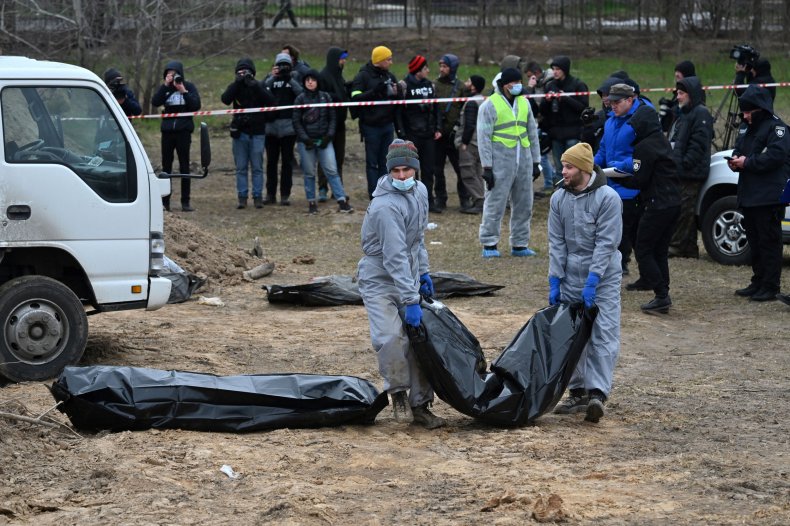 "These people had no weapons," added Kravchenko. "We have enough evidence to qualify this as a war crime."
Andriy Novikov, an investigator with Ukraine's National Police, told the outlet that recovery teams had discovered bodies that included the burned remains of "a mother with two children." Novikov said that the family had been shot by Russian troops before their bodies were burned.
Ukrainian forces retook control of Bucha earlier this month. Soon after, Russia's alleged crimes in the town drew international condemnation when images emerged of civilian corpses laying on streets, some who had apparently been shot at close range with hands tied behind their backs.
On Tuesday, Russian President Vladimir Putin claimed during a press conference with his Belarusian counterpart Alexander Lukashenko that the images of dead bodies in Bucha were "fake," according to Reuters.
Russian state-run media has also reportedly been promoting conspiracy theories alleging that the massacre was faked as part of a "false flag" attack to paint Russian troops as war criminals.
Images of corpses strewn across Bucha streets have recently been broadcast on Russian state television with the word "fake" stamped over them, according to The Intercept.
In comments to Newsweek that have not been independently verified, Russian Ambassador to the U.S. Anatoly Antonov previously claimed that "Ukrainian Armed Forces shelled the city of Bucha" just after the Russian military left.
Few outside of Russia have been convinced by the false flag conspiracy claims, while Ukrainian President Volodymyr Zelensky condemned the killings as "concentrated evil" by the Russian military.
In addition to the alleged executions, Russian troops have been accused of atrocities in Bucha that include torture and rape. Ukraine's Ministry of Defense claimed that at least nine women became pregnant after being raped during the Russian occupation.
Last week, President Joe Biden described the assault on Bucha as "outrageous" and "a war crime" committed by Russia. On Tuesday, Biden accused Russia of "genocide," arguing that it was becoming "clearer that Putin is just trying to wipe out the idea of even being able to be Ukrainian."
Newsweek reached out to the Embassy of Russia in Washington, D.C., for comment.