Order to 'Destroy and Purge Mariupol' Is Fulfilled, Chechen Unit Declares
Nearing day 60 of Russia's invasion of Ukraine, Moscow forces declared that the besieged city of Mariupol has finally been conquered.
Russia's Chechen unit, also known as the Kadyrovtsy, has posted a video of its soldiers in front of a burning building declaring Mariupol has been taken. A leader clad in black claims President Vladimir Putin ordered the unit to "destroy and purge" the city.
The video, which has been widely shared on social media, shows the unit celebrating with a leader in distinct black tactical gear.
A Ukrainian news agency, Ukraine World, reported that the leader in the video yelled, "An order to destroy and purge Mariupol is fulfilled. The order of President Putin is fulfilled, the order of Kadyrov is fulfilled."
The same day the video surfaced, Russian state-owned news agency TASS reported that the Kadyrovtsy took control of Ukraine's Azovstal steel mill, which is also located in Mariupol.
The head of the Chechen Republic, Ramzan Kadyrov, spoke to TASS saying the steel mill and surrounding land had been captured.
"Mariupol is ours!... The city has been taken definitively and completely... The strategically important administration building of the Azovstal plant has been taken under control, and all adjacent territory has been cleared," Kadyrov said according to TASS.
Kadyrov told TASS that Ukrainian soldiers have "been blocked" under concrete and steel inside the plant.
Thousands of citizens have died in Mariupol and nearly 2,000 others were taking shelter in the Azovstal plant, according to Ukrainian authorities.
Since claiming seized the plant, Russian forces have not explicitly said what has happened to the Ukrainian citizens who were there taking shelter.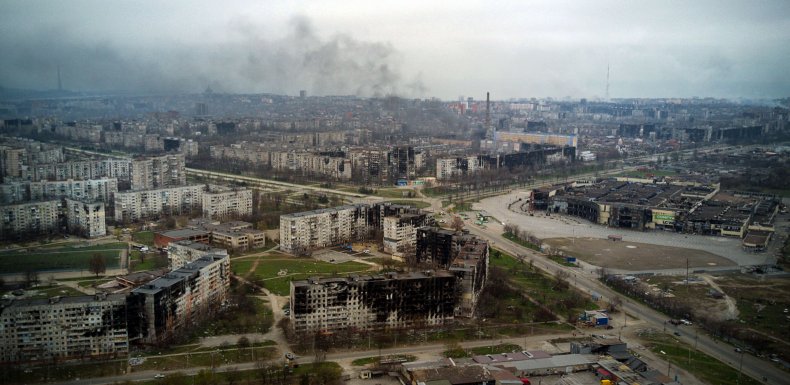 "Because of this, elimination missions were twice as difficult," Kadyrov said. "Civilian losses could not have been allowed, but a threat [had to be] eliminated. Response measures have been conceived and later implemented in the shortest time span."
Ukrainian officials claim Russia has disposed of civilian bodies at a mass burial site near the city.
Claims were bolstered by satellite images taken by Maxar Technologies, which has been monitoring Russia's movement around Ukrainian territory before the war began in February.
In a release sent to Newsweek, Maxar identified a mass grave site on the northwestern edge of Manhush, about 12 miles from Mariupol.
"A review of our satellite images from mid-March through mid-April indicate that the expansion of the new set of graves began between March 23-26, 2022 and has continued to expand over the past couple of weeks," Maxar said. "The graves are aligned in four sections of linear rows (measuring approximately 92 yards per section) and contain more than 200 new graves."
Newsweek reached out to the Ukraine Embassy and Russian Federation for comment.