Ukraine Mass Grave Photos Show People Burying Mariupol Victims
Workers in the besieged port city of Mariupol in Ukraine have been hastily burying the dead in a mass grave.
Mariupol officials decided they could not wait to hold individual burials for dead soldiers and civilians as morgues were overflowing in the city that has been blockaded by Russian troops, according to The Associated Press.
Pictures taken on Wednesday captured workers filling a deep trench that had been dug in an old cemetery with bodies wrapped in black plastic bags or carpet.
About 40 bodies arrived from morgues and private homes on Tuesday to be buried in the common grave, with dozens more following on Wednesday.
According to the AP, workers pushed bodies into the grave after quickly making the sign of the cross. They were forced to work as efficiently as possible due to the constant danger in the city that has been under steady bombardment for days.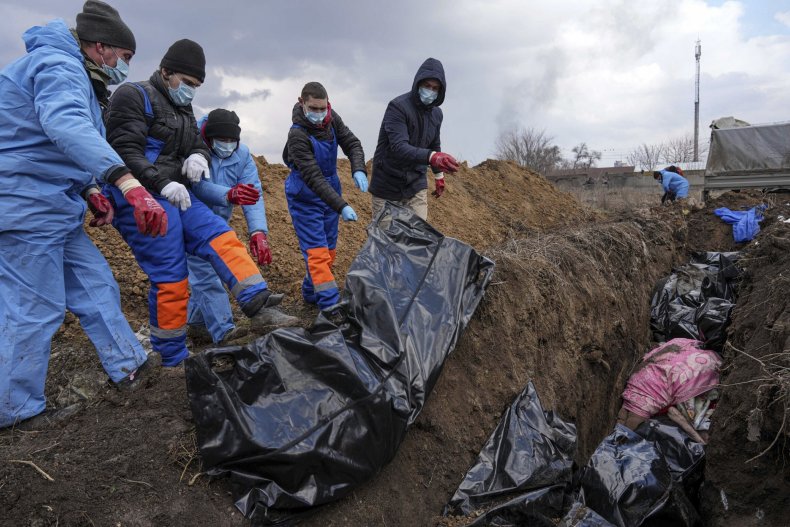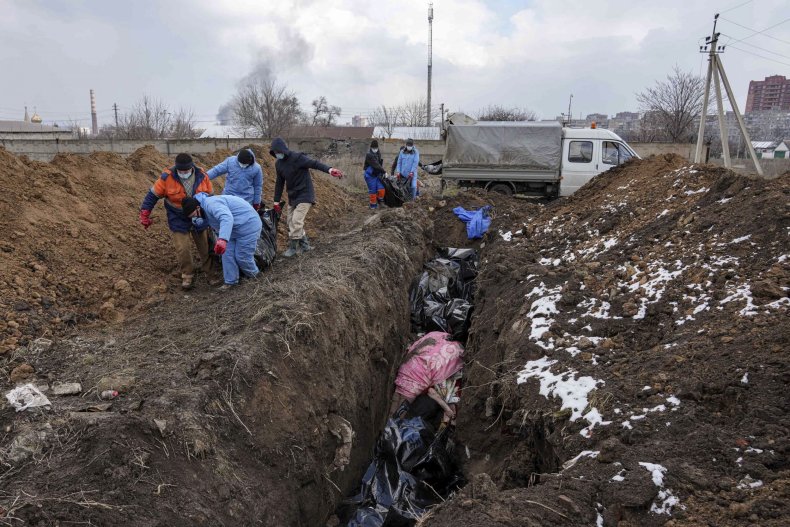 The dead included victims of shelling, as well as civilians who have died of disease or natural causes, the AP reported.
More than 1,000 civilians have so far been killed by indiscriminate Russian shelling of residential districts in Mariupol, according to Ukrainian officials.
Deputy Mayor Serhiy Orlov said at least 1,170 civilians had been killed in the city, and 47 people were buried in a mass grave on Wednesday, according to Reuters. "People are without water, heat, electricity, gas, residents are melting snow to drink," he said.
An airstrike on a maternity hospital in Mariupol wounded women waiting to give birth and trapped children in the rubble on Wednesday. Mariupol officials said that attack killed three people, including a child, and wounded at least 17.
"Russian troops are purposefully and ruthlessly destroying the civilian population of Mariupol," the Mariupol City Council said in a post on Telegram, according to a translation. "The whole world should know about Russia's crime against humanity, against Ukraine and against the people of Mariupol!"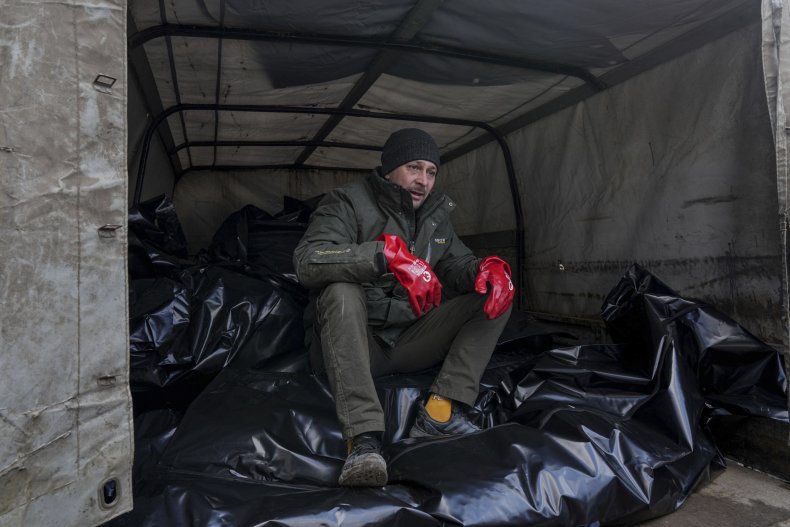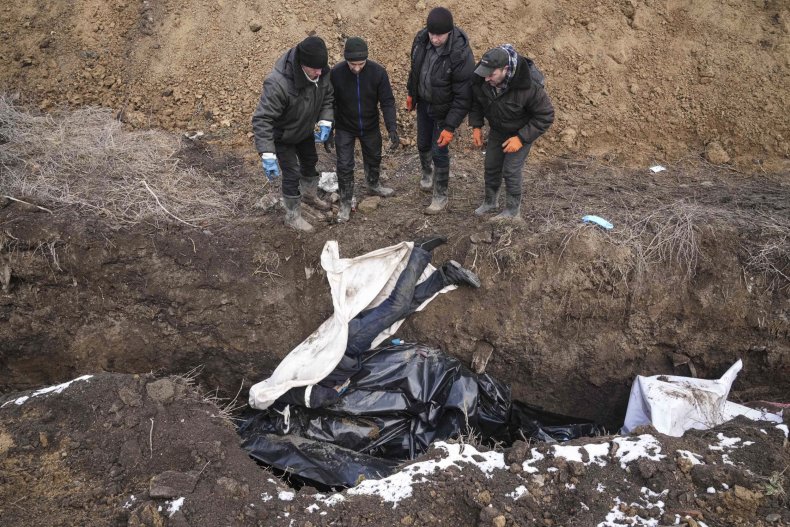 Russia had earlier agreed to a temporary ceasefire so some civilians could escape Mariupol, where hundreds of thousands of people have been trapped without water or power for more than a week. Both sides blamed the other for the evacuation's failure.
Bombs also fell on two hospitals, including a children's hospital, in Zhytomyr, a city west of the capital Kyiv, on Wednesday.
Ukrainian President Volodymyr Zelensky accused Russia of carrying out "genocide" in a televised address on Wednesday night.
"A children's hospital. A maternity hospital. How did they threaten the Russian Federation?" he said. "What kind of country is this, the Russian Federation, which is afraid of hospitals, afraid of maternity hospitals, and destroys them?"
Zelensky urged the West to impose even tougher sanctions on Russia, so it "no longer has any possibility to continue this genocide."
He also repeated his call for Western leaders to impose a no-fly zone over Ukraine, something NATO members have refused to do out of concern it would provoke a wider war with Russia.