Russian Interest in Ukraine Invasion Wanes Amid Heavy Losses: Poll
Fewer Russians are closely monitoring the situation in Ukraine now than they were closer to the beginning of the invasion, according to a new poll released by the Levada-Center, a non-governmental research organization.
The survey found that 59 percent of Russians are closely following the war. A poll released by the center on April 11 showed that 64 percent of Russians were closely monitoring the situation in Ukraine at that time.
The poll released Thursday also showed a drop in Russians' approval of the war in Ukraine. According to the survey, 74 percent of respondents now said they supported the actions of the Russian armed forces in Ukraine, compared to 81 percent in the earlier poll. The latest survey was conducted between April 21 and April 27, while the former poll was conducted in late March.
The poll numbers come as Russia has faced stiff resistance from the Ukrainian armed forces since Russian forces invaded the country in late February. After attempting to take the city of Kyiv earlier in the conflict, Russian troops withdrew from areas around the capital city this month.
During an interview on ABC News on Sunday, former U.S. ambassador to NATO Douglas Lute said he doesn't believe that Russian forces can take over Kyiv or replace Russian President Volodymyr Zelensky's government.
"I think Kyiv is beyond their means. They can't seize Kyiv, they can't replace the Zelensky government. I think they're still looking for opportunities to figure out what their goals are. They're sort of making it up as they go along," Lute stated. "Putin is trying to assess what might be possible and looking for opportunities and he'll grab the first good one available. Right now, there don't seem to be many good opportunities for Vladimir Putin."
Analysts told The Times in the U.K. this week they believe that after the situation in Ukraine, it could be years before Russia is able to launch another invasion of a neighboring country. Mark Cancian, a senior adviser at Washington think-tank Center for Strategic and International Studies, told the newspaper that Russia may have lost two years worth of tank production, one year's supply of aircraft, and several years' worth of missile production since the invasion began.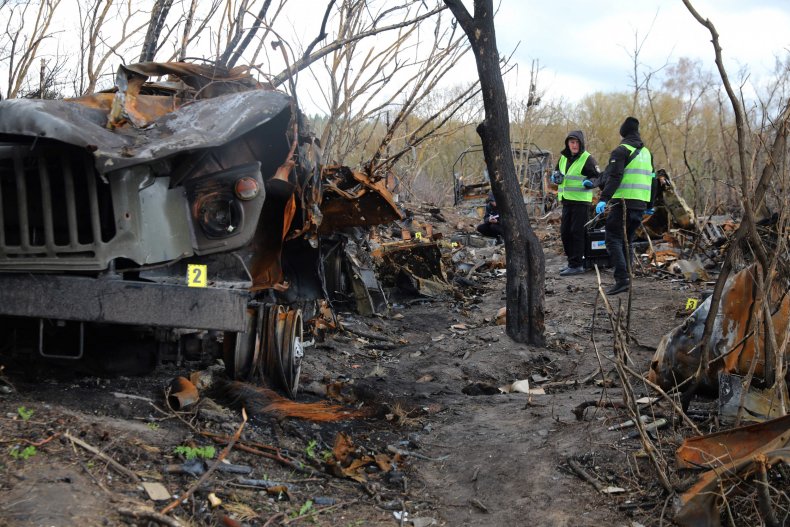 Earlier this month, Ukraine claimed to have sunk the Russian warship Moskva, a $750 million hit to the Russian military, according to Forbes Ukraine.
In mid-April, the outlet reported that Ukraine had destroyed more than 5,000 pieces of Russian equipment since the war began but that the loss of the Moskva is the most expensive.
Newsweek has reached out to the Russian Foreign Ministry for comment.