Russia 'Can't Seize Kyiv' or Replace Zelensky in Ukraine: Ex-Ambassador
Former U.S. ambassador to NATO Douglas Lute said Sunday that he doesn't believe Russian forces can take the capital city of Kyiv or replace Ukrainian President Volodymyr Zelensky's government during the war in Ukraine.
His comments came during an interview with ABC News, after host Martha Raddatz asked the former ambassador: "What do you think Russia's ultimate goal is here? Have they given up on Kyiv?"
"I think Kyiv is beyond their means. They can't seize Kyiv, they can't replace the Zelensky government. I think they're still looking for opportunities to figure out what their goals are. They're sort of making it up as they go along," Lute responded. "Putin is trying to assess what might be possible and looking for opportunities and he'll grab the first good one available. Right now, there don't seem to be many good opportunities for Vladimir Putin."
Russia has failed to take Kyiv since it began its invasion in late February, with troops withdrawing from the capital city earlier this month. In recent days, Russia has turned its focus to the eastern Ukrainian region of Donbas. This region contains the self-proclaimed People's Republics of Donetsk and Luhansk, which Russia recognized as independent before its invasion.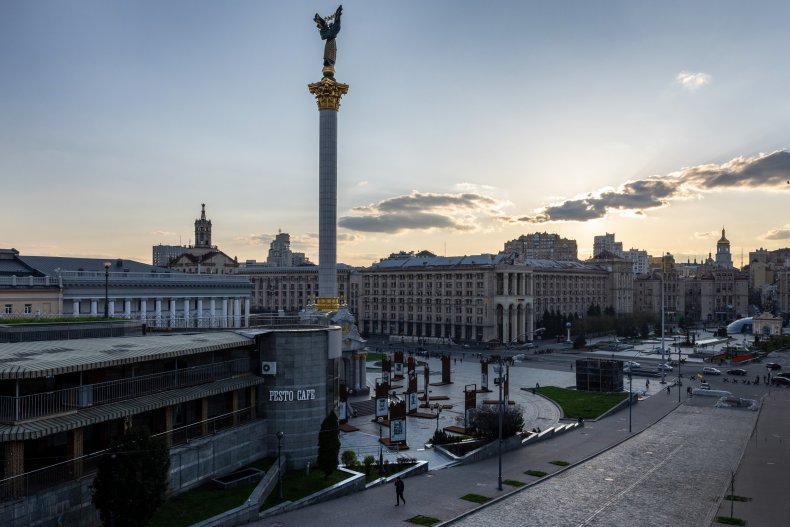 "It can now be stated that Russian troops have begun the battle for Donbas, for which they have been preparing for a long time," Zelensky said in a video address on Monday. "A very large part of the entire Russian army is now focused on this offensive."
During his interview, Lute said that the "problems that the Russian army demonstrated in phase one of this fight, in and around Kyiv...those same shortfalls by the Russian military I think will be on display again in the Donbas."
"You can't reform an army in a matter of a couple weeks. This is the same Russian army, so I expect many of the same failures," the former ambassador added.
On Thursday, the Biden administration announced it was sending a second military aid package to Ukraine worth $800 million that includes drones, Howitzers and tactical vehicles.
Lute said that the aid package "can make a real difference."
"Because this begins to close the quantitative gap between the Ukrainians and the Russians. In fact some estimates are now that the Ukrainians have as many tanks on the battlefield as the Russians, if not more," he concluded.
Newsweek has reached out to the Russian Foreign Ministry for comment.