Moskva Warship's Sinking a $750 Million Loss for Russian Military: Report
The sinking of the Moskva, a Russian warship that Ukraine claims to have struck with a missile attack on Thursday, was a $750 million hit to the Russian military, according to an analysis by Forbes Ukraine.
The news outlet reported that Ukraine has destroyed more than 5,000 pieces of Russian equipment since the war began in late February, but that the loss of the Moskva is the most expensive. Forbes Ukraine calculated the approximate cost of the ship by comparing it to similar cruisers, which cost $720 million in 1995.
"It could easily be $700 million to replace that ship, but given the state of decay we've seen in the Russian military, we doubt they have the money to even replace it," Sean Spoonts, editor-in-chief of Special Operations Forces Report (SOFREP), told Newsweek.
Ukrainian officials said their country struck the ship with Neptune missiles on Thursday. Ukrainian President Volodymyr Zelensky's presidential advisor Oleksiy Arestovych shared a video on Twitter that he claimed to be footage of the strike.
"The flagship of the Russian navy, Moskva, carried out a negative surfacing operation in the area of that island where it was told to go f*** itself. Where is Moskva? It sunk," Arestovych wrote.
Russia, meanwhile, claimed that the damage endured by the ship was caused by a fire onboard that caused ammunition to explode.
"During the towing of the Moskva cruiser to the port of destination, the ship lost its stability due to damage to the hull received during the fire from the detonation of ammunition. In the conditions of stormy seas, the ship sank," the Russian Defense Ministry stated.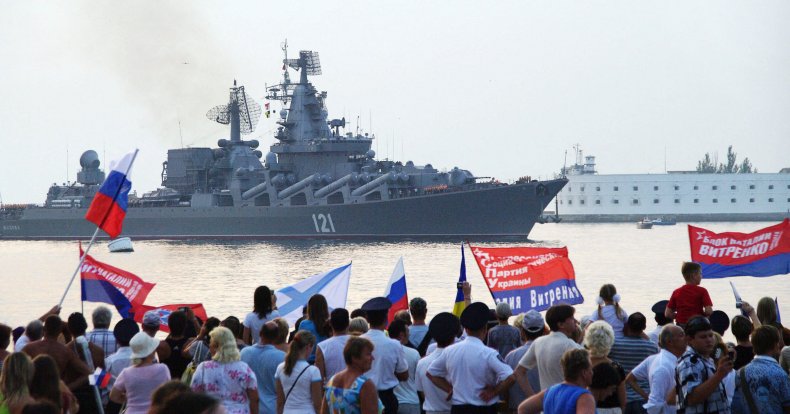 Russia reportedly moved some vessels farther from the Ukrainian coast after the alleged missile strike.
"Russian warship Moskva still believed to be dealing with fire and assumption is that it is heading to Sevastopol, a senior U.S. defense official says," Reuters journalist Idrees Ali wrote on Twitter. "Official says less than half a dozen Russian warships in northern Black Sea have moved further away from the coast after the incident."
Some experts said that the destruction of the ship could signify a major shift in the Ukraine-Russia war.
"If Ukraine can challenge the Black Sea Fleet (and it appears they can) then taking back Crimea is very much in the cards. Total victory possible," security expert Paul Massaro wrote on Twitter. Russia annexed Crimea from Ukraine in 2014.
"The historic performance of the Ukrainian military vs. the dismal showing by the Russians is really something to behold," Massaro added.
"For Putin's Regime this is a crucial moment as the ship was the visual epitome of Russian Global Might," Daniel Kurz, professor of political science and history at Middlesex County College tweeted.
Newsweek has reached out to the Russian Foreign Ministry for comment.