Russia Moves Ships to Safer Location After Ukraine Missile Attack
Russia has reportedly moved several military sea vessels further away from Ukraine's coast after its prized Moskva warship suffered what Ukrainian officials said was a missile strike on Thursday.
Reports that the Moskva was seriously damaged by a blast came from both Ukrainian authorities and Russia's defense ministry. Maksym Marchenko, governor of Odessa Oblast and former commander of a battalion of Ukrainian ground forces, wrote on Telegram that the Russian vessel was hit by two Ukrainian-made Neptune anti-ship cruise missiles, which caused "very serious damage."
Reuters journalist Idrees Ali reported on Thursday that a senior U.S. defense official said that some Russian seacraft had been moved back from Ukraine's coast after the reported strike.
"Russian warship Moskva still believed to be dealing with fire and assumption is that it is heading to Sevastopol, a senior U.S. defense official says," Ali wrote on Twitter. "Official says less than half a dozen Russian warships in northern Black Sea have moved further away from the coast after the incident," he added in a follow-up tweet.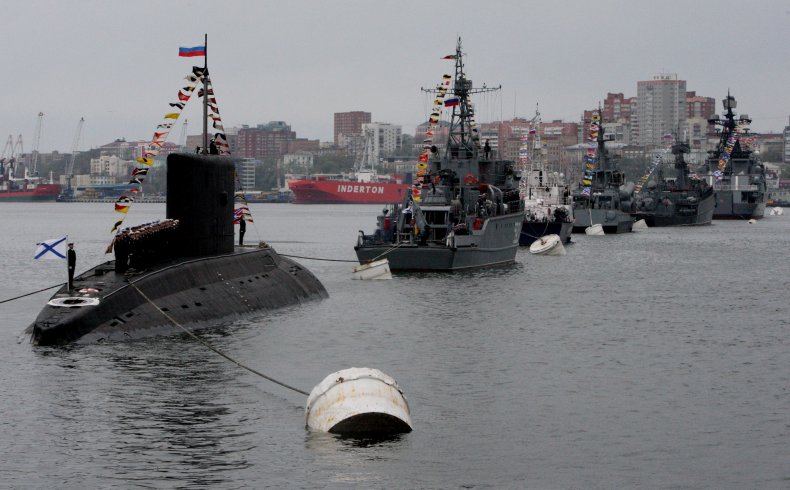 While Russia has claimed that the blast resulted from ammunition exploding on board the vessel, Ukraine contends it struck the warship with a missile. Ukrainian President Volodymyr Zelensky's adviser, Oleksiy Arestovych, shared a video on Twitter showing what he said was the Moskva cruiser being struck by one of Ukraine's Neptune missiles.
"We're not quite exactly sure what happened here. We do assess that there was an explosion, at least one explosion, on this cruiser—a fairly major one at that—that has caused extensive damage to the ship," Pentagon spokesperson John Kirby told CNN on Thursday.
The loss of the warship, according to multiple military experts, would be a substantial blow to Russia's marine offensive against Ukraine. At 610 feet in length, the Moskva is the third-largest in Russia's fleet. The vessel is also the only one of Russia's that is capable of carrying nuclear weapons. It reportedly has been utilized as an important store of weapons for the offensive against Ukraine.
"Russia has lost a significant part of its naval capability in the Black Sea, and its ability to hit targets in Ukraine," independent Russian military analyst Pavel Luzhin told English-language publication The Moscow Times. "Without the Moskva, it would seem that a marine operation against Odessa or Mykolaiv is impossible right now."
Others shared similar assessments.
"If Ukraine can challenge the Black Sea Fleet (and it appears they can) then taking back Crimea is very much in the cards. Total victory possible," security expert Paul Massaro wrote on Twitter.
"The historic performance of the Ukrainian military vs. the dismal showing by the Russians is really something to behold," Massaro, a senior policy adviser for counter-corruption and sanctions at the Commission on Security and Cooperation in Europe, added in another tweet.
Newsweek reached out to the Russian embassy for comment.
Russian President Vladimir Putin launched the full-scale invasion of Ukraine on February 24, drawing swift international condemnation. In the wake of the unprovoked assault, the U.S. and NATO allies have quickly responded with sanctions targeting the Russian economy and Moscow elite. They have also sent billions of dollars of weapons and humanitarian aid to support Ukraine.
Although analysts initially believed Ukraine could fall to Russia within a matter of days, the Ukrainians have fought back against Putin's aggression. Until now, Russia has failed to take control of any major Ukrainian city and Zelensky's government remains in power.