Russian missile cruiser Moskva has sunk in the Black Sea hours after Ukraine claimed to have dealt significant damage to the ship with a missile strike while Russian officials claimed the ship was still stable and any damage was due to a fire on board that caused some ammunition to detonate.
"During the towing of the Moskva cruiser to the port of destination, the ship lost its stability due to damage to the hull received during the fire from the detonation of ammunition. In the conditions of stormy seas, the ship sank," the Russian Defense Ministry announced through Russian state media outlet TASS.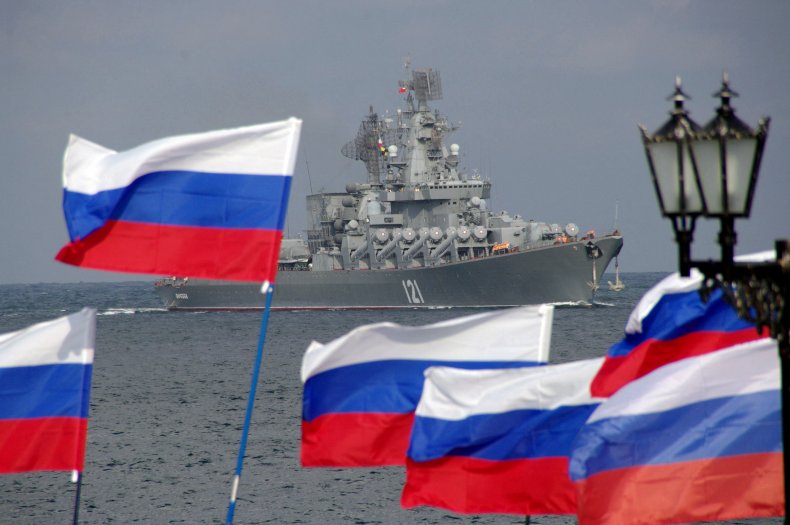 Also Thursday, it was reported that after the damage to the Moskva was confirmed, other Russian ships in the area were moved further away from the coast.
The Kyiv Independent quoted a report from Forbes Ukraine that estimated the cost of the Moskva to be around $750 million, by far the largest loss of the war for Russia, which has lost several other aircraft and other vehicles that Forbes Ukraine estimated to be worth tens of millions of dollars.
It was also previously reported that the crew of at least 500 sailors had been evacuated to other Russian ships in the area after the fire and explosions broke out.
Moskva also made headlines in the beginning days of the invasion as the self-identified "Russian warship" that was told to "go f**k yourself" by Ukrainian soldiers stationed on Snake Island in the Black Sea.
Initial reports alleged that the 13 soldiers on the island were killed shortly after the radio exchange that garnered millions of views and many pointed to it as an example of Ukrainian bravery during the onset of the invasion. However, in the days and weeks following the attack, Ukrainian officials said the soldiers were presumed dead after the attack destroyed the island's communication infrastructure, but days later they were able to reach the soldiers who had instead been taken captive by Russian soldiers.
The Snake Island soldiers were eventually part of the first exchange of prisoners in the war, and at least one of the men returned to their home region of Ukraine and was given a medal for his service, Newsweek previously reported.
Moskva was the flagship of Russia's Black Sea fleet and started sailing missions for the Soviet Navy in 1983 under the name "Slava," or "Glory," before its name was changed in 1995, Newsweek reported.
Video shared by Ukrainian officials early Thursday morning Eastern Time showed an explosion in the distance in the dark, which they alleged was the striking of the Moskva with Ukrainian Neptune cruise missiles. However, through the report of the ship sinking, Russia maintained its claims that the damage was caused by a fire that detonated ammunition.
Update 4/14/22, 5:33 p.m. ET: This story has been updated with additional information.