Ukrainian Solider Who Cursed at Russian Warship Returns Home, Given Medal
The Ukrainian soldier who was serving on Snake Island at the beginning of Russia's invasion and told a Russian warship to "go f*** yourself" has returned home and been given a medal for his service.
Roman Gribov was one of several soldiers initially reported to be dead from ensuing attacks on the island, but it was later discovered that he and other soldiers from the island had been captured. They were later part of the first exchange of captured soldiers between Ukraine and Russia, according to the Ukrainian Parliament.
Gribov was returned to his home region of Cherkasy and given a medal for his service on Tuesday, according to The Odessa Journal.
Early in the invasion, a video surfaced that contained audio of a Russian ship telling the soldiers, including Gribov, to surrender before they were attacked, but it was met with the now-famous phrase. The video gained international attention, and the initial reports were that the 13 soldiers on the island were killed when it was attacked.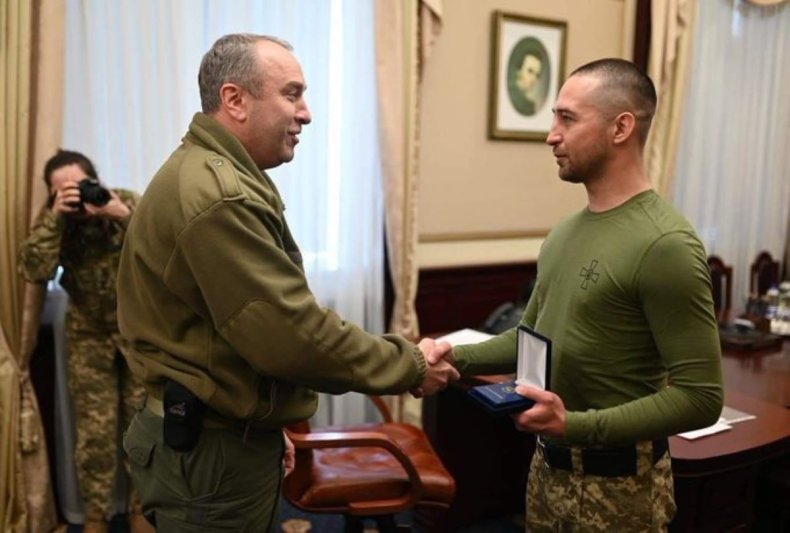 Days later, however, Ukrainian authorities reported that contact had been made with the men who were in Russian captivity, and said that they were presumed dead because the Russian attack destroyed the communication infrastructure of the island.
"Regarding the Marines and border guards who were taken captive by Russian occupiers on the island of Snake, we are very happy to learn that our brothers are alive and well with them!" the Ukrainian Naval Force said in a Facebook post late last month, commending the men who "bravely rebuked" the Russians twice.
Last week, 19 Ukrainian soldiers, including the 13 from Snake Island, were exchanged for 11 Russian soldiers in the first swap of prisoners of war in the conflict. The Ukrainian Parliament said that the 11 Russian soldiers had been rescued by Ukrainian forces from a sinking ship.
Gribov returned to his home region on Tuesday and was honored with a medal for his "merit to Cherkasy," the Journal reported.
A YouTube video posted by the Cherkasy regional state administration shows him receiving the award from Cherkasy Governor Igor Taburets as the two speak.
"I want to say a huge thank you to the Ukrainian people for their support. We feel it very much, it inspires us. We have strength, we have truth, together, we will win. Glory to Ukraine!" Gribov said, according to the Journal.
The Ukrainian Defense Ministry also posted a picture of Gribov receiving the award along with the phrase "Glory to the Hero!"
Representatives from Ukraine and Russia began meetings in Turkey on Tuesday to discuss terms of a potential agreement to end the war that has killed thousands of troops and civilians and forced millions of Ukrainians to flee their homes.
Update 3/29/22, 4:25 p.m. ET: This story has been updated with additional information.