Russia Says Moskva Warship Remains Buoyant and Armed
The Moskva, the pride of Russia's navy and its flagship in the Black Sea, is still afloat and armed despite a fire on board, according to Russia's Ministry of Defense.
The Russian Ministry of Defense had earlier on Thursday admitted that the missile cruiser had been damaged by a fire that had broken out on the vessel and triggered an explosion. Ukrainian authorities have said the fire on the Moskva was caused by a Ukrainian missile strike.
Former U.S. Navy officer Malcolm Nance tweeted that, in his expert view, the Moskva was "finished."
But Russian authorities have denied such claims.
In a quote reported by Russian state media RIA Novosti on Telegram, the Russian Ministry of Defense said that "the source of fire on the cruiser "Moskva" is localized. There is no open fire. Explosions of ammunition have been stopped."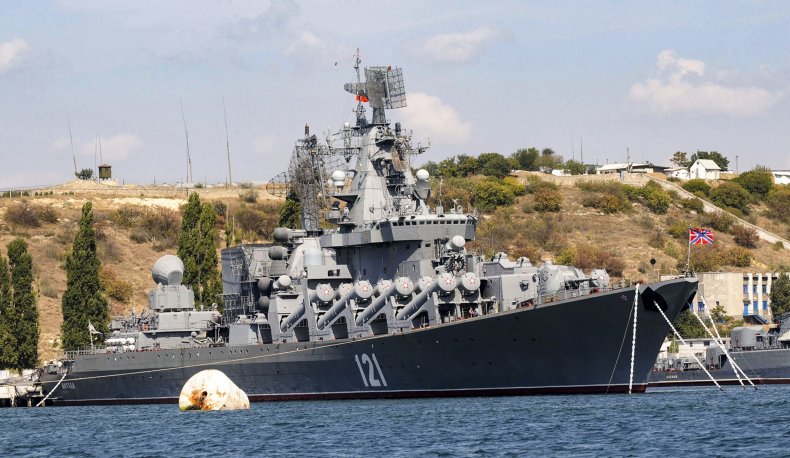 According to the Russian Ministry of Defense, the Moskva "maintains buoyancy" and "the main missile armament was not damaged."
Russian authorities confirmed that the crew on the vessel had been evacuated to other ships in the area. RIA Novosti quoted the Russian Ministry of Defense as saying that arrangements were being made to tow the cruiser to port while the cause of the fire on the Moskva remained under investigation.
Both Ukrainian and Russian authorities said the damage caused to the vessel was serious. Neither the Ukrainian nor the latest Russian statements have been independently verified.
The ship, which first entered service in 1983 with the Soviet navy, was thought to be located in the Black Sea off the port of Odesa at the time of the explosion.
The Moskva was originally called "Slava" or "Glory," Reuters reports, but changed its name to the current one in 1995.
According to Reuters, there was a crew of over 500 sailors on the Moskva. The Russian ship was armed with 16 anti-ship Vulkan cruise missiles with a range of at least 440 miles, as well as anti-submarine weapons and mine-torpedoes.
Newsweek has contacted Ukraine's Ministry of Defense and Russia's Ministry of Foreign Affairs for comment.
UPDATE 04/14/22 at 9:36 a.m. EDT: This article was updated with background on the Moskva.