Ukraine War Must End To Avoid 'Nuclear Abyss,' Putin Ally Warns
Belarusian President Alexander Lukashenko has warned of dire consequences should there be a prolonged war in Ukraine.
Agence France-Presse tweeted that Lukashenko told the news agency on Thursday that the conflict must end to avoid the "abyss of nuclear war."
The Kremlin has repeatedly denied it would resort to nuclear weapons but the prospect of an escalation towards the use of non-conventional arms has been a regular topic on Russian state television.
Meanwhile, this week, The Institute for the Study of War (ISW), a U.S.-based think tank, said that Russian President Vladimir Putin might use a nuclear threat to deter a Ukrainian counteroffensive against the occupied Kherson, Zaporizhzhia, Donetsk, and Luhansk regions.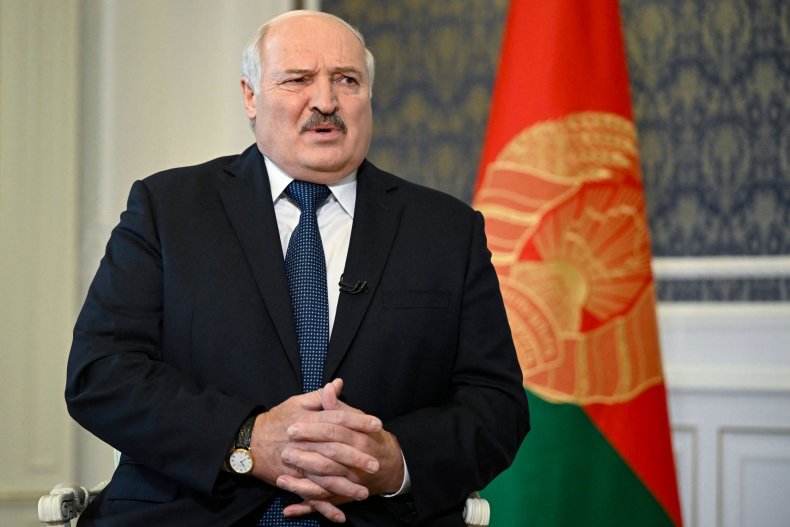 According to Global Security Review, Russia's military doctrine allows the battlefield use of nuclear weapons in response to any non-nuclear assault on Russian territory. The ISW said Putin may use this as a justification to defend Russia's newly annexed areas with nuclear arms.
"We must stop, reach an agreement, end this mess, operation and war in Ukraine," Lukashenko told Agence France-Presse.
"Let's stop and then we will figure out how to go on living," he said. "There's no need to go further. Further lies the abyss of nuclear war. There's no need to go there."
The agency tweeted that Lukashenko believed Kyiv could end the conflict—which started on February 24, by restarting talks with Moscow and accepting its demands. He also told the agency that the West had "fomented the war and are continuing it."
Lukashenko has had a testy relationship with Putin over the years but now he relies heavily on the Russian president to stay in power.
Belarus hosted mobilization training exercises earlier in July, which prompted Ukrainian officials to say Moscow wants to bring Belarus into the war in Ukraine to make up for dwindling numbers of Russian military personnel.
Lukashenko also said in the interview that Belarus was an authoritarian country but it had no political prisoners. This is at odds with an assessment by the rights group Vesna-96 which said there were around 1,300 political prisoners in the country, many of whom had been jailed in a crackdown following disputed elections in 2020.
This month, a Belarusian court sentenced Katsiaryna Andreyeva, 28, who works as a journalist with Polish broadcaster Belsat TV, to eight years in jail for treason for her reports on protests in 2020.
Update 07/21/22, 10:30 a.m. ET: This story has been updated with further information.