What Are Russia's A-50 Surveillance Planes? Aircraft Reportedly Destroyed
The Russian airplane reportedly damaged after being targeted by Belarusian anti-government activists is a sophisticated early warning and control aircraft said to be worth hundreds of millions of dollars.
Belarusian anti-government organization BYPOL claimed responsibility for a drone attack on the Beriev A-50U at Machulishchy airfield near Minsk on Sunday.
Monitoring group Belarusian Hajun, which tracks Russian military equipment traveling to Belarus, tweeted that the plane, worth $330 million, had arrived in the country on January 3 and had made 12 flights in 54 days.
It said that the aircraft was a "convenient" target because of its large fiberglass dome more than 30 feet in diameter where a rotating Shmel radar system antenna is located. This is the origin of its nickname "the mushroom plane."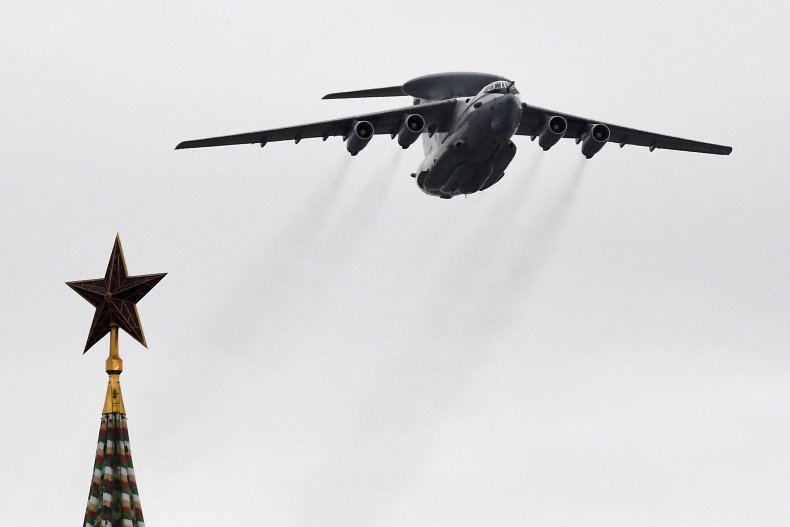 The A-50 was developed and manufactured by the Beriev Aircraft Research and Engineering Complex at Taganrog in Russia's Rostov region. Based on the Ilyushin Il-76 military transport aircraft, it entered service in 1984 and the Russian Air Force currently has 16 of the aircraft, according to Air Force Technology.
With the NATO reporting name of Mainstay, the A-50U can monitor air targets at a distance of up 400 miles and ground targets at around 180 miles. It can track around 300 ground or 40 air targets simultaneously, according to The National Interest.
With a range of 620 miles, it can control up to 10 fighter aircraft for either air-to-air intercept or ground attack missions and can be refueled by Il-78 tankers.
On Monday, the Kremlin would not comment on the reported strike that was described by Franak Viačorka, chief political adviser to exiled Belarusian politician Sviatlana Tsikhanouskaya, as the "most successful diversion since the beginning of 2022."
The incident will deliver a blow to Vladimir Putin. Questions may also be raised over the ability of his ally, Belarusian President Alexander Lukashenko, to ensure the safety of Russian military equipment based in Belarus.
There have reportedly been other acts of sabotage in Belarus, including a 2021 drone attack on a Belarusian law enforcement unit (OMON) base in Minsk.
Hanna Liubakova, a Minsk journalist who is a non-resident fellow at the Atlantic Council think tank, said the latest incident will encourage other sabotage activities, although it is uncertain whether another drone attack could happen given that Belarusian authorities are likely to bolster safety measures.
"It is clear that despite the repression, people continue self-organizing and resisting," she told Newsweek.
She said that as well as posing "a direct threat to Russian equipment and military objects in Belarus, [such attacks provoke] concerns among the regime which can also feel insecure."
Newsweek has reached out to the Belarusian foreign ministry and Russian defense ministry for comment.