Mystery Surrounds Russian Plane Reportedly Blown Up in Belarus
A Russian plane at an airport near Minsk was reportedly attacked by partisans in Belarus in a move one expert told Newsweek will damage the reputation of its authoritarian ruler Alexander Lukashenko as a reliable ally of Vladimir Putin.
Belarusian Hajun, a group that monitors the movement of Russian weapons into Belarus, said in a tweet that residents near the Machulishchy airfield reported hearing explosions at around 9 a.m. on Sunday.
Citing Aliaksandr Azarov, leader of Belarusian anti-government organization BYPOL, Belarusian opposition media outlet Nasha Niva reported that a Russian A-50 surveillance plane had been damaged in the blast.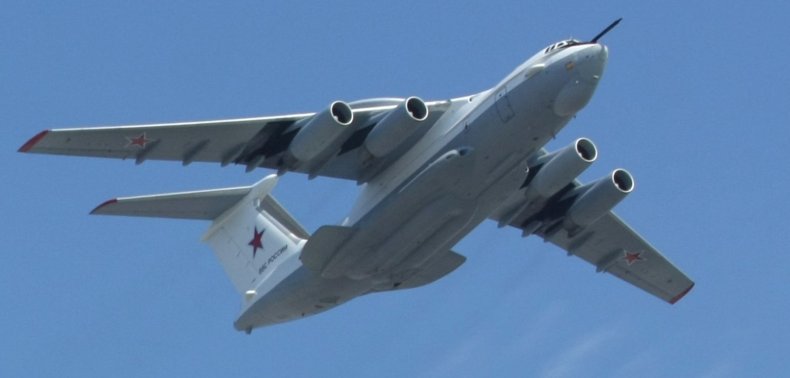 Azarov said that the attack was carried out by Belarusian partisans using two drones as part of BYPOL's so-called "Victory Plan" and that those involved in the alleged act of sabotage were safe.
Belarusian Hajun said that the plane, worth $330 million, had arrived in Belarus on January 3 this year and made 12 flights in 54 days. The aircraft was previously in Belarus on February 24, 2022, the day the full-scale invasion started.
Franak Viacorka, chief political adviser to exiled Belarusian opposition politician Sviatlana Tsikhanouskaya, wrote in a Twitter thread that the front and central parts of the plane, along with the avionics and the radar antenna were damaged.
"This is the most successful diversion since the beginning of 2022," he wrote in the tweet which started in caps with the message "Glory to Belarusian partisans!"
The airfield, located about eight miles from the Belarusian capital, was "being actively used by Russian army for air attacks on Ukraine," Viacorka wrote.
Hanna Liubakova, a Minsk journalist and non-resident fellow at the Atlantic Council think tank said that if Belarusian partisans had attacked the plane, it would present Belarus as "not safe" for the Russian army.
"The planned and successful drone attack as well as serious damage to the only such aircraft in Belarus would cause questions among the Russian command about the Lukashenko regime's ability to take care of Russian military equipment," she told Newsweek. His reputation "as a strongman who is able to keep the country with an iron fist is also injured," she added.
Despite repression in the country, there have been at least 80 acts of sabotage in Belarus since the war started, targeting railways as key supply lines for Russian troops.
Liubakova said it wasn't surprising that Russian military bloggers have been accusing Ukraine of conducting the latest attack. "It is more convenient than admitting that groups of Belarusians are against the presence of Russian troops and attacks from Belarus," she said.
"Secondly, it is done to justify the Lukashenko regime's participation in the war against Ukraine," she added.
Lukashenko has so far avoided getting his country more directly involved in Putin's invasion, although Belarusian territory has been used as a staging post for the war.
Experts have dismissed the chances of Belarus joining Russian forces in Ukraine imminently. However, Lukashenko has given mixed messages over his role in the war and is expected to continue allowing Russian forces to use Belarusian territory, while the countries have conducted joint drills.
This month, Lukashenko said he would be "ready to wage war, alongside the Russians" if Belarus came under attack, although such a move would be deeply unpopular in the country and could put the authoritarian leader's regime at risk.
Newsweek has contacted the Russian defense ministry and Belarusian foreign ministry for comment.