Belarus has been testing the readiness of its troops near its border with Ukraine, Kyiv said Thursday, shortly after Ukraine's foreign minister vowed to sever diplomatic ties with the country should its army intervene in the ongoing war with Russia.
The General Staff of the Ukrainian Army said in a statement on Facebook that some units of Belarus' special operations forces had held combat readiness checks.
Several Belarusian units in Volhynia and Polesia were also tasked with strengthening protection of a section of the Belarusian-Ukrainian border in the Brest and Gomel regions, the statement said.
Belarusian state-controlled news agency Belta separately reported Thursday that Belarus is set to send more than 250 personnel to Russia for military exercises from August 30 to September 5. The exercises will reportedly be led by Chief of the General Staff of the Russian military Valery Gerasimov.
It comes a day after Ukraine's minister of foreign affairs, Dmytro Kuleba, repeated that Kyiv would sever diplomatic relations with Belarus if its army participated in Russian President Vladimir Putin's invasion of Ukraine.
Belarusian President Alexander Lukashenko, a close ally of the Russian leader, has allowed Moscow to station its troops in Belarus and conduct large-scale military drills in the country, although Belarus has not sent troops into Ukraine.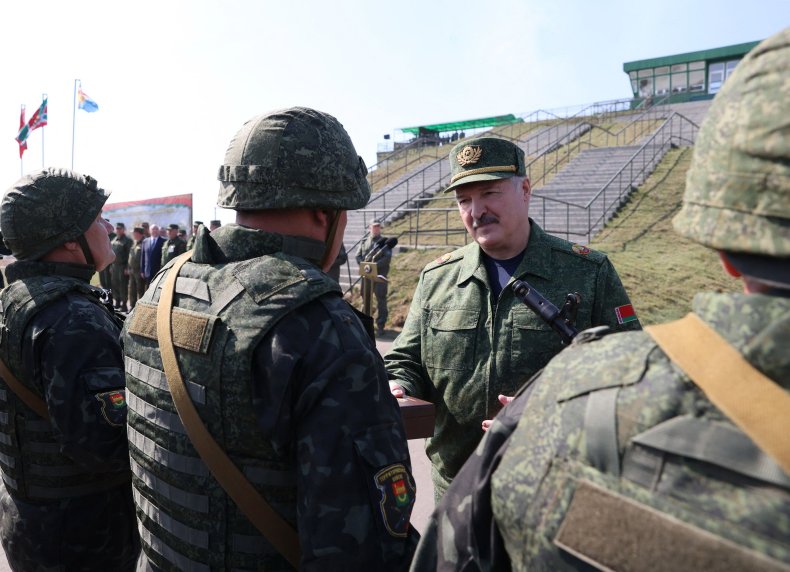 "We have no illusions about Belarus. We have a sober analysis of what is happening and how not to give Lukashenko additional reasons to make certain decisions," Kuleba said in an interview with Ukrinform published Wednesday.
"I have already said this publicly, and my position has not changed. If the Belarusian armed forces intervene in Ukraine, I will immediately propose to sever diplomatic relations with them," the official continued.
Kuleba added that he believes that Belarus is an accomplice to crimes committed in Ukraine and that "there are no excuses for them and there will not be any."
Newsweek has contacted the foreign ministries of Belarus and Ukraine for comment.
In July, Denys Monastyrskyi, Ukraine's minister of internal affairs, and an aide to Ukrainian President Volodymyr Zelensky, told a local newscast that Ukraine was preparing for attacks from Belarus.
Monastyrskyi said law enforcement agencies were ramping up measures to prevent attacks near the Belarus border, and near the front line, Ukrinform first reported on July 13.
"Today, of course, we are stepping up work in the border regions with the Republic of Belarus," the minister said. "We are hearing signals about the possibility of an attack by a subversion and reconnaissance group from this territory."
The minister said Ukraine's national police, armed forces and other agencies responsible for security have "stepped up their work" near Ukraine's border with Belarus.
"[In] the areas bordering places where hostilities are ongoing, the work of law enforcement officers has also been stepped up in order to identify subversion and reconnaissance groups," Monastyrskyi added at the time.
The United Kingdom's Ministry of Defense said in an intelligence update Sunday that Lukashenko has become "almost wholly dependent on Russia" as he backs Putin in the ongoing invasion.