Lukashenko 'Almost Wholly Dependent on Russia' as Belarus Helps Putin: UK
Belarusian President Alexander Lukashenko has become "almost wholly dependent on Russia" as he backs Russian President Vladimir Putin in the Russia-Ukraine war, according to British intelligence.
Lukashenko has become a key ally for Putin, whose invasion of Ukraine has faced condemnation from many world leaders who have raised concerns about alleged war crimes committed by Russian troops, as well as concerns that Putin lacked a solid justification for the invasion, which was launched in late February.
In an intelligence report released on Sunday, the United Kingdom's Ministry of Defence said Lukashenko is becoming more authoritarian and has become increasingly dependent on Putin.
The report said Lukashenko "continues to follow Moscow's line on the Ukraine conflict."
"His regime has become even more authoritarian, with the expansion of the death penalty for 'preparing terrorist acts,'" the report reads. "His increasing and baseless accusations of Western designs on Belarus and Ukraine likely indicate that he has become almost wholly dependent on Russia."
The report follows news that Russia fired "at least 20 missiles into northern Ukraine" from Belarus, according to the ministry.
Newsweek reached out to the Belarusian foreign ministry for comment.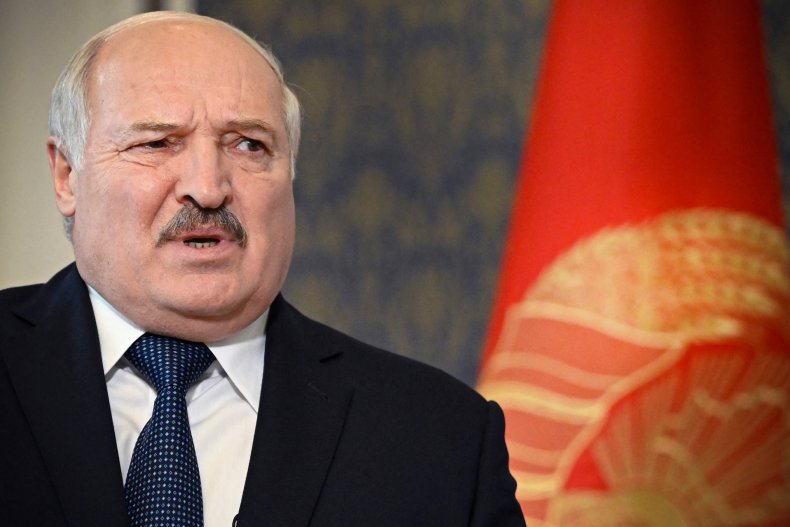 Belarus Backs Putin
Nearly every European nation has condemned Putin's invasion, leaving him seen as a pariah among European leaders. Many countries have issued sanctions against Moscow or provided Ukraine with either military or humanitarian aid.
However, Lukashenko, who has long enjoyed close ties to the Kremlin, has become a rare supporter of Russia's invasion. He hasn't provided his own troops to fight alongside the Russian military—though Putin has reportedly pressured him to do so—but has allowed for Putin's forces to attack Ukraine from its border.
Belarus shares Ukraine's northern border, providing its ally Russia with strategic access near Kyiv, Ukraine's capital. In the early days of the invasion, Russian troops entered Ukraine from Belarus before invading areas near Kyiv, but ultimately failed to take the capital city.
In recent weeks, Lukashenko has further solidified his support for Putin.
Belarusian authorities on Friday recalled their ambassador to the U.K. over what they called "hostile" actions, signaling that Lukashenko is continuing to line up behind Putin while distancing himself from the West. Earlier this month, Ukrainian officials said Belarus gave Russia "full control" of the Zyabrovka airfield, located near the Ukrainian border.