Belarus Gives Russia Control of Airfield Less Than 20 Miles From Ukraine
A top Ukrainian official has stated that Belarus has given "full control" of the Zyabrovka airfield near the Ukraine-Belarus border to Russia, materializing previous fears that a growing number of Belarusian assets are intensifying war-time pressures.
Oleksiy Gromov, deputy chief of the Main Operative Department of the General Staff of the Armed Forces of Ukraine, said during a Thursday briefing that the airfield is located in the Gomel region. The BBC reported in February that the airbase is 19 miles from the Ukraine border.
Gromov said there are currently "activities to equip [a] Russian military base" at the location, reported Eastern European media outlet NEXTA.
Within the last week, Russian President Vladimir Putin said a combination of "unprecedented sanctions" and "political pressure from the collective West" has pushed Russia and Belarus toward unification.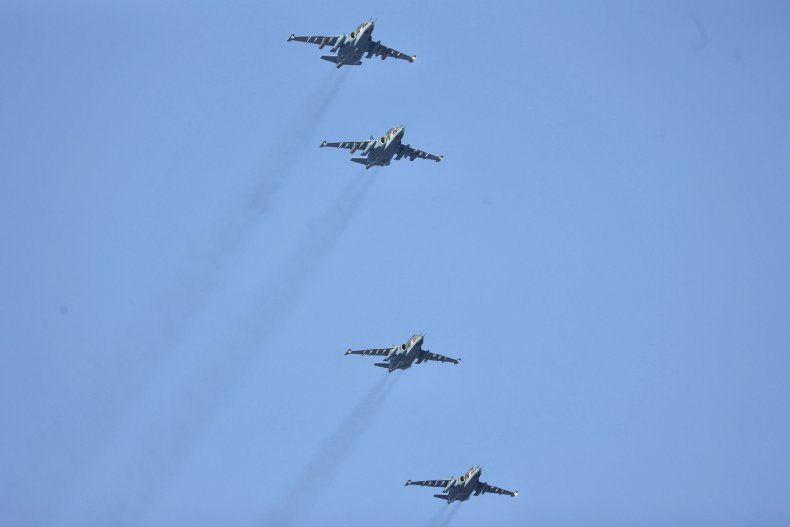 On June 21, Ukrainian Defense Ministry spokesperson Oleksandr Motuzianyk said there were up to seven Belarusian battalions on the border between Belarus and Ukraine, in the Brest and Gomel regions, according to news agency Interfax-Ukraine.
"This is up to 4,000 personnel. But you must understand that there are also Russian troops there," Motuzianyk said at the time, according to an English translation. "Considering that today the Belarusian side provides Russia with all the logistics, it is quite possible that the Russians will be able to quickly transfer some additional reserves to the territory of Belarus and, possibly, prepare an offensive, but they need to prepare for this. As of this day, we do not see it yet."
Within the past week, the Russian Defense Ministry claimed that Russian forces have "liberated" all of Ukraine's eastern Luhansk region following the capture of Lysychansk, the last major Ukrainian-held city in Luhansk.
Russia's Defense Minister Sergei Shoigu reportedly told Putin that Russia's troops and members of a local separatist militia "have established full control over Lysychansk and some nearby settlements," according to a Telegram post, and that the total area liberated within that time frame was 182 square kilometers.
The Kremlin's war goals may be coming to fruition as the entire eastern Donbas region, comprising the Luhansk and Donetsk oblasts, is feeling the pinch.
On Tuesday, Donetsk Governor Pavlo Kyrylenko called for 350,000 civilians to evacuate to safety, followed by a missile attack Thursday by Russian artillery that killed at least one individual and wounded six others.
Another city, Sloviansk in the Donbas region, is now in Russia's crosshairs.
On Wednesday, the U.K. Ministry of Defence, as part of its daily intelligence update, said Russian groups are likely about 10 miles north from the city of Sloviansk, which is important for strategic and tactical implications.
"With the town also under threat from the Central and Southern Groups of Forces, there is a realistic possibility that the battle for Sloviansk will be the next key contest in the struggle for the Donbas," the ministry said.