Videos Show Aftermath of 'Deliberate' Missile Strike on Ukraine Civilians
A Ukrainian official is reporting that at least one person is dead and six others are wounded following an alleged Russian missile attack in the center of Kramatorsk.
Pavlo Kyrylenko, governor of Ukraine's Donetsk region and head of the Donetsk Regional Military Administration, said on Telegram that six buildings—including a hotel and a residential high-rise building—were damaged in what he described as "a deliberate attack on civilians." The attack came two days after he called for the evacuation of 350,000 residents following intensified Russian aggression.
"Racists do not betray themselves and continue to 'fight' with unarmed people," Kyrylenko wrote on Telegram, according to an English translation of his post. "This will continue until we drive them out."
Footage posted to Twitter of the damage showed downed trees, melted automobiles and blown-out windows.
On Tuesday, Kyrylenko pleaded for citizens to evacuate following a reported attack on the central market of Slavyansk, a city in the Donetsk region, that resulted in two people dead and seven wounded.
On Thursday, he continued his plea for evacuation, calling the move "temporary."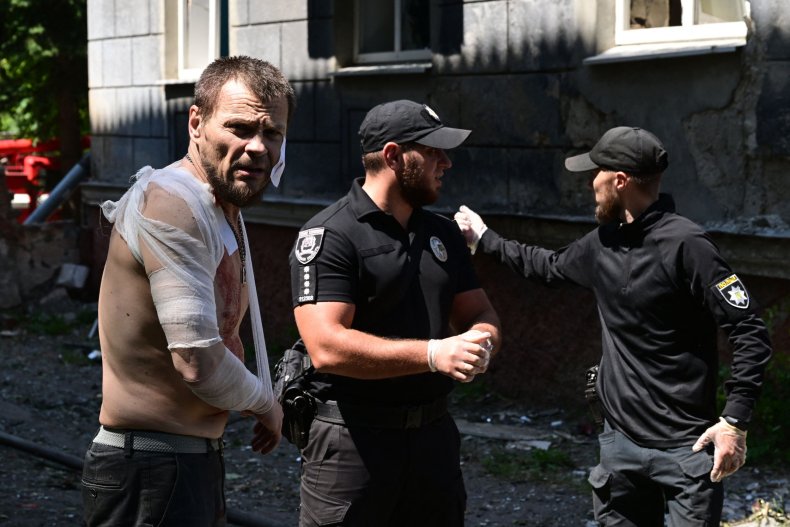 Since Russia invaded Ukraine on February 24, a total of 577 civilians in the Donetsk region have been killed and another 1,496 citizens have been injured, according to Ukrainian figures posted to Telegram.
"The destiny of the whole country will be decided by the Donetsk region," Kyrylenko told news outlets earlier this week in Kramatorsk, the administrative center of Donetsk, according to the Associated Press.
"Once there are less people, we will be able to concentrate more on our enemy and perform our main tasks," he added in reference to his call for residents to evacuate.
As reports on Tuesday indicated that Ukrainian soldiers with the country's 79th Air Assault Brigade were bracing for increased Russian artillery and pledging to continue to defend the borders of the Donetsk region, Russian state-run media outlets were reporting that Russian President Vladimir Putin had ordered a pause in the ongoing invasion to "build up strength."
That command came after Moscow claimed a major victory in seizing the Luhansk region in Ukraine's east, with Putin suggesting forces should rest prior to resuming other large-scale offensive operations.
"The units that took part in active hostilities and achieved success, victories in the Luhansk direction, of course, should rest, increase their combat capabilities," Putin said.
As Russia basks in its taking of the Luhansk region, Ukrainian President Volodymyr Zelensky has stated that Western-supplied weaponry is "finally" making a significant impact—warning Russia that it "should not think that their time on this land is long-lasting and that the superiority of their artillery is eternal."
Newsweek reached out to Ukrainian officials for comment.