Is Putin Closer to Declaring Victory in Ukraine?
Russia's grinding and bloody capture of Ukraine's Luhansk Oblast puts President Vladimir Putin closer to one of the Kremlin's stated war goals: the "liberation" of the entire eastern Donbas region, comprising Luhansk and Donetsk oblasts.
Putin officially recognized the two Russian-backed, self-declared "people's republics" in the region days before he launched a full-scale invasion of Ukraine. The breakaway states claim sovereignty over all of Donetsk and Luhansk.
The capture of Luhansk puts Putin closer to some form of victory in Ukraine, though Russian forces will have to contend with counterattacks, long-range bombardment, and covert operations; while on the southern front, Ukrainian units close in on Kherson city.
Will that map be enough for Putin to attempt to declare victory?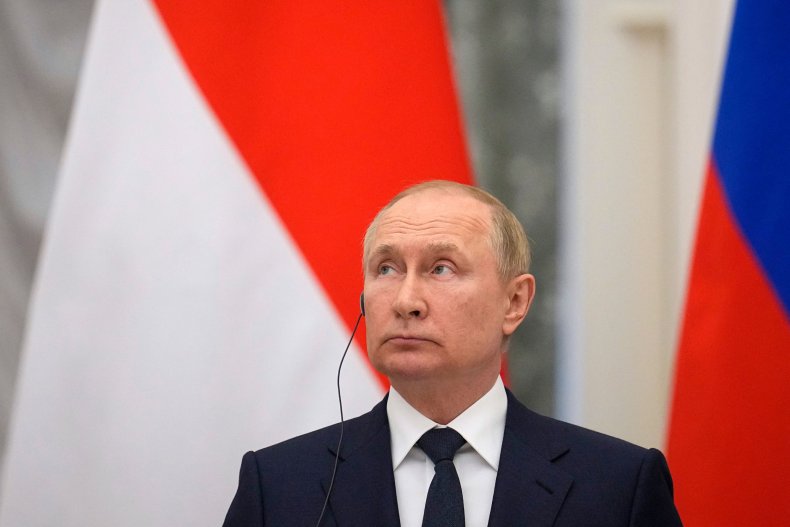 "I think Russia's plan right now is to capture Donbas and to see what they can do next," Oleg Ignatov, Crisis Group's senior analyst for Russia, told Newsweek, noting that it remains unclear whether Russian troops have strength to continue their westward push.
"They declared that Russia must take over Donbas," Ignatov added. "That's the minimum goal. If they don't achieve this goal, they will lose. So I think they understand that they will have to do everything for that. It could take months and there will be a lot of casualties, yes, but they want to do this."
Russia's ultimate war goals are nebulous.
The invasion was launched on February 24 on the false premise of "de-Nazification" of Ukraine, with armored columns and airborne troops striking towards Kyiv in an apparent effort to decapitate President Volodymyr Zelensky's government.
This gambit failed, though top Russian officials are still talking about the "demilitarization" and "de-Nazification" of Ukraine despite their numerous battlefield setbacks.
The seizure of swathes of land in the east and south of the country means a victory centered on "Novorossiya"—a notional territory under Russian control in much of southern and eastern Ukraine—is the most achievable victory.
"For Russian propaganda, of course this is proof that Russia is gradually moving closer to its goal—taking over Donbas," Ignatov explained.
"But everything depends on what goals Russia sets in this war. If Russia wants to capture eastern and southern Ukraine—or all of Ukraine—in the future, then this is a local success and a rather modest one, which is achieved with heavy losses."
Newsweek has contacted the Russian Foreign Ministry to request comment.
Slovyansk, the city in Donetsk, is the next target of the plodding but devastating Russian advance, and key to the Kremlin's ambition to take the entire oblast. But invading troops may have been exhausted by the fierce battles in Luhansk.
Ukrainian officials are resolute despite the loss of Luhansk. Most defending Ukrainians were able to withdraw to new defensive lines before being cut off by advancing Russians.
Oleksandr Merezhko, a member of the Ukrainian parliament and chair of the body's foreign affairs committee, told Newsweek: "We don't view it as a defeat, because we use mobile defense tactics and our army in some parts even starts counteroffensive and liberates some territories."
"At the same time we are trying to save people and to avoid encirclement of our troops. We are absolutely confident that we will liberate Luhansk and Donetsk. To do that we need heavy weaponry."
Oleksiy Danilov, the head of Ukraine's National Defense and Security Council, wrote on Twitter on Tuesday: "Ukrainian quality will outweigh the ruscist quantity for sure," using a term coined in Ukraine to describe Russian fascism. Accelerated Western weapon deliveries, he said, will be pivotal.
The fate of the Donbas will be decided on the battlefield, and with it perhaps the fate of Putin's entire war.
Taking Donetsk would give the Kremlin a base to both claim victory and strike deeper into Ukrainian territory. Defeat would leave the exhausted Russians on the defensive.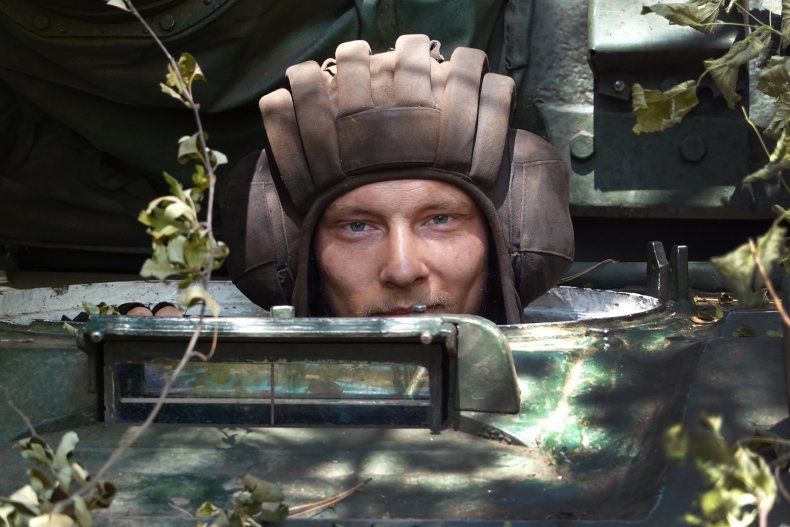 "Technically, he will have such an option, yes," Ignatov said of Putin declaring victory. "They are also talking about a security belt around Donbas, so it means they will have to take over more than just the administrative borders of the two regions."
"But first, if he understands that he has a big advantage and if Ukrainian resistance is collapsing he will continue to move forward," Ignatov added. "Even if he declares a victory he still doesn't have to accept a sovereign Ukraine."
"They keep talking about 'de-Nazification' and 'demilitarization.' So he will prepare for a new war. He could declare a victory only if he doesn't have resources to take more territories and he needs a pause. But I think he could do both—declare a victory and continue slowly advancing, hoping that Ukraine runs out of its resources faster."
There is little expectation in Ukraine that Putin would voluntarily offer a real ceasefire or order his troops to stop their advance. "Putin will continue to move forward until he is stopped," Merezhko said. "His final goal is Kyiv and 'regime change.'"
"He will not stop by himself. He needs control over the whole of Ukraine, or the biggest part of it."
Meanwhile, Ukraine's mauled defenders remain stubbornly committed to reversing Russian gains. One Ukrainian Army officer, who did not with to be named as they were not authorized to speak publicly, told Newsweek: "For us it's not a defeat, it's not a disaster."
"The capture of Luhansk Oblast is for their domestic audience, to justify the losses of people, munitions, equipment."
"I'm sure we will take back control of Luhansk Oblast as soon as we accumulate enough capacity and forces, including foreign assistance," said the officer, who spent time on the Donbas front line in recent months.
More Western MLRS, HIMARS, and long-range howitzers could have saved lives in Luhansk, he said.
As for Donetsk, "it will be 10 times more difficult" for the Russians to take the oblast, the officer said. "I'm really skeptical about their chances...Let them come."