Ukraine 'Big Victory' at Snake Island Could Be a Turning Point
Russian troops withdrawing from Ukraine's Snake Island in the Black Sea, after repeated bombardments, could have wide-ranging significance, current and former Ukrainian officials have said.
Snake Island became globally famous thanks to the now-legendary "go f*** yourself" response of the defending garrison when told to surrender to a Russian warship.
Moscow has explained the withdrawal as a "gesture of goodwill" that shows Russia is "not impeding [United Nations] efforts to organize a humanitarian corridor to ship agricultural products from Ukraine," and avoid catastrophic global food shortages.
But Ukrainian officials have dismissed Russia's explanation and declared the regaining of the island after 127 days of occupation as a significant strategic and symbolic victory.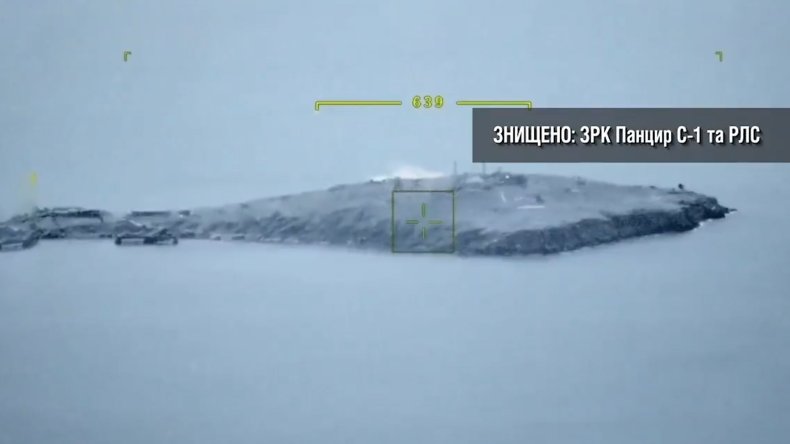 Andriy Zagorodnyuk, Ukraine's former defense minister, told Newsweek the forced Russian withdrawal denies Moscow use of what was essentially an "unsinkable ship."
The island hosted Russian electronic warfare and radar equipment, hiding and protecting Russian warships from Ukrainian coastal batteries. These ships could enforce the Black Sea blockade and use potent missiles to bombard Ukrainian ground targets.
"Now, that all is not going to be happening, which means that if any large ship comes to our waters, we could hit them," Zagorodnyuk said, like the Ukrainians sank the Moskva cruiser in April.
Re-occupying the island would be as dangerous for the Ukrainians as it proved for the Russians. "I would not suggest doing this," Zagorodnyuk said. Denial of Russian use, he added, is sufficient.
Andriy Ryzhenko, a retired naval captain and former deputy chief of staff in Ukraine's navy, told Newsweek that re-garrisoning the island would be costly for Ukraine. "For them it will be the same story as for the Russians," he explained, noting that Moscow can monitor and launch attacks on the outcrop from sites in Crimea.
Instead, Ryzhenko said, Ukraine could use its drone fleet to patrol the area and keep the Russians out. Unmanned boats—perhaps fitted with short-range missiles and other weapons—would be ideal, he added, though currently Ukraine does not possess such vehicles.
Russian Foreign Ministry has been contacted for comment.
"The Russians are ashamed and afraid to recognize any failure," said Iuliia Mendel, a former press secretary for President Volodymyr Zelensky who spoke to Newsweek.
"This is a big victory for Ukrainians which shows that our army—with partners' 'means of destruction,' as commander-in-chief Valerii Zaluzhnyy put it—and howitzers of Ukrainian origin used there can achieve successes in returning lands captured by Russians."
Oleksandr Merezhko, a member of the Ukrainian parliament and chair of the body's foreign affairs committee, called the Russian retreat "significant and very symbolic."
"It seems like Russian troops are getting exhausted," Merezhko explained. "We view it as a victory. In reality, the Russians had to evacuate their troops after the strikes of the Ukrainian army."
"It could have become a new Chornobaivka for Russians," Merezhko added, referring to the repeated Ukrainian attacks on Russian troops stationed at an airport near Kherson in the east of the country.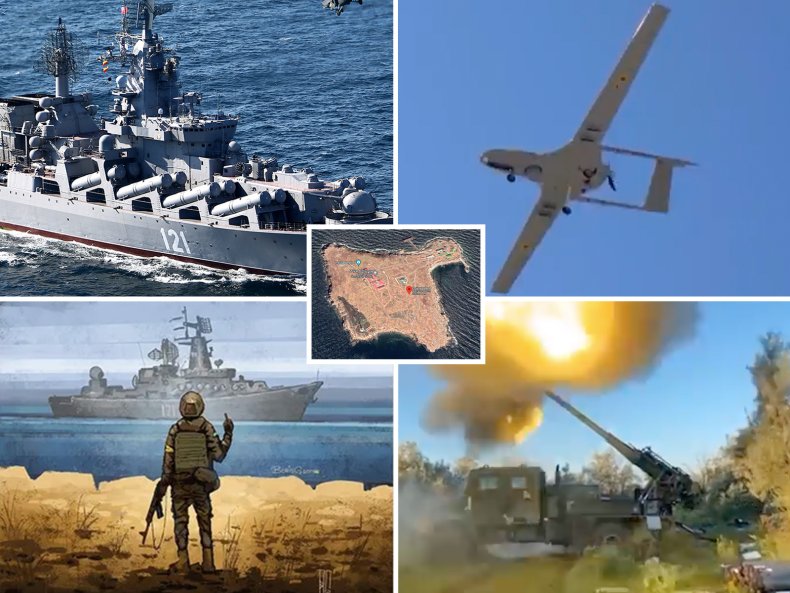 Merezhko dismissed the suggestion that abandoning Snake Island is a goodwill gesture. "They used the same 'argument' when they were defeated near Kyiv and had to withdraw," the politician said.
Russia's Black Sea blockade will continue regardless, even if its ships are more at risk than before.
Warships and submarines are still operating south of the island, and shortly after the withdrawal was announced it was reported that five more Russian submarines left the Crimean port of Sevastopol.
Still, there is hope that Russia's retreat from Snake Island means a better chance that badly needed Ukrainian grain exports will soon be able to leave the Ukrainian port of Odessa and cross the Black Sea safely.
"It is more likely now," Merezhko said. "At the same time it doesn't solve the whole problem because Russia continues its blockade."
Updated, 7/1/22, 5:10 a.m. ET: This article has been updated to include comment from Andriy Ryzhenko.