A stamp that shows a Ukrainian soldier flipping the bird to a Russian vessel—commemorating a confrontation by Snake Island—has reportedly broken sales records and can be seen as a symbol of the strategic importance of the Black Sea in the Ukraine war.
Philately captured a naval moment marking the start of Russian President Vladimir Putin's invasion on February 24. Since then Russia has been dominating the waters that lap much of Ukraine's southern coast despite a headline-grabbing and morale boosting strike two months ago.
On April 14, Kyiv said it sank Russia's Black Sea Fleet flagship Moskva with two Neptune missiles, killing as many as 250 sailors. Russia denied this, saying that the vessel sank after a fire on board that detonated ammunition.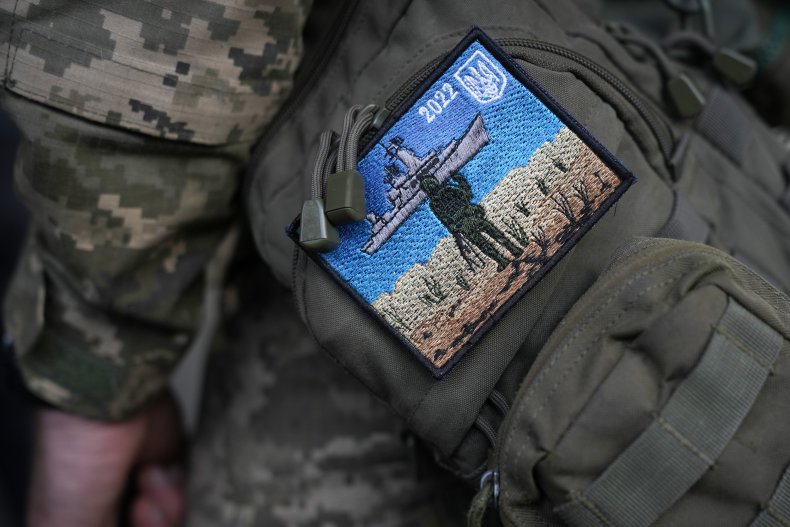 But British defense officials have pointed to how, in the weeks that followed, Russia has moved multiple air-defense assets to Snake Island where its naval activity is helping its blockade of the Ukrainian coast as food supplies lie stranded.
Ukrainian President Volodymyr Zelensky made a plea for more anti-ship missiles to break the blockade, warning this week 75 million tonnes of grain could be stuck in Ukraine by the fall. However, there is doubt over whether such weapons will hand Ukraine an advantage.
"Even with anti-ship missiles, that's assuming that the only threat you have is ships," said Sal Mercogliano, a maritime historian and associate professor of history at Campbell University in North Carolina.
"The threat Russians pose is with their submarines, which can mine the waters, torpedo vessels so that they have a potent below water and submarine capability there," he told Newsweek.
"As long as Russia can deprive Ukraine of the use of their ports on the Black Sea, that's economic warfare, they're waging against them. If Ukraine can't export their wheat, that's going to hurt them. "
At the start of the war, Russia's initial focus seemed to be to secure the Sea of Azov and the ports of Berdyansk and Mariupol. Its navy moved quickly to enact a blockade of the Ukrainian coast, closing off the Kerch Strait, linking the smaller Sea of Azov and the Black Sea, according to defense analysis website War on the Rocks.
Berdyansk and Mariupol have since fallen to Russian forces. It was estimated in late April that around 20 Russian naval vessels including six submarines are also patrolling the southern coast, according to the U.K. Ministry of Defense.
Further west, Russian warships and the forces on Snake Island have also helped exert a blockade on Odessa, Ukraine's largest seaport.
Ukrainian forces have continued their fight to retake Snake Island with one military expert telling the BBC in May that if Russian troops succeed in occupying the outcrop and they set up their long-range air-defense systems, this could see Russia control the sea, land and air in the north-west of the Black Sea and in the south of Ukraine.
But Mercogliano said that Ukraine has had some success in the area. "Because of the Ukrainian attacks on Snake Island, they've been able to pretty well neutralize that island. They've been able to get vessels into the Danube right there on the border of Romania and Ukraine," he said.
Russia started the war with an advantage in the Black Sea. After seizing Crimea in 2014, Moscow took over about three-quarters of Ukraine's fleet, leaving Kyiv reliant on a "mosquito fleet" of mostly small patrol boats.
Ukraine is trying to punch above its weight, with its Ministry of Defense saying it pushed the Russian naval fleet around 70 miles from the Black Sea coast with the help of anti-ship missiles supplied by Britain. But more of these weapons may not be enough.
"While anti-ship missiles might allow Ukraine to back Russian ships a certain distance from Ukrainian-held territory, they probably won't stop the Russians launching cruise missiles at Ukraine from further out to sea," said Mick Ryan, a retired Australian general and author of War Transformed: The Future of Twenty-First-Century Great Power Competition and Conflict.
"It won't stop Russia launching missiles at any ship trying to run the Russian blockade," he told Newsweek, adding that like in other aspects of the war, international help in the water is likely to be constrained.
"Just as we haven't seen NATO 'boots on the ground' or 'boots in the air' for Ukraine, we probably won't see 'boots on the sea' either in the Black Sea."
Away from Donbas where artillery strikes, burnt-out tanks and destroyed buildings form the main visual narrative of the Ukraine war, is a fight for influence in the sea that has consequences for the world's food supply.
"I think this is an aspect of the war where a negotiated safe passage may be the only solution," said Ryan. "The reality is, Russia is strong in the Black Sea and its Sevastopol base is very important to it. I don't see a military solution.
Russia has blamed Ukraine for un-moored mines in the Black Sea and international sanctions for the global food crisis. Its foreign minister, Sergei Lavrov, insisted in the Turkish capital of Ankara this week that Moscow "is not creating any obstacle" for the passage of ships or vessels.
Meanwhile, Kremlin propagandist Vladimir Solovyov was angered this week at German Culture Minister Claudia Roth laughing with her Ukrainian counterpart when presented in Odessa with the stamp of the soldier telling a Russian warship, "to go f**k yourself."
Ukraine will hope that this meme of defiance will presage other naval gains.
But Ryan said Russia "certainly ha[s] the upper hand in the Black Sea and will only make concessions there based on Ukrainian or international concessions elsewhere.
"We can be sure Russia will incorporate Black Sea use into any war termination arrangements."