Russia State TV Suggests Germany Invasion Over Minister's 'F**k You' Remark
A television host renowned for pushing Kremlin propaganda made a veiled reference to revisiting World War II hostilities between Russia and Germany.
On his evening program on Tuesday on Russia-1, Solovyov introduced a clip of German Culture Minister Claudia Roth receiving a gift of two stamps from her Ukrainian counterpart, Oleksandr Tkachenko, during a trip to Odessa on Tuesday. The first stamp showed a soldier in front of the silhouette of the Moskva, the Russian Black Sea fleet flagship that Ukraine said it had sunk with missiles. On the other stamp was the image of a soldier with his middle finger raised.
"F**k you, Russian ship," Roth said in English to Tkachenko as she laughed. This was a nod to what was reportedly shouted by Ukrainian border guards on Snake Island on February 24 when they told Russian warships to "go f**k yourself."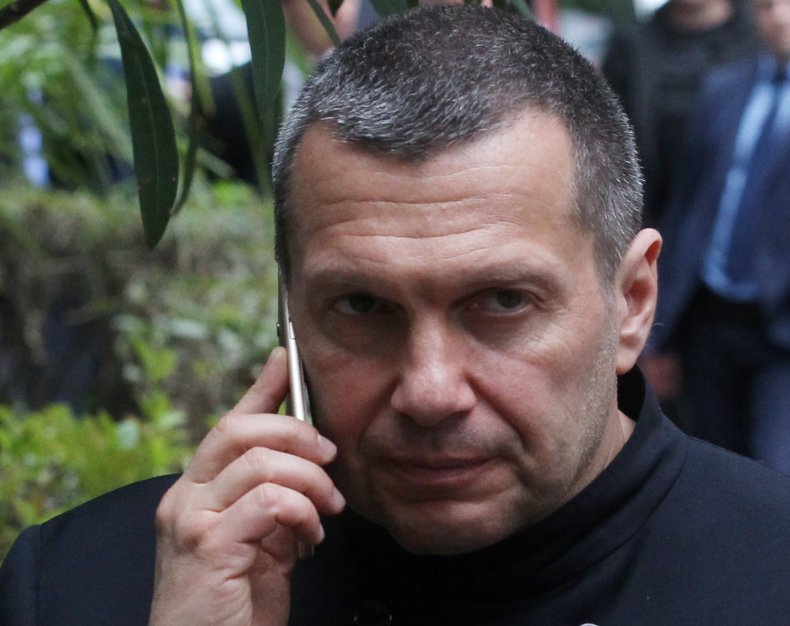 After the clip was played, Solovyov said, "that is the German culture minister" and in "pretending that she's translating what is written on the stamp...she was telling us all to f**k off."
"What are we supposed to do now? Once again shake the dust off Teutonic graves with the thundering march of Soviet boots? They will never get the message otherwise," he said, asking if "the injection of kindness has run out," to murmurs of agreement from his panelists.
"So now they think they can do what they like. To start with they send their panzers to the east which will soon trample on Russian soil again," he continued, veering into a German accent as he referred to the 1941 German invasion of the Soviet Union known as Operation Barbarossa.
Russia-1 programs like Evening with Vladimir Solovyov make frequent references to World War II, not least because the Kremlin's widely rejected justification for the invasion of Ukraine is to "denazify" the country. They are particularly critical of German and NATO support for Ukraine and have warned of dire consequences for such backing.
Solovyov, who has close ties with Russian President Vladimir Putin, warned this week on his show that if the alliance kept helping Ukraine, there would be a "massive nuclear strike" in which only "mutants" would survive.
German Chancellor Olaf Scholz said he was providing more support to Ukraine than "almost anyone else," as Berlin pledged to increase its military mission in Lithuania in response to Russia's invasion.
Newsweek reached out to the German Foreign Ministry for comment.