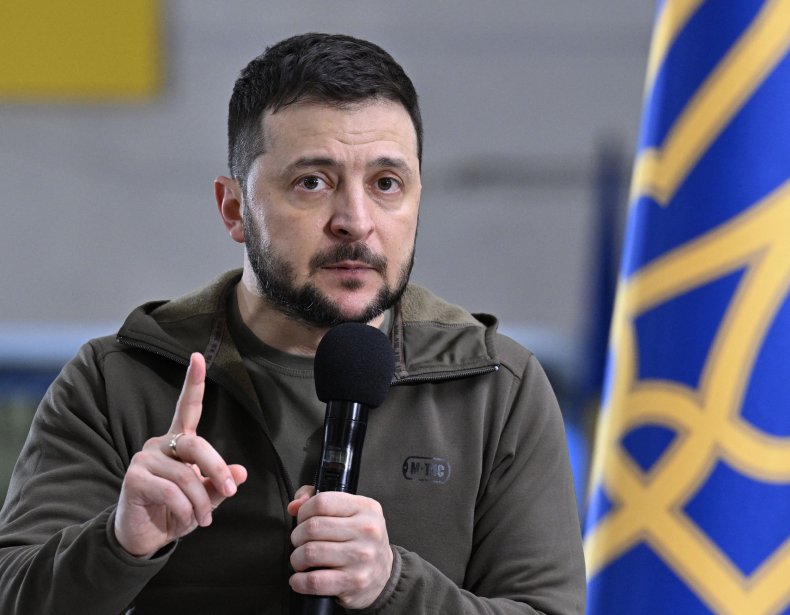 Ukrainian President Volodymyr Zelensky has praised Western nations for supplying his forces with weapons, which he said are "finally" making a significant impact in his country's war with Russia.
Zelensky warned that the Russian military "should not think that their time on this land is long-lasting and that the superiority of their artillery is eternal" during a Wednesday night address that boasted of artillery supplied to Ukraine by allies. He denounced Russia for destroying Kharkiv's National Pedagogical University in an apparent missile attack on Wednesday, calling the strike "the definition of barbarism," before insisting that the Western-supplied weapons were making "noticeable strikes" against Russian "logistics" capabilities.
"Finally it is felt that the Western artillery—the weapons we received from our partners— started working very powerfully," Zelensky said during the address, according to translated transcript provided by his office. "Its accuracy is exactly as needed. Our defenders inflict very noticeable strikes on depots and other spots that are important for the logistics of the occupiers. And this significantly reduces the offensive potential of the Russian army," he continued. "The losses of the occupiers will only increase every week, as will the difficulty of supplying them."
Zelensky went on to say that there would be "no peace for any of the occupiers," while promising to force "every Russian murderer, torturer and rapist" to "be held accountable."
The United States is one of several allies to supply weapons to Ukraine. The U.S. has contributed approximately $7.6 billion in military aid to Ukraine since the Russian invasion began on February 24, including an additional $820 million authorized on July 1, according to the Department of Defense. Supplies include anti-aircraft systems, tactical drones, rocket systems, howitzers and artillery rounds.
Ukrainian Foreign Minister Dmytro Kuleba tweeted on Wednesday that he had discussed efforts to "to speed up supplies of heavy weapons from the U.S. and other partners" during a conversation with U.S. Secretary of State Antony Blinken.
Meanwhile, a bill submitted by the Kremlin to the State Duma last week, which stressed a short-term need for "the repair of weapons and military equipment," suggested that Russia may be struggling to maintain an adequate supply of war weapons and equipment.
Regardless of optimism from Zelensky and other Ukrainian officials, Russia has made significant advances in the war after shifting its focus to Ukraine's eastern Donbas region. In addition to the growing and continued presence of the Russian military, the region contains a large population of Russian-backed separatists.
Ukrainian Deputy Prime Minister Iryna Vereshchuk on Wednesday lamented the fate of 10,000 Ukrainians who remained in the Russian-occupied city of Lysychansk, saying that any violence they may face would be a "sad consequence" of not listening "to the authorities when we told them and arranged for them to evacuate."
Newsweek has reached out to the Russian government for comment.