Putin Pauses Russian Invasion to Help Depleted Forces 'Build up Strength'
Russian President Vladimir Putin ordered a pause in the invasion of Ukraine on Monday, after Moscow claimed a major victory in seizing the Luhansk region in Ukraine's east.
Putin, during a meeting with Russian defense minister Sergei Shoigu, said all units involved in the offensive in Luhansk should rest to "build up strength," state-run media outlets reported.
"The units that took part in active hostilities and achieved success, victories in the Luhansk direction, of course, should rest, increase their combat capabilities," Putin said.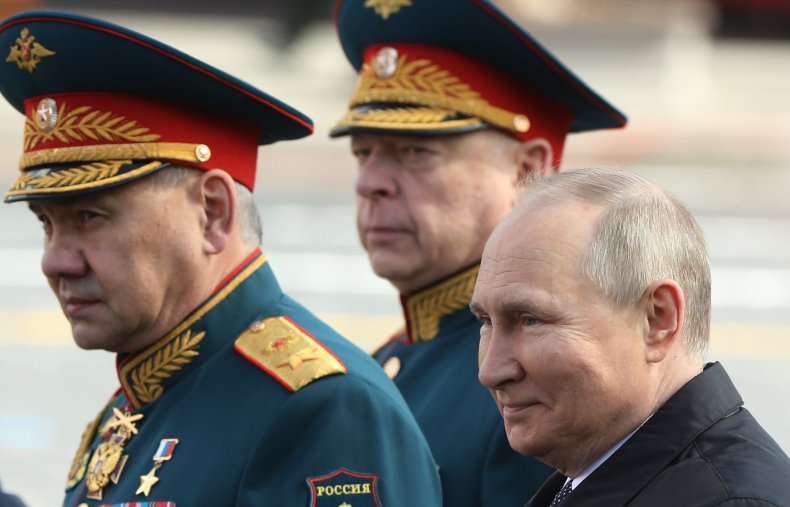 His remarks came after Russian forces forced Ukrainian soldiers to withdraw from Lysychansk, the last key city under their control in the Luhansk region on Sunday.
The Institute for the Study of War (IWS), a U.S.–based think tank, said in an assessment on Monday that Putin appeared to direct the Russian military to conduct an operational pause.
The ISW said Putin's order was likely meant to signal "his concern for the welfare of his troops in the face of periodic complaints in Russia about the treatment of Russian soldiers."
"His comment was also likely accurate—Russian troops that fought through Severodonetsk and Lysychansk very likely do need a significant period in which to rest and refit before resuming large-scale offensive operations," the assessment said.
The ISW noted that "it is not clear, however, that the Russian military will accept the risks of a long enough operational pause to allow these likely exhausted forces to regain their strength."
Luhansk Governor Serhiy Haidai told Reuters on Monday that he expects Russian forces in Ukraine will now ramp up their offensive to seize all of the Donetsk region. Russia shifted its focus to the Donbas region after failing to capture the country's capital, Kyiv, in the early stages of the war.
"In terms of the military, it is bad to leave positions, but there is nothing critical (in the loss of Lysychansk). We need to win the war, not the battle for Lysychansk," Haidai said. "It hurts a lot, but it's not losing the war."
Haidai said Russia's "goal number 1" now is to capture the Donetsk region.
On Monday, Putin also ordered Shoigu to reward those who "distinguished themselves" in seizing Luhansk.
On Tuesday, the Russian leader awarded the "Hero of Russia" title to Major General Esedulla Abachev and Colonel General Alexander Lapin—both of whom distinguished themselves during the capture of Luhansk, state-run news agency TASS reported.
"To confer the Hero of the Russian Federation title on Abachev Esedulla Abdulmuminovich - Major General, and Lapin Alexander Pavlovich - Colonel General, for courage and heroism they displayed in performing the military duty," a decree signed by Putin read.
Newsweek has reached out to Russia's defense ministry for comment.