Russia Military Deaths Pass 36k, Ukraine Says, as Putin's Gains Exact Heavy Toll
Russia's military deaths in Vladimir Putin's ongoing war have surpassed 36,000, Ukraine's armed forces said Monday, as Moscow claimed a major victory after appearing to take control of the Luhansk region.
Ukrainian officials regularly provide updates on Russian military losses. The general staff of the armed forces of Ukraine said on Facebook that since Putin's war began on February 24, Russia has lost 36,200 military personnel.
Putin has also lost 1,589 tanks, 3,754 armored combat vehicles, 804 artillery systems, 246 multiple rocket launchers, 105 air defense systems, 217 aircraft, 658 operational-tactical UAVs, 15 warships, 2,629 vehicles and tankers, and 187 helicopters, according to Ukraine's combat losses update.
Russia rarely discloses its own military losses. Moscow last released figures on March 25, when a general told state media that 1,351 soldiers had been killed and 3,825 were wounded. The U.K. government said in April that Russia had lost about 15,000 troops.
Newsweek has been unable to verify each claim.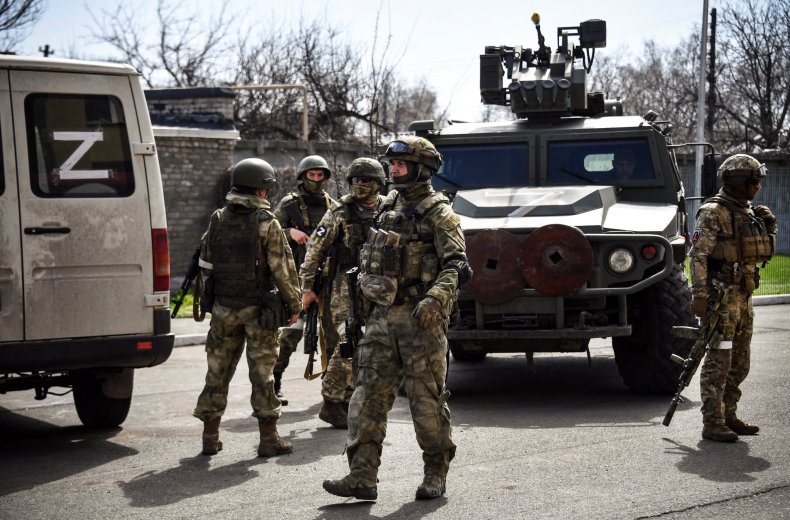 Ukrainian presidential aide Mykhaylo Podolyak told the BBC that between 100 and 200 Ukrainian troops are being killed in combat every day, amid a ramped up effort by Moscow to seize the Donbas in Ukraine's east.
Russia shifted its focus on the Donbas region after failing to capture the capital, Kyiv, in the early stages of the war.
Russian forces on Sunday forced Ukrainian soldiers to withdraw from Lysychansk, the last key city under their control in the Luhansk region. Luhansk Governor Serhiy Haidai told Reuters on Monday that Russian forces in Ukraine will now ramp up their offensive to seize all of the Donetsk region.
"In terms of the military, it is bad to leave positions, but there is nothing critical (in the loss of Lysychansk). We need to win the war, not the battle for Lysychansk," Haidai said. "It hurts a lot, but it's not losing the war."
Haidai said Russia's "goal number 1" now is to capture the Donetsk region.
"Sloviansk and Bakhmut will come under attack—Bakhmut has already started being shelled very hard," he said.
Kyrylo Budanov, head of the Ukrainian Defense Ministry's Chief Intelligence Directorate, separately told RBC-Ukraine in an interview that he believes Russia will not stop at the Donbas, and will seek to destroy the whole country.
"Once again I would like to reiterate that we were the ones who were the first to say what would happen and how it would happen. So I can tell you irrefutably that Russia's plans are the total annihilation of Ukraine, the absolute total annihilation," said Budanov.
"And [as for] any insinuations about whether Donbas might be enough for them, please don't even ask me questions like that. We will not trade territory."
Newsweek has contacted Russia's foreign ministry for comment.