Belarusian Escort Who Said She Had Information for Mueller's Russia Investigation Will Be Deported From Thailand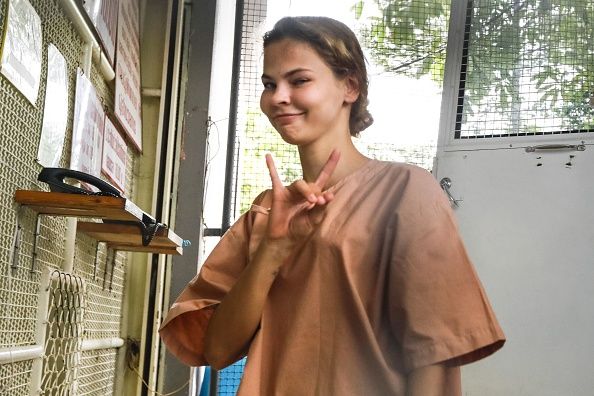 Nastya Rybka, the Belarusian escort who claimed she had obtained information about Russian efforts to influence the 2016 U.S. presidential election while riding on the yacht of oligarch Oleg Deripaska, has been sentenced in Thailand to time served and will be deported home, a judge determined on Thursday.
Rybka and seven other Russian and Belarusian citizens were arrested almost one year ago in Thailand for offering classes on sexual seduction. "The court found them all guilty of soliciting sex," a judge said on Tuesday. "The court releases them today."
All eight of the people involved in the "sex trainings" have also been ordered to pay a fine of around $6,000. They will be held in a detention facility before they are deported home next week.
Rybka had previously asked not to be deported, claiming that her life would be in danger if she were sent to Russia. It is unclear whether she will be deported back to Russia or Belarus.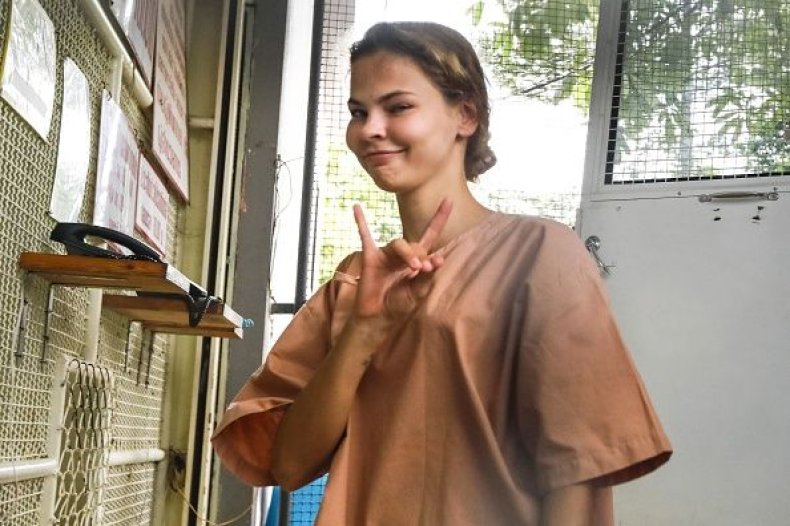 Rybka, whose real name is Anastasia Vashukevich, first gained notoriety when the Russian opposition leader and anti-corruption activist Alexei Navalny published some of her Instagram videos, which showed Deripaska, the Russian aluminum magnate and close ally of Russian President Vladimir Putin, on a yacht with Russia's Deputy Prime Minister Sergei Prikhodko. The videos were meant to call attention to the corruption implicit in a government figure hobnobbing with oligarchs and escorts on yachts.
But Rybka became a person of interest in special counsel Robert Mueller's investigation into election interference after she claimed that she had information on Russian efforts to interfere in the U.S. election. Mueller's team is investigating whether members of the Trump campaign worked with the Russians to sway the election, and Deripaska is a person of interest.
Deripaska was a longtime business partner of President Donald Trump's former campaign manager Paul Manafort, who allegedly offered to provide Deripaska with briefings in order to "get whole." Manafort had owed Deripaska around $20 million, according to court documents. Deripaska was sanctioned in April along with a handful of other oligarchs and Russian entities.
"Deripaska has said that he does not separate himself from the Russian state. He has also acknowledged possessing a Russian diplomatic passport, and claims to have represented the Russian government in other countries," read a statement from the Treasury Department at the time. "Deripaska has been investigated for money laundering, and has been accused of threatening the lives of business rivals, illegally wiretapping a government official, and taking part in extortion and racketeering. There are also allegations that Deripaska bribed a government official, ordered the murder of a businessman, and had links to a Russian organized crime group."
The Treasury Department is recommending that Deripaska's companies, Rusal, EN+, and ESE, be taken off the sanctions list as long as Deripaska relinquishes control over them. Treasury Secretary Steven Mnuchin briefed the House on the matter on Thursday, but House speaker Nancy Pelosi called the briefing "a waste of time" and "one of the worst classified briefings" she had witnessed under the current administration.
Rybka alleged that she had in her possession over 16 hours of recordings of Deripaska and three Americans discussing the 2016 presidential election, and she offered to hand over the evidence if the U.S. gave her asylum.
It is unclear if Rybka ever provided information of use to the special counsel, but some reports suggested that the FBI had attempted to visit her in jail in Thailand. She later told a reporter in the court that she had handed the evidence back over to Deripaska.
On her Instagram account, Rybka describes herself as a writer, Deripaska's mistress, and the next president of Russia. She has not posted anything new on Instagram since shortly after she was first arrested.