Belgium Politicians Jokingly Offer Trump Wallonia in Exchange for One Euro Amid Greenland Dispute: 'Call Us'
A group of Flemish politicians ridiculed Donald Trump's interest in purchasing Greenland on Thursday by jokingly offering the U.S. president Wallonia, the French-speaking region of southern Belgium, in exchange for one Euro.
"Dear President @realDonaldTrump, one euro and Wallonia is yours. Call us. #GreenlandIsNotForSale," Jong N-VA, the young arm of the New Flemish Alliance, tweeted Thursday, alongside an image of Trump Tower photoshopped into Durbuy, a town in eastern Belgium.
Lawrence Vancraeyenest, the president of Jong N-VA, confirmed to Euro News that the offer was meant to be taken lightly. "It was just a joke aimed at a young Flemish audience, going along with something trending on Twitter, nothing more," he said. "I sincerely hope there is still room for some humor in politics. Especially young people need that."
Although the tweet was posted only hours ago, it has already drawn considerable backlash from Belgian citizens residing in Wallonia. In response, Vancraeyenest asserted that the tweet was not meant as "a political statement" and said the backlash from Walloons is "proof we each live in a different culture."
The image accompanying the tweet appears to be mocking one that Trump posted on Monday, which showed Trump Tower photoshopped into a picture of Greenland. "I promise not to do this," the president wrote.
Trump suggested over the weekend that the U.S. should purchase Greenland, an autonomous region of the Kingdom of Denmark. "Strategically, it's interesting, and we'd be interested, but we'll talk to them a little bit. It's not number one on the burner," the president told reporters in Bedminster, New Jersey on Sunday, comparing the purchase to a "large real estate deal."
After Denmark's Prime Minister Mette Frederiksen dismissed Trump's idea as "absurd," the U.S. president announced that he "will be postponing" an upcoming visit to the nation "based on" Frederiksen's comments that "she would have no interest in discussing the purchase of Greenland."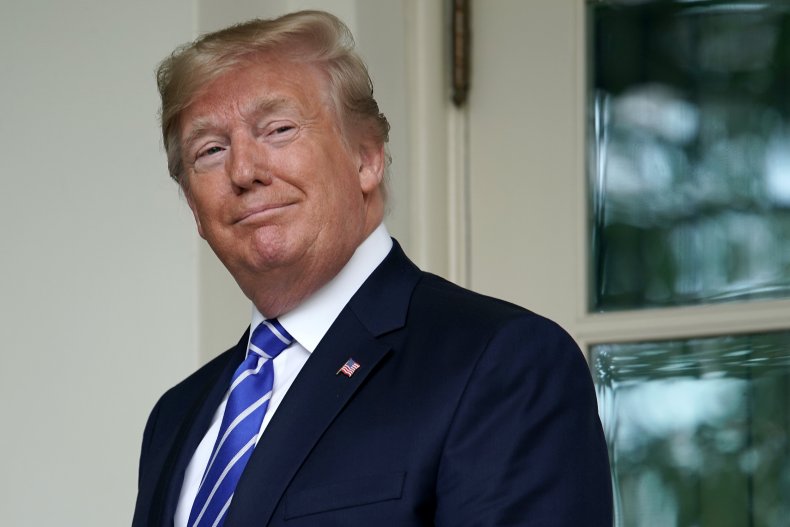 Despite Trump's claim that the trip was postponed, the White House later clarified that the visit has actually been canceled. The Danish royal house also confirmed the trip was canceled, according to the BBC. The royal house's communications manager, Lene Balleby, said the news came as a "surprise."
Trump's suggestion to buy Greenland and his decision to cancel his visit to the region has been met with widespread condemnation and anger by politicians in Greenland, Denmark and the U.S. A former U.S. ambassador to Copenhagen on Wednesday told Newsweek that Trump had placed his "finger in the eye of a great ally" by canceling his visit to Denmark.
"I think it's embarrassing for the United States," said Rufus Gifford, who was appointed by former President Barack Obama as American ambassador to Copenhagen in 2013. "I think it's embarrassing for diplomacy, it's embarrassing for American foreign policy."