Donald Trump Canceling State Visit 'Embarrassing' Says Ex-U.S. Ambassador to Denmark: 'We Don't Treat Friends and Allies This Way'
The former U.S. ambassador to Copenhagen has told Newsweek that President Donald Trump has put his "finger in the eye of a great ally" by canceling a state visit to Denmark.
Trump tweeted that he would not go to the Scandinavian country next month because its Prime Minister, Mette Frederiksen, was not willing to discuss selling Greenland.
The idea was first reported last week and had taken politicians in Denmark, and its immense autonomous territory, by surprise. Self-governing Greenland depends on NATO member Denmark for economic support and its location between the Atlantic and Arctic oceans makes it strategically important.
A former finance campaign director for Barack Obama, Rufus Gifford, was appointed by the former U.S. president as American ambassador to Copenhagen in 2013, a post he held until 2017. For his services, he was awarded the prestigious Grand Cross of the Order of the Dannebrog by Queen Margrethe II.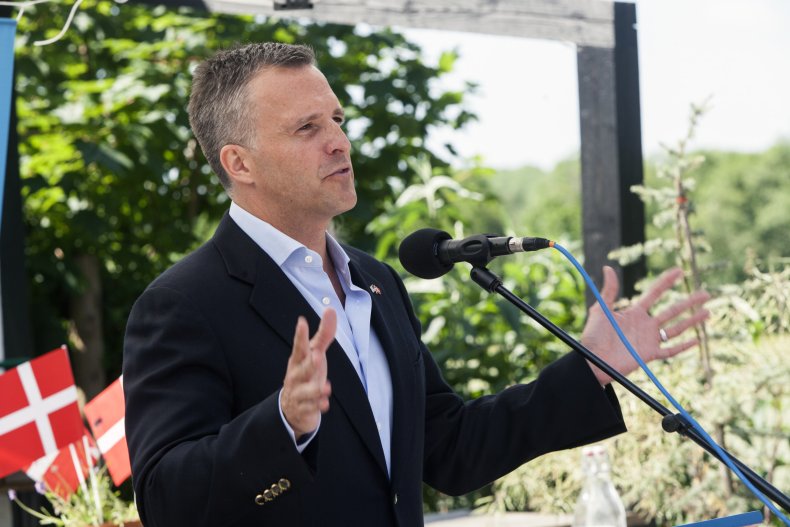 Gifford told Newsweek: "I think it's embarrassing for the United States. I think it's embarrassing for diplomacy, it's embarrassing for American foreign policy.
"What's happened here, is that he has said to a centuries-old ally that a visit to their country—that he requested and the Queen granted—is contingent upon them being willing to negotiate the sale of part of the kingdom.
"Since the end of World War Two, American foreign policy, regardless of political party, has been dictated by a certain consistency toward the alliances in the west that have kept the world peaceful and prosperous.
"This finger in the eye of a great ally is dissing not just protocol but also it's a diss of the (NATO) alliance more broadly," he told Newsweek.
Billboards advertising Trump's visit have been prominent in the Danish capital and although he is not popular in the country, Gifford said that the first official state visit by an American president since 1997 was "a big deal."
"Regardless of how you feel about Donald Trump's politics, it's still a special occasion and the alliance means something. I wish it meant as much to this administration. This is not normal behavior… We don't treat friends and allies this way. Loyalty has to mean something," he added.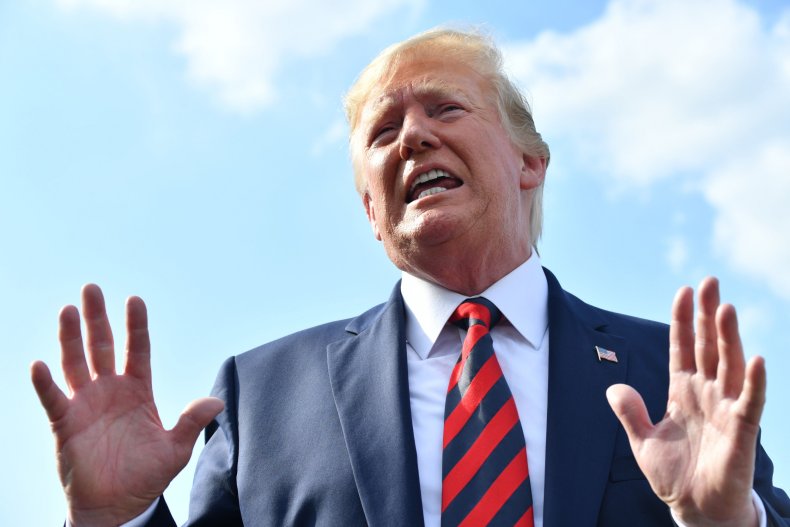 On Tuesday night, Gifford's successor, Carla Sands, appeared to be unaware of Trump's cancellation, tweeting an image of a Trump billboard with the words: "Denmark is ready for the POTUS @realDonaldTrump visit! Partner, ally, friend."
Political reaction in Denmark has been strong, with Morten Østergaard from the Danish Social Liberal Party posting on Facebook: "Reality transcends imagination…This shows why more than ever we should consider EU countries as our closest allies..The man is unpredictable."
Rasmus Jarlov, from Denmark's Conservative People's Party, said that Trump had "insultingly" canceled a visit that "everybody was preparing for." He tweeted: Are parts of the U.S. for sale? Alaska? Please show more respect."
The former foreign minister, Kristian Jensen, who is part of the opposition liberal party Venstre, said on Twitter. "Total chaos with @realDonaldTrump and cancellation of state visit to Denmark. It has gone from a big opportunity for strengthened dialog between allies to a diplomatic crisis." He added "everyone should know Greenland is not for sale."
Greenland has considerable mineral wealth and hosts a U.S. military presence at the Thule airbase under a 1951 treaty.
Gifford, who has visited Greenland a dozen times, was optimistic that the ties between Denmark and the United States would stay strong, telling Newsweek: "We have had diplomatic relations since 1804, we have survived World Wars and we will survive Trump."