Donald Trump Angers Danish Politicians by Canceling Visit Over Refusal to Sell Greenland: 'Are Parts of the U.S. For Sale? Please Show More Respect'
President Donald Trump has been accused of insulting the Danish monarch by canceling a visit to the nation after its prime minister had insisted that Greenland was not for sale to the U.S. Invited by Queen Margrethe II, Trump said he would not go to Copenhagen for the state visit which was due to start on September 2.
Last week, the Wall Street Journal reported that Trump had suggested the U.S. could purchase the autonomous Danish territory, an idea that was dismissed as "absurd" by the country's Prime Minister, Mette Frederiksen.
On Tuesday, Trump tweeted: "Denmark is a very special country with incredible people, but based on Prime Minister Mette Frederiksen's comments, that she would have no interest in discussing the purchase of Greenland, I will be postponing our meeting scheduled in two weeks for another time...."
"The Prime Minister was able to save a great deal of expense and effort for both the United States and Denmark by being so direct. I thank her for that and look forward to rescheduling sometime in the future!" Trump added.
Despite Trump saying in the tweet that he would only postpone the visit, the White House said that the trip had been canceled, which was also confirmed by the Danish royal house, the BBC reported. The royal house's communications manager, Lene Balleby, said: "It was a surprise. We have nothing more to say about this case."
Politicians in Denmark and Greenland have reacted with a mixture of anger and bemusement at both the cancellation and that the purchasing idea mooted by Trump was a serious one.
Rasmus Jarlov from Denmark's Conservative People's Party, tweeted: "As a Dane (and a conservative) it is very hard to believe. For no reason Trump assumes that (an autonomous) part of our country is for sale. Then insultingly cancels visit that everybody was preparing for. Are parts of the US for sale? Alaska? Please show more respect."
Co-founder of the Danish People's Party and former speaker of the Danish parliament, Pia Kjærsgaard, tweeted that Trump's cancellation showed a "complete lack of respect" to the monarch.
"President Trump cancels his visit to Denmark on Twitter because we do not want to sell Greenland ... This is rude behavior towards the Danish people and the Queen who has invited him," she wrote.
The former secretary of state, Uffe Ellemann-Jensen, said the cancellation was "an insult to our queen," Jyllands Posten reported.
Greenland Premier Kim Kielsen had previously said: "Greenland is not for sale, but Greenland is open for trade and co-operation with other countries, including the USA."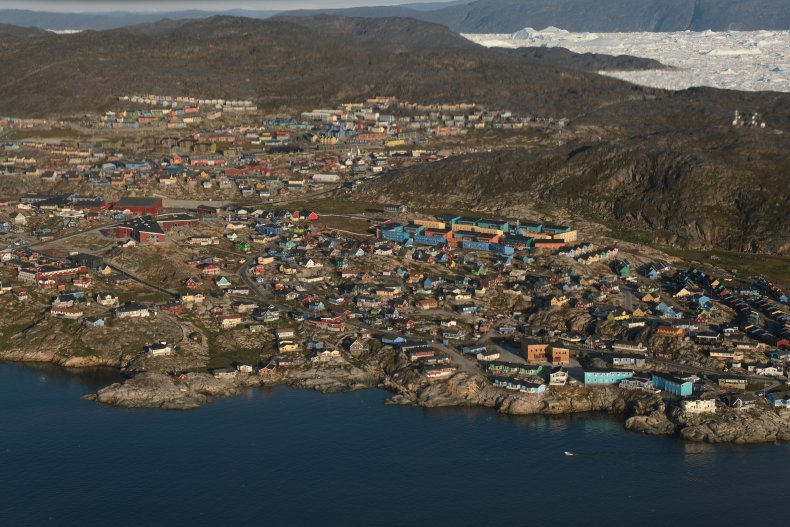 While the Danish government had immediately dismissed the idea of a sale, it was prepared to discuss closer ties with Washington over the American presence on the world's largest island.
Its location between the Atlantic and Arctic oceans makes it strategically important. Its Thule Air Base can detect potential intercontinental ballistic missile threats against North America.
The Danish prime minister said it was "unavoidable" that the U.S. would have a greater military presence in Greenland in the future.
"Fortunately, we've seen peaceful development in the Arctic in recent years and there is all the reason in the world to continue to support that. But we can see a rising interest in the Arctic from other countries, which impacts the security aspect—something we must react to," Frederiksen told TV2 News.