Ben Affleck has shown that he's wowed by his on-again partner Jennifer Lopez in more ways than one, after singing her praises in a new interview.
The Gigli co-stars delighted fans earlier this year, when they rekindled their romance almost 20 years after they first got together and became "Bennifer."
And as they settle into life as "Bennifer 2.0", Affleck has shared some gushing words about his former fiancée's career impact, after she was named Adweek's 2021 Brand Visionary.
In his interview with Adweek, which was published on Sunday, Affleck also spoke of the women who have been inspired by Lopez, who was born in New York City to Puerto Rican parents.
"I am in awe of what Jennifer's effect on the world is," the actor and filmmaker said. "At most, as an artist, I can make movies that move people.
"Jennifer has inspired a massive group of people to feel they have a seat at the table in this country. That is an effect few people throughout history have had, one I will never know and one I can only stand by and admire with respect."
He added: "All I can tell you is that I have seen firsthand the difference representation makes because I have seen, over and over and over and over, women of color approach Jennifer and tell her what her example as a strong woman and a woman succeeding and demanding her fair share in the business world means to them."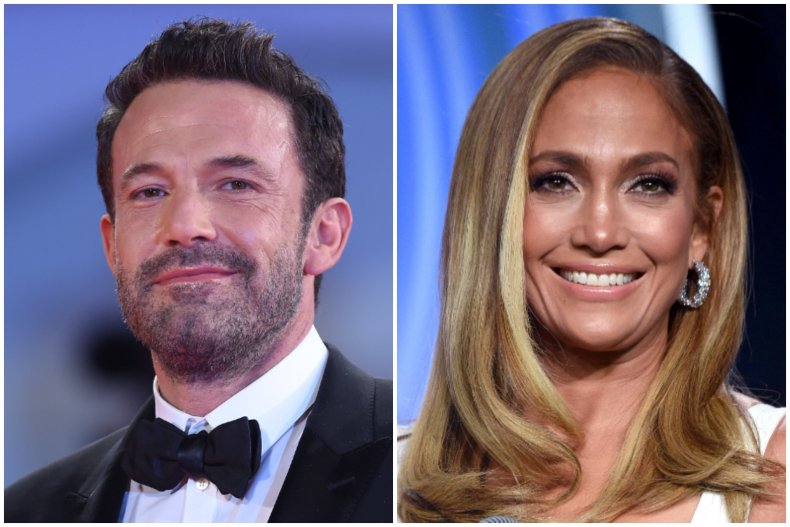 The Adweek article charted Lopez's rise from a Fly Girl dancer on '90s comedy sketch show In Living Color to becoming a movie and music star and entrepreneur.
It also covered how her philanthropic project, Limitless Labs, has partnered with Goldman Sachs to "elevate and support Latin entrepreneurs" through its 10,000 Small Businesses program.
Speaking of her multi-hyphenate career, Lopez told the publication: "I didn't think I ever had to just do one thing. I didn't just have to be an actress or just a singer.
"I could be an actress and a singer, and I could be a dancer and I could be a producer and I could direct. And I could create perfumes with Coty because I had the opportunity, or make clothes."
She went on: "I've been incredibly fortunate in my life, and I live out loud through my artistry and my creativity and try to stay as authentic to myself as I can. I'm real.
"That was important to me—to stay connected to my roots and not ever change or make what people said or thought about me influence who I really was inside. It's about being limitless and never allowing anybody to put me—and limit me—within a box."
While Affleck shared gushing words about Lopez, the mother-of-two has been equally full of praise of her beau in recent days.
Last week, she took to her Instagram account to share throwback footage of her recent trip to Italy with Affleck for the Venice Film Festival, where they made their red carpet debut as a reunited couple.
And in an accompanying caption, Lopez commended Affleck's work on The Last Duel, his new movie with Matt Damon which premiered at the festival.
"I had such a beautiful time!! And I'm so excited for you guys to see this movie!!" Lopez wrote. "It's the first script Matt and Ben have written together along with Nicole Holofcener since Good Will Hunting!! And it's amazing!! The acting by the whole cast is fantastic."
Lopez, who was engaged to Affleck from the end of 2002 until the start of 2004, made their relationship Instagram official in July when she shared a photo of herself kissing Affleck as she celebrated her 52nd birthday.
Earlier that month, Lopez's friend Leah Remini shared a snapshot of the on-again couple embracing at her birthday party.
Hustlers star Lopez, who shares 13-year-old twins Max and Emme with her ex-husband Marc Anthony, was romantically linked to Affleck shortly after she announced her split from fiancé Alex Rodriguez in April.
Affleck shares three children—daughters Violet, 15, and Seraphina, 12, and son Samuel, 9—with his ex-wife Jennifer Garner.