Ben Affleck Slammed for Linking Jennifer Garner Marriage Issues to Drinking
Ben Affleck is facing social media backlash after stating that feeling "trapped" in his ill-fated marriage to Jennifer Garner was a factor that led to his drinking problem.
The Hollywood actor tied the knot with his Pearl Harbor and Daredevil co-star in 2005. After a decade-long union, in which they had three children, the stars announced their separation in 2015, with their divorce being finalized in 2018.
And during an appearance on SiriusXM's The Howard Stern Show, Affleck spoke candidly about the breakdown of his marriage to actress Garner, as he insisted that ending the romantic arm of their relationship was the right thing to do.
"The truth was, we took our time, we made a decision, we grew apart. We had a marriage that did not work. This happens," he said, per Entertainment Tonight. "It is somebody I love and respect, but to whom I should not be married any longer."
"And then we said, 'You know what? We tried. We tried, because we had kids,'" he went on, "and then both of us felt like, 'We don't want this to be the model that our kids see of marriage.'"
He then told titular host Howard Stern that had they stayed together, they "would have ended up at each other's throats" and he "would probably still be drinking."
"That was part of why I started drinking alcohol, I was trapped," he said. "I was like, 'I can't leave because of my kids, but I am not happy. What do I do?' What I did was drink a bottle of scotch on the couch, which turned out not to be the solution."
As word of Affleck's interview reached social media, Twitter users criticized the actor for linking his alcoholism—which stems back decades—to his union.
"I am once again begging Ben Affleck to stop talking about Jennifer Garner," said The Cut writer Olivia Truffaut-Wong in reaction to the interview.
Another Twitter user posted a paparazzi photo of Garner driving Affleck to rehab after their marriage was over, to illustrate how she had continued to support him.
An accompanying caption read: "Ben Affleck: I would've 'still' been drinking if I stayed married to Jennifer Garner.
"Jennifer Garner: *helps him to rehab 3 full years after they've already separated*."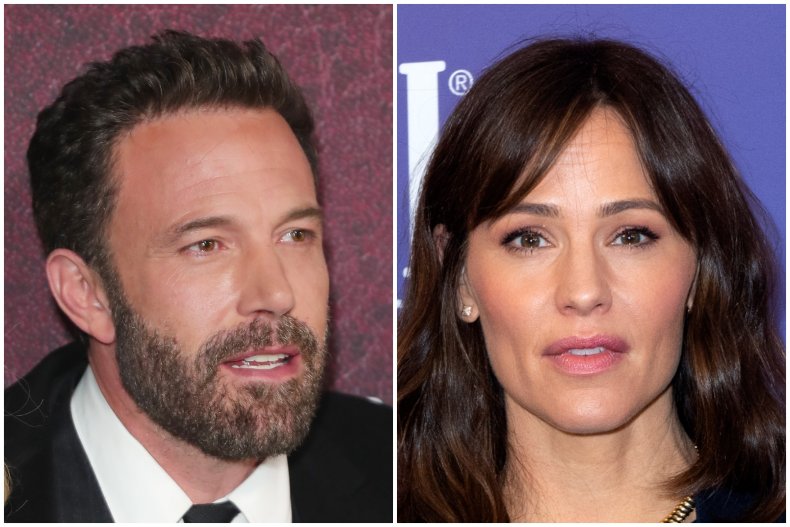 "When you can't accept that your drinking problem is because of you, you still have a drinking problem," opined another. "Jennifer Garner didn't drive Ben Affleck to drink, she did however drive him to rehab probably saving his life."
"Ben Affleck blaming his marriage for his drinking problem. Nope," said another detractor. "Jennifer Garner is not gonna shoulder the blame for your alcoholism. That's so s*****."
Agreeing with a similar sentiment sharing on the micro-blogging platform, another Twitter user shared: "Jennifer Garner seems like the kindest, most supportive person. @BenAffleck seems to be pinning his drinking on her. He just made me like him less. He doesn't need to air these private & inappropriate thoughts. Plus he needs to take responsibility for his choice to drink."
However, he also received support among the sea of criticism, with one person stating: "Ben Affleck did not blame Jennifer Garner. He's talking about a common problem of spouses growing apart but having children and being unable to leave. He even mocked himself for his poor coping skills. I wish people would be allowed to talk honestly like this."
Tweeted another: "Ben Affleck was drinking because he was unhappy. That's not a dig at Jennifer Garner, it's his truth. He was in an unhappy marriage. I have a lot of respect for him addressing his alcoholism and speaking openly about it."
Elsewhere in his interview with Stern, Affleck revealed that when he and Garner ended their marriage, they "did it amicably."
"Did we have moments of tension? Did we have disagreements over the custody? Was stuff difficult for us? Did we get angry? Yes," he admitted. "But fundamentally it was always underpinned with respect. I knew she was a good mom.
"I hope that she knew that I was a good dad. I was. I had to get sober, I knew that too and I acknowledged that. I said, 'You're right. I've got to quit drinking.'"
The actor has been open about his struggle with addiction in the past, with his father, Timothy Affleck, also having battled alcoholism before getting sober.
"Getting sober actually helped me be more forgiving and recognizing, 'You know what? He had it f****** rough too,'" the star said of his father. "What happens when you get sober is you stand around and you see a lot of people and you develop empathy for [people] who have done the same f****** thing."
Addressing his own road to sobriety, the Oscar winner said that "the cure for addiction is suffering."
"You suffer enough that something inside you goes, 'I am done,'" he explained. "I am lucky because I hit that point... when I felt as if [my addiction] impacted [my kids]. I recognized it. It was the worst day of my life.
"I made amends. For a while, I thought it was temporary, 'Maybe this feeling is going to go away.' But since that day, I swear to Christ, I have not ever wanted to drink once."
Affleck is now in a relationship with Jennifer Lopez, who he was first romantically linked to several years ago, before his marriage to Garner.