Ben Sasse Accuses Biden of Relying on Taliban Safety Assurances in Kabul Evacuations
Senator Ben Sasse (R-NE) accused President Joe Biden of relying on safety assurances from the Taliban to allow free travel after American troops leave Afghanistan.
Speaking on ABC News' This Week Sunday, Sasse called out the Biden administration for failing to have a plan to complete evacuations from Afghanistan, as the August 31 deadline to withdraw U.S. troops looms.
"There is clearly no plan. There has been no plan. Their plan has basically been happy talk," he said.
The Nebraska senator then went on to criticize an earlier This Week interview with Secretary of State Anthony Blinken, who cited private and public assurances from Taliban leadership to allow free travel after U.S. troops depart Afghanistan.
"That interview was disgusting and the American people have a right to be livid about it...people have died and people are going to die because President Biden relied on 'happy talk' instead of reality. They decided to outsource security around the perimeter of the airport to the Taliban, they passed a list of American citizens and America's closest allies, people who fought alongside us. They passed those lists to the Taliban to rely on them, thinking they could trust them. It was stupid then, it's insane now," Sasse said.
"Their plan still seems to be, 'let's rely on the Taliban' because the Taliban cares a lot about what world opinion thinks of them...it was a disgusting revelation of yet again no plan," he added.
Sasse, who serves on the Senate Intelligence Committee, has repeatedly been critical of the Biden administration's handling of Afghanistan. He has urged the president to keep troops in the country past Tuesday's deadline to ensure that U.S citizens who want to leave are safely evacuated.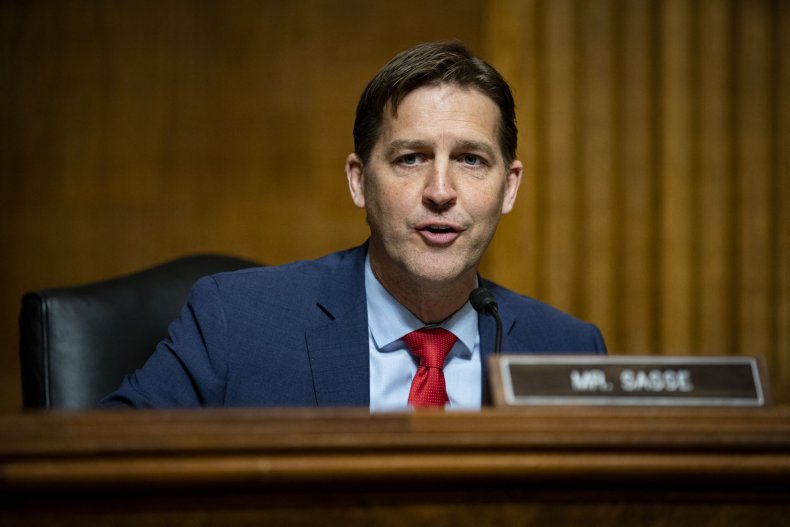 His comments come after the State Department said Saturday that roughly 350 U.S. citizens who wish to leave Afghanistan are still in the country. So far, approximately 5,400 Americans have been evacuated from Afghanistan since August 14—including nearly 300 Americans in the past day, Axios reported.
But evacuation efforts were complicated this week by the threat of deadly terrorist attacks. Biden and intelligence officials on Saturday warned U.S. citizens to avoid the Kabul airport because of a "specific, credible threat," just days after a suicide bombing killed 13 U.S. service members and over 170 Afghans outside of the airport on Thursday.
ISIS-Khorasan (ISIS-K), a regional branch of the Islamic State terrorist organization, claimed responsibility for the attack.
On Friday evening, a U.S. military airstrike killed two Islamic State militants and injured another who were involved in planning and facilitating attacks against Americans. The operation occurred in the country's Nangahar Province along the country's east-central border, about 125 miles east of Kabul.
On Sunday, a loud explosion was heard near Kabul's airport, with reports that a rocket struck a neighborhood just northwest of the area and killed a child. According to the Associated Press, a U.S. airstrike on that same day targeted a vehicle carrying "multiple suicide bombers" from ISIS-K before they could target the ongoing American military evacuation at the airport.
Biden vowed to keep up retaliatory airstrikes against ISIS-K, stating that the U.S. will "hunt down" any person involved in attacks against Americans.
Newsweek contacted the White House for additional comment, but did not hear back in time for publication.