Ben Shapiro Reignites 'WAP' Debate After Beyoncé's Song Censored
Ben Shapiro has questioned the morals of the music industry after pointing out the hypocrisy of censoring Beyoncé's latest song lyrics, but allowing Cardi B's "WAP" to exist.
After the release of her latest album Renaissance, Beyoncé's song "Heated" featured the repeated use of a word which was deemed offensive to the disabled community. The lyric has since been changed.
Conservative political commentator Shapiro spoke out about the word change on his podcast The Ben Shapiro Show. Titled, "Yes, I'm Defending Beyoncé," he described how "Woke as F" Beyoncé found herself subjugated by the "language police."
Shapiro said that Beyoncé should not have used the word "s***" in her song, but argued that there is routinely much worse language and themes used within R&B and rap music.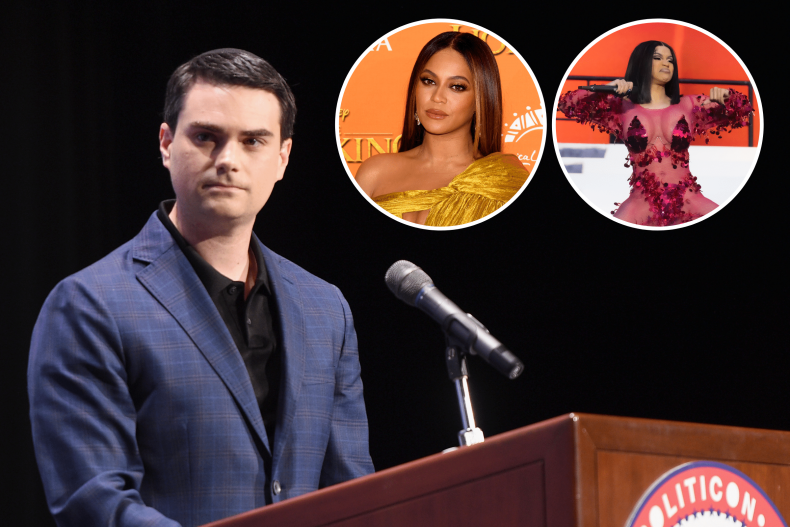 In the four-minute-long song "Heated," which was co-written by Canadian rapper Drake, Beyoncé sings the lyrics "S****in' on that a**, s*** on that a**." The song has caused offense as in the medical field, the term spastic which the word sp** derives from, refers to the disability "spastic cerebral palsy."
"It is amazing. These are the standards in our society. Using the word s*** in a song— totally bad, horrible, remove it, offensive," Shapiro said on his podcast. He then compared the song to Cardi B's song "WAP" featuring Megan Thee Stallion, which he's been mocked for mentioning in the past.
"Having full scale songs, for children, about the moisture state of your vagina, that is Shakespearean wonder," he continued, sarcastically. "It is. That's just the stuff you should play for your kids. It's very empowering empowering stuff."
Shapiro, who is an outspoken Republican, compared two political ideologies and their reactions to cases within music. "I feel the left is very strict on its language and very loose on its morals and ideas. The right tends to be a little looser on language and a little bit more strict on its morals and ideals," he said.
Shapiro was a quick critic of the song "WAP" when it was released in 2020, and his coverage of the song was quickly mocked across the internet. Acknowledging his own coverage, Shapiro shared the video on Twitter and doubled down on his criticism.
In his recent comments comparing Beyoncé's censorship to the lack of it with Cardi B's song, Jason Campbell of Media Matters shared a clip on Twitter, which many of Shapiro's supporters deemed a move to mock him. Shapiro retweeted Campbell's video and wrote: "Thanks for giving my obviously true point wider distribution, Jason, as always!"
While many people online agreed with Shapiro's sentiments, others took issue with his definition of "WAP" and its audience.
"'WAP' is now officially designated by Ben Shapiro as 'for children,'" commented @davishurst. "Is it possible in Ben Shapiro's mind that not everything ever made is for children." @TomAtkinson45 continued on Twitter. "Obviously 'WAP' wasn't written with kids as a target audience. What a freak."
"WAP" was released by Cardi B and Megan Thee Stallion on August 6, 2020 with a parental advisory. A clean version of the song was released with the replacement lyrics "wet and gushy."
Others online brought up the fact that even two years after its release, Shapiro still can't let "WAP" go.
"The only person still thinking frequently about the 'WAP' song is Ben Shapiro," wrote @josiahwsutton, while @MattLaneWrites added: "Ben Shapiro's obsession with 'WAP' will never not be funny."
Beyoncé's latest album Renaissance has become a huge topic of discussion online. Monica Lewinsky was criticized for suggesting another lyric change in another song, while songwriter Diane Warren asked how one song, referencing "Alien Superstar," could have 24 credited writers.
Responding to the initial controversy surrounding Beyoncé's offensive lyrics in "Heated," Variety published a statement from her team. "The word, not used intentionally in a harmful way, will be replaced," the short statement read.