Netanyahu Accuses Ban Ki-moon of Encouraging Extremism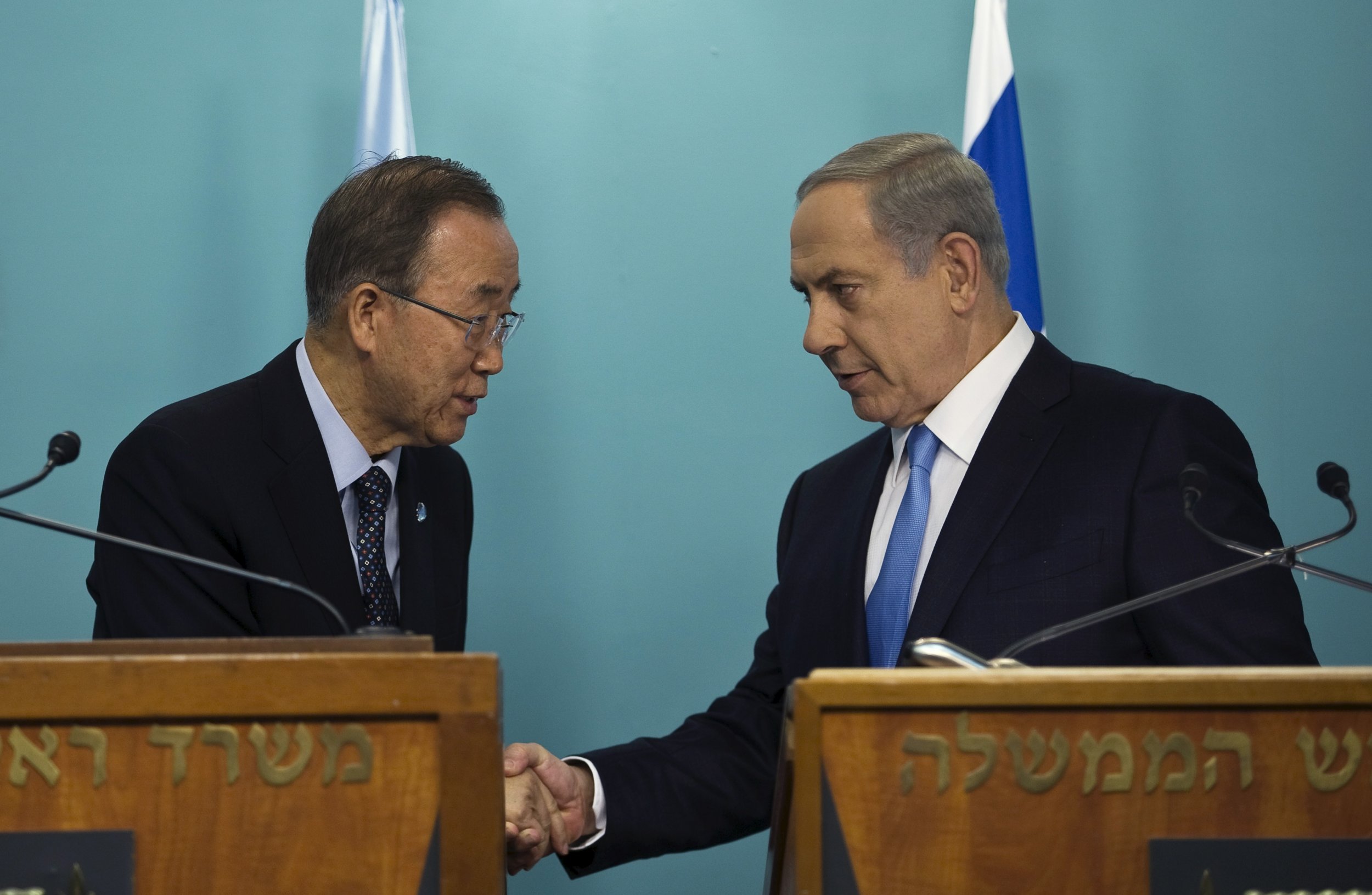 Israeli Prime Minister Benjamin Netanyahu on Tuesday accused the United Nations Secretary-General Ban Ki-moon of "encouraging terror" after the U.N. chief said that it was a "natural reaction" for Palestinians to resist decades of occupation.
Ban told the U.N. Security Council that Israel's settlement activities are "provocative acts" and said there is a "profound sense of alienation and despair driving some Palestinians—especially young people," referring to the wave of stabbing, shooting and car-ramming attacks against Israelis since the beginning of last October.
"Palestinian frustration is growing under the weight of a half-century of occupation and the paralysis of the peace process," Ban said. "As oppressed peoples have demonstrated throughout the ages, it is human nature to react to occupation, which often serves as a potent incubator of hate and extremism."
The Israeli leader retorted that such comments encourage violence against Israelis and that the U.N. had lost its neutrality on the Israeli-Palestinian issue. In the recent surge in violence, Palestinians have killed 28 Israelis, and Israeli forces and citizens have killed 159 Palestinians, more than half of which Israel says were attackers.
"The comments of the U.N. Secretary-General encourage terror," Netanyahu said in a statement. "There is no justification for terror."
He added: "The Palestinian murderers do not want to build a state, they want to destroy a state and they say it out loud. They do not murder for peace and they do not murder for human rights."
In the latest deadly attack, two Palestinians stabbed an Israeli woman in a West Bank settlement. She died from her wounds on Tuesday.
Israeli forces have occupied the West Bank since the 1967 Six-Day War and the country continues to build new settlement homes in the territory despite international opposition. On Monday, the Israeli government approved 153 new settlement properties in the West Bank, according to Israeli anti-settlement NGO Peace Now.
The war of words between Ban and Netanyahu come as tensions between Tel Aviv and other world players continue to rise. The European Union has recently voiced its opposition to Israel's settlement activities and, on January 18, U.S. ambassador to Israel Daniel B. Shapiro criticized Israel's settlement policies, saying that they raise "honest questions about Israel's long-term intentions."