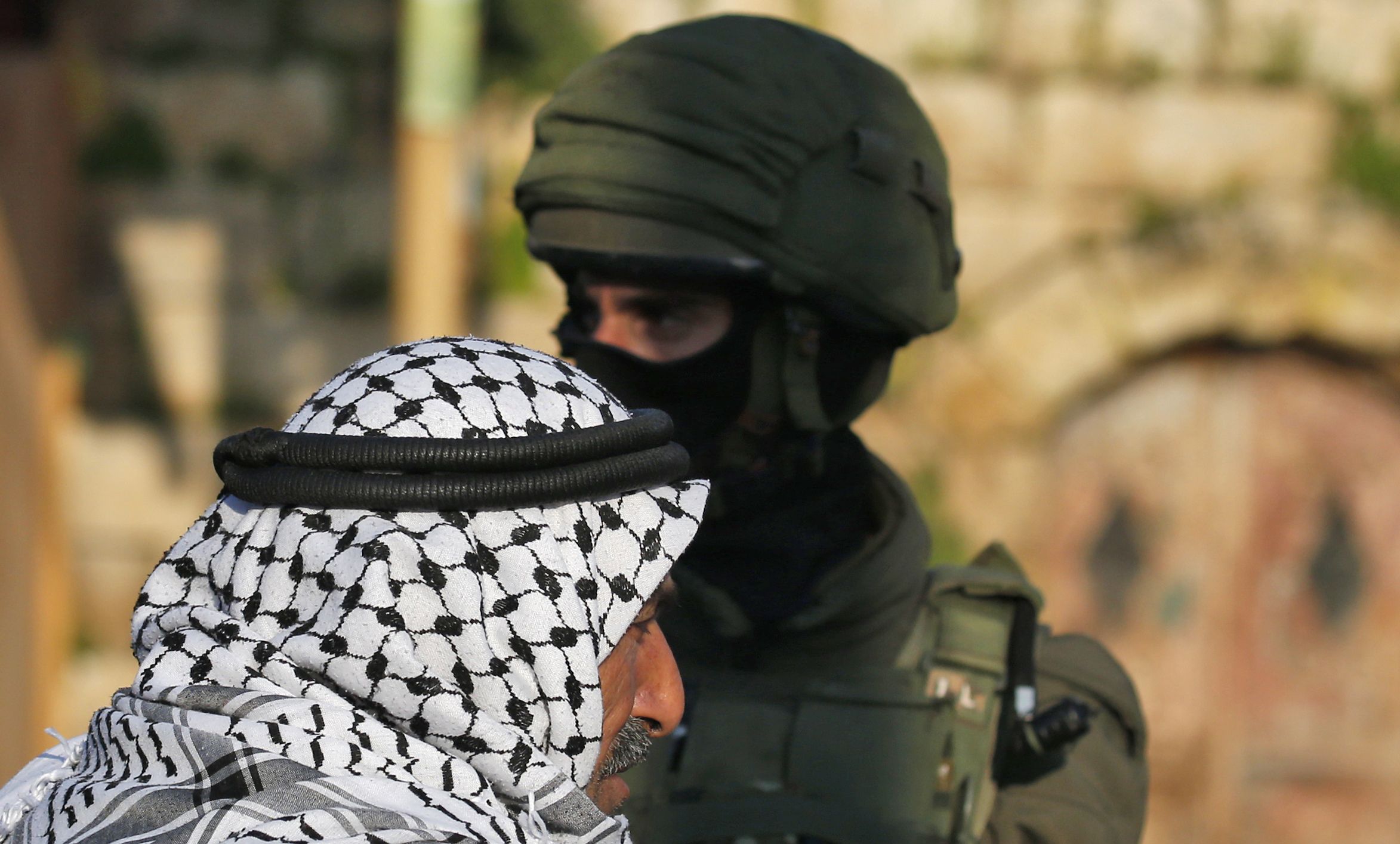 Courting Israel's right-wing parties and voters in the lead-up to parliamentary elections, Prime Minister Benjamin Netanyahu made a pledge that threatened to redraw the map of the Israeli-Palestinian conflict.
Netanyahu said he would annex the Israeli settlements built on Palestinian land in the West Bank—considered illegal under international law—if he won a fifth term. Such a move could jeopardize the chance of achieving a long-sought "two-state solution"—a plan for independent Israeli and Palestinian nations existing alongside each other.
"I'm going to extend sovereignty," he said in a live television interview. "I don't distinguish between the settlement blocs and the isolated ones, because each settlement is Israeli and I will not hand it over to Palestinian sovereignty," he added. "I will not divide Jerusalem, I will not evacuate any community and I will make sure we control the territory west of Jordan."
Earlier this month, Netanyahu's party secured the largest number of votes in the Knesset and appeared poised to form a new governing coalition. At a Likud party victory event on Tuesday, Netanyahu said he would "safeguard democracy" in his fifth term in office. "I want all parts of Israeli society, Jews and non-Jews alike, to be part of the huge success story called the State of Israel," he added.
Israeli settlements in the West Bank have been one of the most obvious—and intractable—obstacles to Mideast peace. Though they are considered illegal under international law, successive Israeli governments have allowed—and even encouraged—their expansion. U.S. complaints and attempted United Nations sanctions have been unable to stop their growth, while the Palestinians cite them as a key barrier to successful peace negotiations.
Though the pace of construction has varied in recent years, Israel's rightward slide under Netanyahu and the unquestioning support of President Donald Trump since his election have fueled the expansion. According to a "West Bank Jewish Population Stats" report, the population of settler communities grew by 3.3 percent last year to 449,508 people. Israel's overall population increased by 1.9 percent last year to 8.9 million people.
The expansion of such communities has left the Palestinians in possession of a collection of noncontiguous plots of land separated by Israeli settlements and military checkpoints. Netanyahu has also allowed the forced removal of Arab families from their homes in East Jerusalem and has allied his Likud party with extreme far-right lawmakers that openly encourage violence against—and even the forced removal of—Palestinians living in the West Bank.
While permitting settlements to be built and occupied, Israel has never formally annexed the disputed territories, with the exception of East Jerusalem which does include some settlements. Doing so would send a message that mainstream Israeli politics is drifting into a new phase of unilateralism.
Dore Gold, the former Israeli ambassador to the United Nations and now the president of the Jerusalem Center for Public Affairs, told Newsweek that the settlements have always been a key consideration for Israeli governments. "Since Israel put up its first string of settlements in the Jordan Valley under the Labor government after the 1967 war, there has always been a view in Israel that the settlements have a link to Israel's future security," he explained.
"So if we ever get to a point where we are asked to lay out our vital interests in the West Bank, they will include settlements. They will include Israel retaining vital territories for its defense and because it has also historical right. In a certain sense, the position the prime minister took is not terribly surprising if you understand Israel's history."
But what was said in the pre-election frenzy will not necessarily come to pass. It could be that Netanyahu's pledge was simply him "throwing everything into the fold to make sure he once again became prime minister," Hugh Lovatt, a policy fellow at the European Council on Foreign Relations, told Newsweek. "Even his public support doesn't necessarily mean it will go through," Lovatt said.
There is also the question of why Israel would even need to annex the settlements officially. Though it may not have formally extended full control over certain areas of the West Bank, Israel has been cementing its authority in other ways. These include incorporating settlements into the national infrastructure grid, applying Knesset legislation to certain settlements or establishing a university in another. "You'd say it is already de facto annexation going on," Lovatt explained.
"There could be—but there may not be—this sudden big announcement. It may be more a continued, incremental creeping annexation. There's different ways you could see it happening."
Netanyahu has been buoyed by U.S. recognition of Jerusalem as the Israeli capital and the Golan Heights as Israeli territory. Both were the subject of territorial disputes—Jerusalem with the Palestinians and the Golan with Syria—and both moves were condemned by the international community. But Trump and Netanyahu were not deterred, and may even have gained confidence that Israel could withstand the backlash if Netanyahu were to annex the West Bank settlements.
"What Trump has done on the Golan Heights is important and that is—rightly or wrongly—seen as a nod and a wink in terms of U.S. support for annexing Area C," Lovatt said, referring to the area constituting the majority of the West Bank which is under Israeli control and where Palestinian building and development is restricted.
"This is maybe not the Americans' intent, but that is certainly how it is seen in Israel," he added. "If you were to play this out, there would be a lot of European alarm. But what really is Europe going to do to you?"
Official recognition of this control by Israel would underline Netanyahu's opposition to the two-state solution: the basis of the 1993 Oslo Accords. It would be a huge blow to the Palestinian hope for an independent nation under full Palestinian control—and would be virtually certain to provoke violence.
Mahmoud Muna, a Palestinian who works at the Educational Bookshop in East Jerusalem—the area of the city annexed by Israel in 1980 despite objections from the United Nations—told Newsweek Netanyahu's comments show the veteran leader "is doing his best to destroy any chance or feasibility for a Palestinian state. The Palestinians are trying to protect their demands on the last piece of land that is available for them to build their future state."
Muna added that "Netanyahu's appetite to eat up more of the Palestinian territory is encouraged by the current American administration."
Lovatt suggested that Israeli society and politics is drifting away from the two-state solution "and we're not quite sure what way we're moving now." The Trump administration seems uninterested in the Palestinians, while their traditional regional allies are developing their own relations with Israel. The Palestinians are "at a moment of historical weakness, both domestically and internationally," Lovatt suggested, while Netanyahu is enjoying a boon.
"It's full steam ahead in terms of cementing a one-state or one-space reality, depending on what you want to call it," Lovatt explained. "It doesn't mean it's the end necessarily of the two-state solution—the future is a long way off—but certainly where we're at now is somewhere very different to where we were 10 years ago."
Gold agrees, saying that the Israeli public "has moved in a direction where they are very sympathetic with a strong position on national security." And at the same time, Netanyahu is now seen as "stronger than at any time in his political career."
"I think that has to do with the fact that, first of all, the past negotiating efforts with the Palestinians led to nothing, led nowhere," Gold explained. "And frankly the Middle East is moving in a dangerous direction with the rise of Iranian power across the Arab world. You put those two things together and you get a position that Israel has to be very careful about what it's future borders will look like."
And for the Palestinians, Muna suggested, the message is clear. "The Palestinians are left with making one of two choices, either to leave the territory—their homeland—and to seek a life somewhere else, or to accept an unequal life in Israel; a state that has the control over the entire territory but sees itself as the national homeland of only some of its population."
"The situation—best described as a form of apartheid—is gradually becoming reality," Muna concluded. "It means the end of the Palestinian dream of an independent state and the right of return for its refugees."