Jennifer Lawrence Has Best Reaction to Finding Out Jennifer Lopez, Ben Affleck Are Back
Is it 2002 again? Bennifer are back—and actress Jennifer Lawrence had the best reaction to discovering the news.
Jennifer Lopez and Ben Affleck are back on and have been spotted going on a getaway together, prompting huge interest in the A-listers' reunion.
The Gigli stars had a whirlwind romance and engagement under heavy media scrutiny in the early 2000s before parting ways, but now the newly single Lopez appears to be rekindling things with her old flame.
Naturally, pop culture and celebrity news fans have been having a field day with this news—but none more so than Jennifer Lawrence.
The Hunger Games star made the discovery while recording an episode of The Bitch Bible podcast this week with Heather McMahan and Jackie Schimmel.
Midway through the conversation, Lawrence interrupts with: "Breaking f***ing news."
"Jennifer Lopez and Ben Affleck are back together," she excitedly exclaims. "They're in Montana. They are on vacation with each other right now. I'm so excited!"
The conversation continues with lots of excited screams of nostalgia about Bennifer being back together.
Although the couple are yet to confirm the status of their relationship, photos published in the Daily Mail show them going on vacation together, while People reported the two have been spending time together.
Lopez split from Alex Rodriguez in April. In a joint statement to Today, the pair said: "We have realized we are better as friends and look forward to remaining so. We will continue to work together and support each other on our shared businesses and projects.
"We wish the best for each other and one another's children," the statement continued. "Out of respect for them, the only other comment we have to say is thank you to everyone who has sent kind words and support."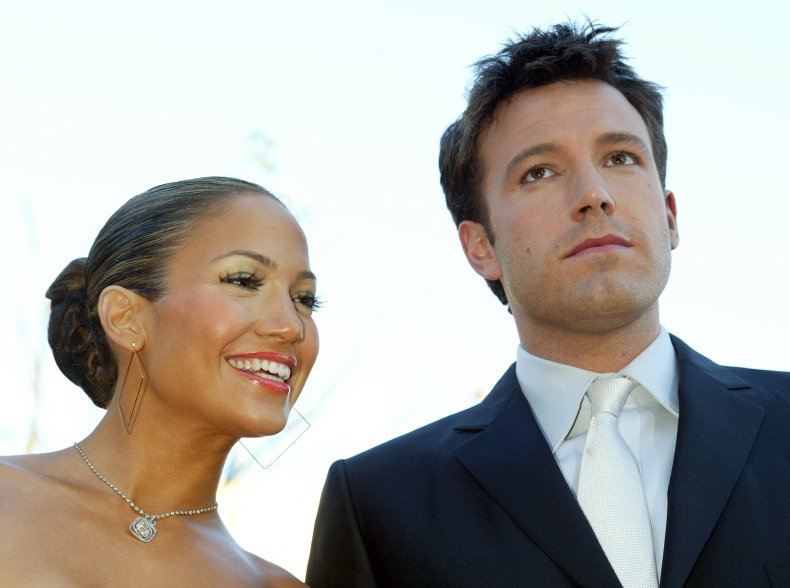 Affleck made headlines this month after a TikTok user went viral after sharing her interaction with the Batman star on a celebrity dating app.

"Thinking of the time I matched with Ben Affleck on Raya and thought it was fake so I unmatched him and he sent me a video on Instagram," she wrote over the clip.
The video then features the 48-year-old actor asking Jay: "Nivine, why did you unmatch me? It's me."
The bizarre moment quickly went viral.
In a 2020 interview on Good Morning America, Affleck confirmed he was not using dating apps to find love after his split with Knives Out actress Ana de Armas.
"I know people who are on them and they have a fun time, but not me," he said at the time. "I would love to have a relationship that was deeply meaningful and one to which I could be deeply committed."