Bentley's Limited Edition Flying Spur Hybrid Odyssean Edition Adds to Company's Green Line
Bentley Motors today announced the debut of a limited edition of its new Bentley Flying Spur Hybrid. Dubbed the Bentley Flying Spur Hybrid Odyssean Edition, the company promises an even greater focus on sustainability in the materials used in order to meet the goals of its Beyond 100 sustainability and electrification initiative.
The Flying Spur Hybrid was introduced earlier this month, making it the second electric vehicle in the company's lineup after the Bentayga Hybrid. The company took inspiration from the EXP 100 GT concept car, making it the first mainstream vehicle to incorporate the ethos of Bentley's views on future luxury mobility. Inspiration was also taken from the 1955 S1 Flying Spur.
To complement the painted Pale Brodgar accents on the 21" 10 twin-spoke wheels and lower brightware, Bentley is offering a curated selection of six exterior colors. The full Bentley color palette is also available.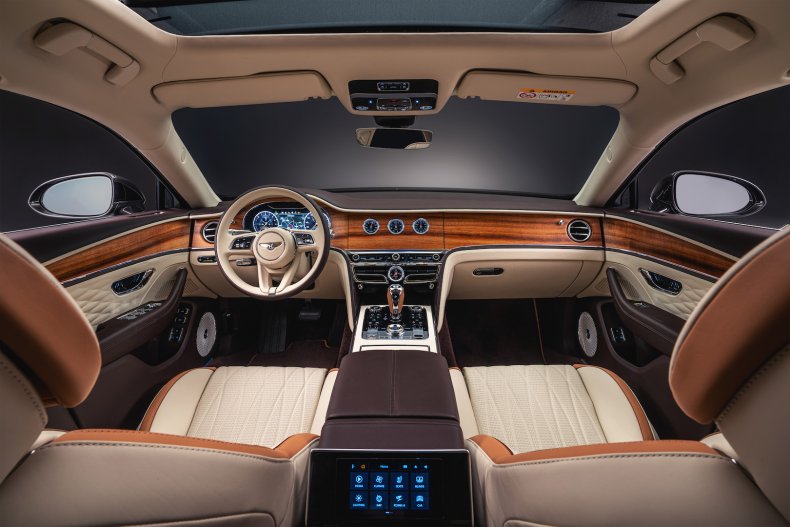 Like the standard Flying Spur Hybrid, the car is powered by a 2.9-liter V6 engine combined with an electric motor. Those provide 536 brake horsepower and 553 pound-feet of torque.
Closing in on the Flying Spur V8 and improving on the Flying Spur Hybrid, the Odyssean can go from zero to 60 mph in 4.1 seconds. The new powertrain offers a significant decrease in fuel consumption. When fuelled completely, the car has a range of over 435 miles.
With more focus on sustainability, the interior features crafted tweed made from 100 percent British wool. Open pore Koa veneer painted onto the fascias and waistrails use 90 percent less lacquer than high-gloss veneers. The veneer is painted with just three ultra-thin layers of lacquer to give it a thickness of just 0.1 mm.
A new embroidery style was used on the seats, blending into one another across the width of each seat, defining the "lofted diamond" pattern. Deep pile overmats can be upgraded to lambswool rugs. In addition to new materials, sustainable leather is used in a three-color scheme throughout the interior. The center console is finished with a minimalist Piano Linen veneer.
Bentley equips the Odyssean with the connected car services that the Flying Spur Hybrid is equipped with including My Battery Charge, My Cabin Comfort and My Car Statistics.
The price of the limited edition Odyssean has yet to be announced. The base price for the Flying Spur is $180,000. The luxury automaker is currently taking orders in most markets. The line is manufactured at Bentley's carbon neutral headquarters in Crewe, England.