Berlin Attack: Eyewitness Recounts Horror As Truck Plowed Into Christmas Market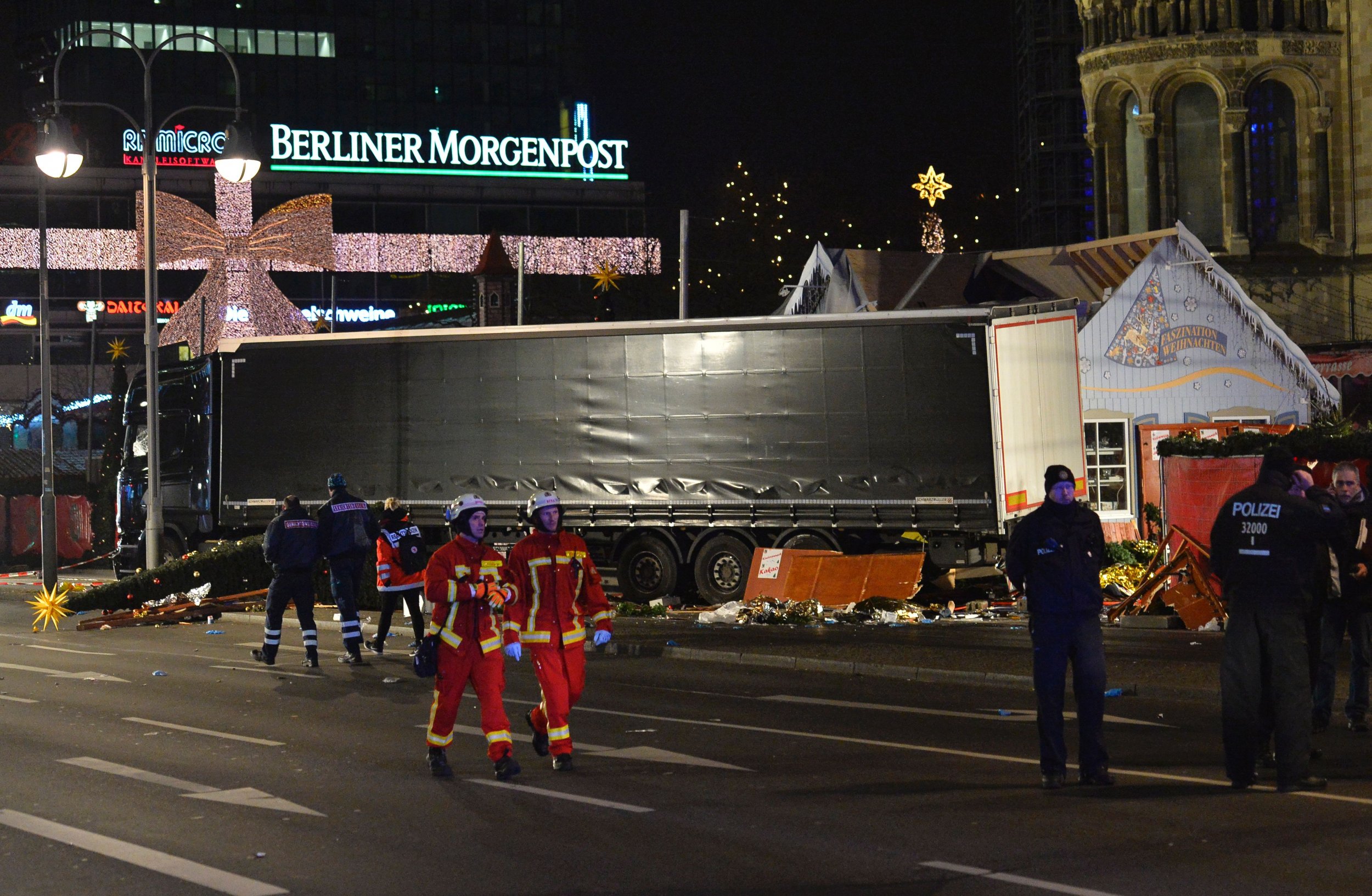 British tourist Emma Rushton was enjoying a drink with a friend at a Berlin Christmas market on Monday evening when a truck drove through, killing 12 people and injuring at least 50 others.
Rushton tells Newsweek of her ordeal at the Breitscheidplatz, a popular public square in central Berlin, where they sat in an area behind the wooden huts lining the middle pathway of the market. The truck passed 8 feet in front of her at about 40 mph, plowing into wooden shacks and leaving a scene of carnage.
"It made no attempt to stop," she says, speaking over the phone after returning to her hotel. She had previously tweeted that she was safe after the attacks.
She had only arrived in Berlin just six hours earlier with her friend. They headed to the Christmas market at the foot of the Kaiser Wilhelm Memorial Church to eat currywurst and drink gluhwein.
"We sat down, just having a drink, and my friend said 'shall we go?' I thought 'give it two minutes, it's really pretty here.' All of a sudden there was a really loud bang and the lights overhanging started to be torn down," she recalls.
"Right in front of us, the lorry completely decimated the place where we bought wine from. Probably about 8 feet in front of us, we were that close," she continues. "If we had got up two minutes earlier we would have been right in the path of it. I dread to think what would have happened to us."
The truck destroyed the hut where they had bought their wine. "Luckily [the people inside the hut] were all pulled out, all of their colleagues got them out. They were injured but they were walking around. They were okay."
Still reeling from the shock of the truck's impact, Rushton and her friend waited briefly as they figured out what to do. "We didn't know if something else was coming, we didn't know if we were going to be safe."
Rushton rang home to tell her family that she was OK before they saw the news reports of the crash. She then ran back to her hotel with her friend, passing roughly a dozen injured people who were "bleeding, crying, some in the recovery position" on the floor. As ambulances and police cars whistled by, the pair stopped to tell other tourists not to continue to the market.
After witnessing the truck's destruction first-hand, she is adamant that the crash was not an accident, having witnessed the truck's destruction first-hand. "There are two main roads [either side of the market] but for it to have come through on that path, it couldn't have just slipped off the road. It wasn't an accident."
Rushton says she feels like she has "had a lucky escape." She plans to stay for the remainder of her trip to the German capital. "If this was terrorism, what they want is for us to be frightened and to change what we are doing," she says. "The only way you let people like that not win, is by carrying on."