Berlin Attack: At Least 12 Dead, 50 Injured After Truck Plows Into Crowded Christmas Market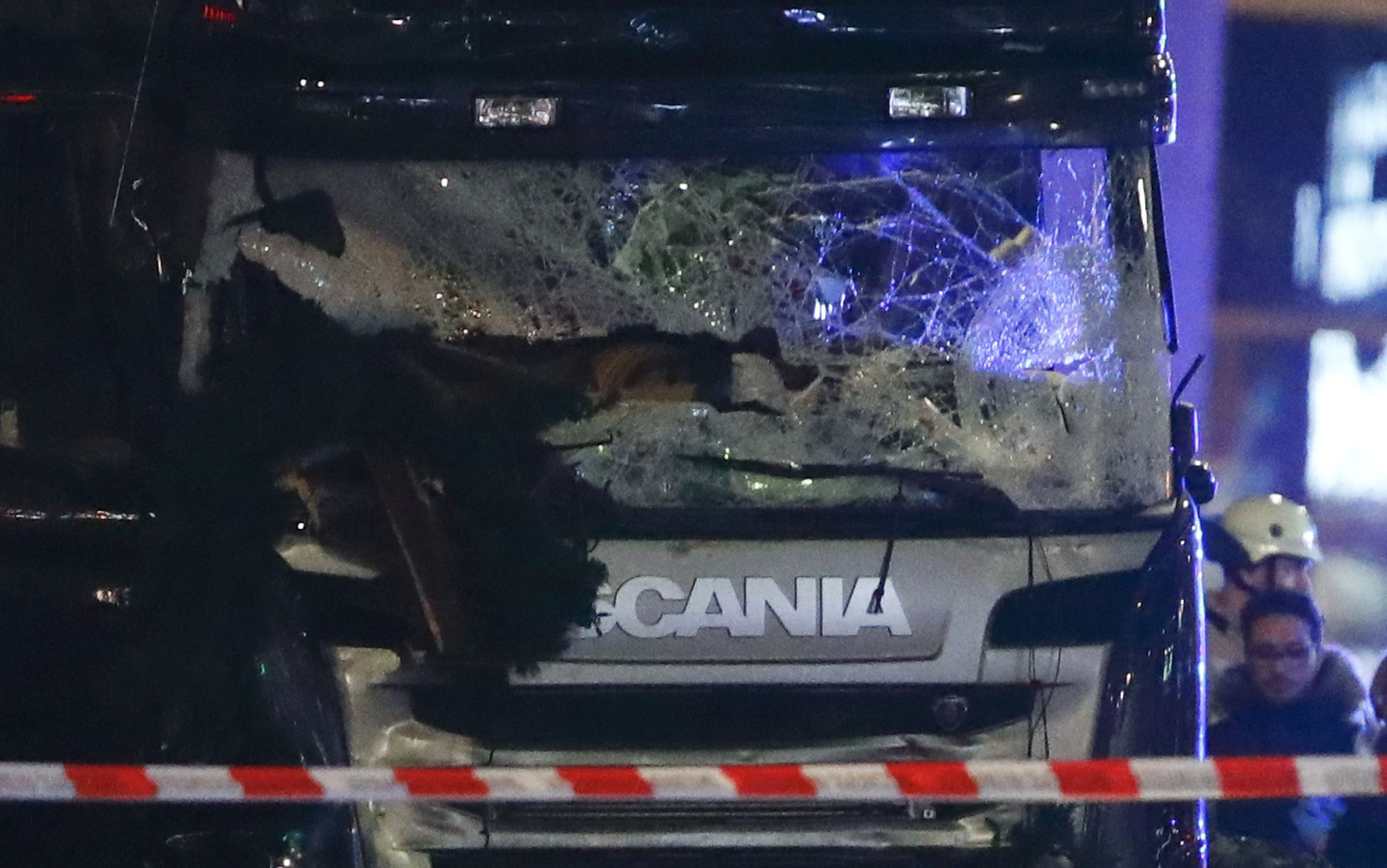 Updated | A truck ran into a crowded market in Berlin on Monday, killing at least twelve people and injuring at least 50 more, according to police. The Scania truck crashed into the market outside the Kaiser Wilhelm Memorial Church in Breitscheidplatz in central Berlin.
The driver mounted the sidewalk of the market in the busy square hosting the event, the police said in an earlier tweet. Police arrested one person near the scene of the crash. Spokesman Winfried Wenzel told Germany's ZDF television that they believed this was the driver of the vehicle, but are still investigating. Police said a passenger in the truck died at the scene of the crash.
Witness Emma Rushton tweeted: "Lorry just ploughed through Christmas market in #Berlin. There is no road nearby. People crushed. I am safe. I am safe."
The truck plowed into the market in the evening less than a week before Christmas, in what would have been one of the market's busiest times since opening in November. Berlin's Christmas markets are a popular destination for families and tourists.
According to the BBC, police now suspect it was a deliberate attack. They tweeted that people in Berlin should "stay at home and do not spread rumors." German newspaper Bild tweeted pictures it said were of the truck that ran into the Christmas market.
Related: France Attack Aftermath: Security Experts Warn of Uptick in Vehicular Terrorism
The truck belongs to Ariel Zurawki, who is Polish, according to reports. Zurawki told the Polish outlet TVN24 that he thought someone may have hijacked the vehicle from his cousin, who was in Berlin driving it. He said he had last spoken with his cousin by phone on Monday, around noon local time.
German Interior Minister Thomas de Maiziere is briefing German Chancellor Angela Merkel on the situation at the Breitscheidplatz, a government spokesperson told Reuters. Her spokesman Steffen Seibert tweeted that the German people "mourn the dead and hope that the many people injured can be helped."
In a statement, White House National Security Council spokesman Ned Price said the incident "appears to have been a terrorist attack." He added that the U.S. is in touch with German officials and "ready to provide assistance."
Facebook rolled out its safety check feature soon after the crash took place to allow Berlin residents or visitors to mark themselves safe. Berlin's mayor Michael Mueller arrived at the scene of the crash.
The incident comes less than a month after the U.S. State Department warned American citizens to exercise caution at "at holiday festivals, events, and outdoor markets" in Europe. It cited "credible information" that the Islamic State militant group (ISIS) and Al-Qaeda are still planning attacks on the continent after attacks in Paris and Brussels in 2015 and 2016.
Though Berlin police have not yet said whether the incident was intentional or related to extremism, security experts have recently warned of an uptick in vehicle rammings. In November, an Ohio State University student drove a car into a crowd of people on campus before attacking them with a knife, injuring 11. In July, a truck attack on Bastille Day in the southern French city of Nice killed 86 people, and was claimed by the Islamic State militant group (ISIS). ISIS referred to assailants in both cases as its "soldiers." Analysts say the uptick is likely in part because law enforcement has gotten better at detecting guns and explosives, so assailants have had to switch to other means of attacking victims.
Extremist groups have called on followers to commit such vehicle rammings in recent years. In 2013, Al-Qaeda wrote in its English-language magazine, "The idea is to use a pickup truck as a mowing machine, not to mow grass but mow down the enemies of Allah." In a speech released in 2014, an ISIS spokesman said, according to the SITE Intelligence Group, "If you are not able to find an [improvised explosive device] or bullet, then single out the disbelieving American, Frenchman or any of their allies" and "run over him with your car." And as recently as November, an ISIS online magazine focused on vehicle attacks, according to the Anti-Defamation League.
In 2010, the United States Department of Homeland Security and the FBI released a memo warning about ramming attacks, suggesting that law enforcement watch for "unusual modifications" on vehicles, people who seem nervous when renting large vehicles, or trucks or equipment "being operated erratically, at unusual times or in unusual locations." Places such as street festivals were at particular risk, the agencies said.
An event similar to Monday's incident occurred at a Christmas market in Nantes, France, in 2014, when a motorist drove into a crowd. One person died and nine were injured. Officials did not label that incident a terror attack.
This article has been updated with more details about the incident, including about the owner of the truck, and with comments by a U.S. official.
Read more from Newsweek.com:
-ISIS Claims Responsibility for Truck Bomb that Killed 28 People Near Baghdad
-ISIS Sought to Emulate Nice Truck Attack in Times Square, New York Court Hears
-11 Wounded, Assailant Killed in Ohio State University Attack