Nice Attack: The Final Moments of The Muslim Grandmother Who Was First Victim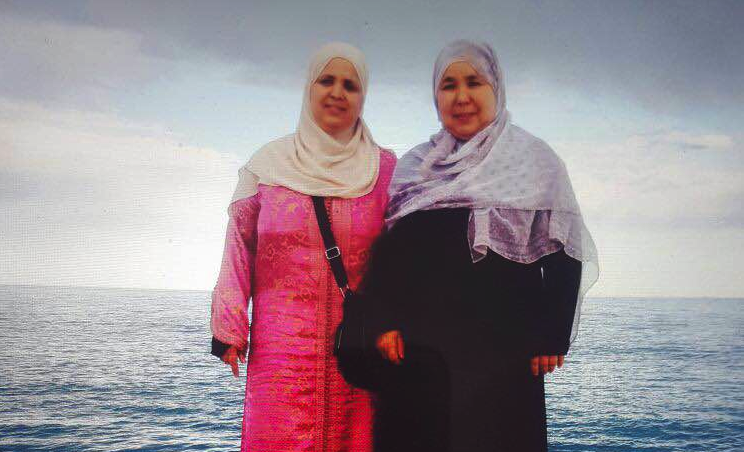 Fatima Charrihi, as with every day, spoke to her only sister and best friend Aicha Aissaoui in Amsterdam on the phone Thursday. At around 7 p.m., Aicha was preparing to take her children for a sushi dinner in the Dutch capital. "Have fun with your daughters, enjoy life while you're still with them," Fatima said at the end of the conversation. Four hours later, she was dead.
Her 22-year-old niece, Amina Aissaoui, speaking from the Charrihi family home in the winding hills of Nice's La Madeleine district, recalls the conversation from the same evening that the 62-year-old mother-of-seven became Mohamed Lahouaiej Boulhel's first victim.
As he began his deadly hurtle down the city's Promenade des Anglais, Boulhel's truck threw Fatima, a devout Muslim who recently fasted for Ramadan, 10 meters. Boulhel killed people of his own religion, Islam—which, according to friends and family, he barely adhered to—as well as murdering and maiming Christians, Jews, Tunisians, French and young children, among others. Thursday's truck attack, claimed by the Islamic State militant group (ISIS), left at least 84 dead and dozens in critical condition.
"If you are a Muslim, you don't kill people. He was not a Muslim. He drank alcohol, he ate pork," Amina says, adding that her aunt and mother had talked at length, worriedly, about the Charlie Hebdo and Paris attacks. "It doesn't matter if it's an Arab, a Frenchman or a Dutchman [who carried out the attack]. Innocent people are getting killed. It was cowardly.
"My aunt said if they really want to be a jihadist they have to be good to other people, go outside every day and help one person, that's the best jihad you can have in your life," she adds, referring to another meaning of jihad, the battle to cleanse oneself of sin, rather than fighting disbelievers.
Fatima spoke of praying that all of her family would find the happiness they deserve, says her 28-year-old niece Saida. In her final hours, Fatima was feverishly planning a trip with her daughters to Amina's wedding in the Netherlands in September. Bouhlel took away the chance for her to witness her niece's special day, something Fatima spoke to her sister about during their final conversation.
"[Fatima] said, 'Tomorrow, we will book it. It's so easy and everybody can come,'" Amina says, her eyes welling-up. She immediately cancelled the wedding after Fatima's death. "I cannot have a party without her, I cannot be happy without her."
Fatima loved to walk, be outside and enjoy the simple aspects of life, her nieces say, showing pictures of her with a beaming smile in parks and on the promenade itself. This love of life is what took her and her family into the path of Bouhlel on Thursday evening. She told her 62-year-old husband Ahmed: "We must bring them to the fireworks, it is a holiday, it's late but let's bring them together," says Amina. The others did not want to go, she says, only being brought together by Fatima's wish to celebrate the holiday.
Murder
On Thursday night, Boulhel initiated his suicide mission at around 10.45 p.m. local time. Fatima was standing with her daughter-in-law, Huria Charrihi, 31, who the truck missed by inches, and Huria's brother Said Nait, 35, who dived over the six-meter promenade wall with Fatima's one-year-old grandchild Oumaima in his arms.
Fatima's husband Ahmed and their eldest child Ali, 36, had separated from the group. Fatima died instantly just along from the Fondation Lenval hospital where she gave birth to her youngest daughter, Yasmina, now 14 years old.
Ali witnessed events unfold from afar. After sharing Moroccan pancakes and sharp, mint tea around, he pats me on the back when he is ready to speak about the events four days ago.
We step outside the family home to find a quiet spot, as two-dozen people have gathered to pay their respects inside. He stands with Said, who was present with Fatima when Bouhlel launched his massacre. Speaking through a translator, Ali offers Newsweek a detailed account of his mother's death.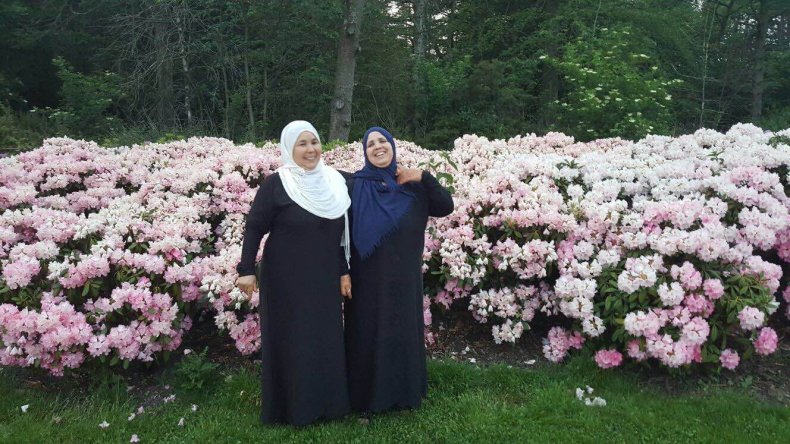 When the Bastille Day fireworks had ended on the promenade, Fatima told Ali, her husband and her 28-year-old son Hamza to put money in the meters for both of their cars to avoid a fine, while she waited where Bouhlel would later strike. Ali took his four-year-old son and moved one car, while Ahmed and Hamza went and moved the other. As Ali walked back to the boulevard, screams of fear suddenly filled the air and he saw people running. Beachfront buildings blocked his view of the refrigerator truck that would bring this family's world crashing down.
A woman grabbed Ali and told him not to go back as there had been an attack. "The moment I heard that, I got scared because my child, my mother was still over there." He pushed the woman aside and ran, dodging corpses on the ground. "I saw disgusting things, in my life I have never seen anything like that. It was a horror scene," he says, beckoning away Yasmina, who has come to the door, so she does not hear the details of our conversation. "The worst thing I witnessed was a guy holding his child in his arms and he didn't have a neck anymore, it was open and his head was hanging."
In complete shock, he continued moving down the strip and saw his father Ahmed, who was crying without control. "Your mother, your mother, your mother," he said. Ali saw his mother lying on the ground while a woman attempted to give her CPR. He saw his mother's hand pumping blood, like a vein was open, so he tried to plug it. He then took off Fatima's veil and used it to try to stop the bleeding from the back of her head. A male doctor arrived from the hospital across the road.
"When the doctor came, he tried to give her mouth-to-mouth. The moment he put his mouth on her mouth, and blew, his mouth filled up with blood." Ali, in hindsight, believes the doctor already knew that Fatima was dead at this point but proceeded to use a defibrillator three times in vain. The doctor then took Ali and said "look at the ears," gesturing to his own. She was bleeding from them, signalling brain damage, confirming that she had died. Ahmed passed out on the floor in shock. Hamza covered Fatima with a blanket to prevent her from being filmed. Her body laid on the promenade until gone noon the next day.
Heaven
Said, the brother of Ali's wife Huria, has been screaming in his sleep and unable to eat since "the smell of the corpses" he experienced on the night of the attack. Fatima's body remains with authorities but when it is returned, the entire family is to travel to Morocco for her funeral in the southeastern city of Tinghir, where she wished to be buried next to her mother.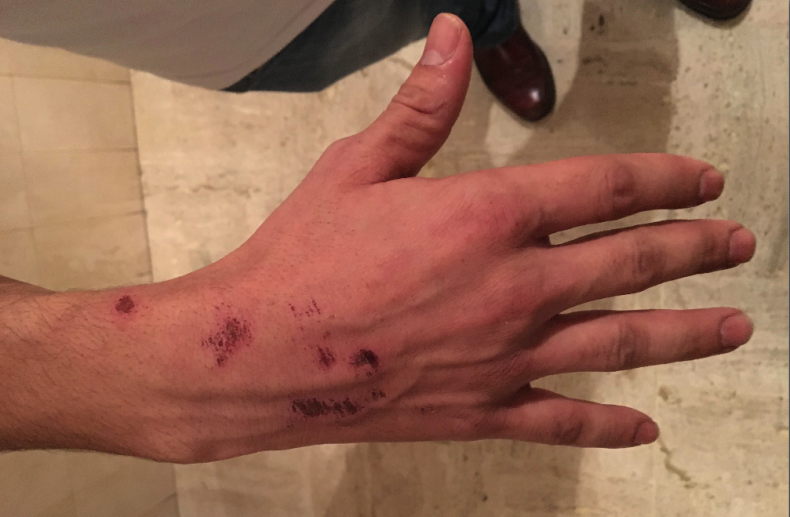 In the meantime, more than 300 people have visited the Charrihi family home in the last three days of mourning, a sign of her popularity, says Fatima's niece Saida. Fatima's positive spirit has seemingly affected all present here; at times, the gathering feels like a celebration of her life, rather than a mourning. Everyone wants to tell her story to the world, and despite their pallid and ghostly faces, her immediate family remains strong, comforted by their faith. Saida smiles, saying that Fatima is in heaven now. "Don't be sad, I'm in a good place. And we will meet there, Inshallah."
For her sons, Fatima is now safe in the hands of God. Ali is focused on looking after his aunt and Fatima's sister, Aicha, comes to the door to ask that I "make a beautiful story" about her best friend, the only thing she says all evening. Ali points to her and says that she is his "mother now, that's what I have."
Hamza—dressed in a long, emerald Muslim robe—says if he could send one message to his mother he would tell her that, after Bouhlel's massacre, everything will be OK now that she is in a higher place. "I love you very much. I am happy you are with God. It's a lot better there."