'We Feel Safer in Israel': Nice's Jews Fearful But Defiant After ISIS-Claimed Truck Massacre
As red and white trains rattle along the tracks of the Gare de Nice-Ville station, a crowd of Jewish women and kippah-wearing men is gathering behind armed guards on Platform One to listen to Jewish community leaders, the local Rabbanim and the region's president Christian Estrosi.
The event is a memorial for Nice's Jews deported from the country under the Nazi regime during World War II. Commuters watch on as the crowd bursts into La Marseillaise, the French national anthem. The community has deep historical ties to the French Riviera city, dating back to the 9th century, and this rousing rendition is a symbol of the patriotism that the 25,000-strong Jewish community here holds.
"The Jewish community in Nice has historically always played an important role in social cohesion, in the economic development of the city and in their message for peace," Estrosi tells Newsweek. "Here, the Nazi barbary was more violent than anywhere else. This is why it is crucial that we show solidarity. Hurting a Jew anywhere in France or hurting a Jew in Nice is the same as hurting any single one of us."
With the memory of wanton Nazi murder remembered on Sunday, it is another form of barbary that Jews in Nice are now worried about: radical Islamism. After the Al-Qaeda-claimed Charlie Hebdo attack in Paris in January 2015, Jews were next to be attacked, at a kosher supermarket.
Nice's Jews are now worried that they could be the next victims in a city that has surfaced as a serious radicalization hotspot. Dozens of Nice citizens are believed to be fighting in Syria, and the Islamic State militant group (ISIS) has claimed the truck attack on Thursday that left at least 84 people dead, and dozens wounded, including five Jews.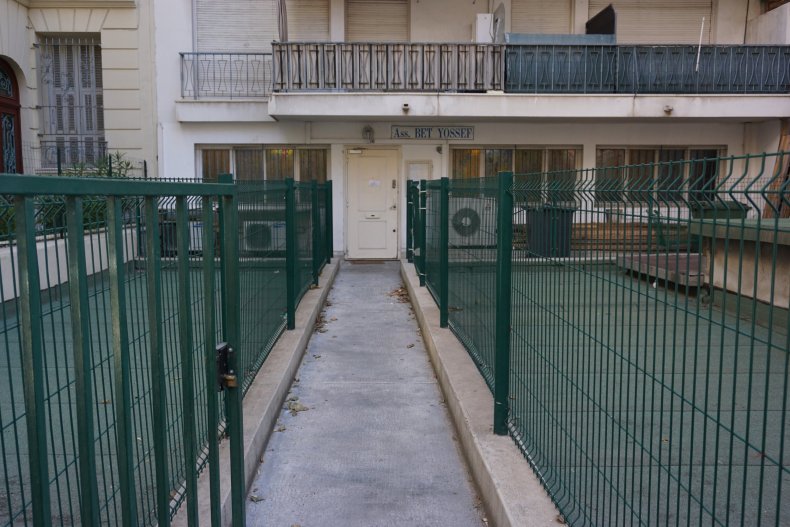 Jeremy Zaoui, the Sephardic rabbi of the Synagogue Corniche Fleurie in western Nice, says that the city's Jews "are very, very anxious" and, on Friday for his Shabbat service, almost half of his usual congregation attended.
"In my synagogue, in general, we have 150 people. People are not coming a lot, it's not like every Shabbat. There were maybe 80 people," the 31-year-old rabbi says. "People are scared, because in Paris, first it was all people, and after it was Jewish people."
Worshippers at the unassuming Synagogue Bet Yossef on the city's Rue Alexis Mossa feel the same way. An early morning prayer service is hidden by iron bars covering stained windows but as they emerge, they lament the lack of security from French authorities, warning that the community will dwindle unless urgent action is taken.
"The government have to do something very strong, if not, it is finished," says Gilbert, 55, who declines to give his last name for security reasons. "The reason to go to Israel is not just because there is a risk, there is another reason to go in Israel. We have a connection with Israel."
Others, like 70-year-old John-Pierre, who also declines his name, are more resistant to the idea of leaving now at such an age, saying that he is "not afraid because God is up. You have to continue life."
But thousands of France's Jews did not wish to continue their lives in France in 2015. Almost 8,000, a record number made up mostly of Parisians, moved to Israel last year and approximately a tenth of the community has emigrated to the country since 2000, according to the Jewish Agency, the official body that handles cases of aliyah to Israel, in partnership with Israel's Ministry of Aliyah and Immigrant Absorption. Further, more than 200 French Jews will be immigrating to Israel on Wednesday aboard the single largest French aliyah flight of this summer.
Now, the International Fellowship of Christians and Jews (The Fellowship), the body that has also been assisting French Jews to make aliyah to Israel, estimates that demand to move to the country will rise after Thursday's attack, despite receiving thousands of calls in a recent month. But the Jewish Agency says it is yet to report a notable increase after the attack.
"We would prefer that Jews immigrate to Israel out of a sense of attachment and a positive desire to live in the Jewish state, not because they are fleeing their countries of residence, and so we will continue to work with the French Jewish community to strengthen Jewish life in France, while assisting any French Jew who chooses to build his or her future in the Jewish state," says Avi Mayer, Jewish Agency spokesman.
Alexandre Aimo-Boot, president of Licra, the Ligue Internationale Contre le Racisme et L'Antisemitisme, 59, says he and his daughter "feel safer in Israel" than Nice but will remain in the city in defiance of growing extremism.
"Our heart is in Israel but we love here," he says. "They want us to be afraid, and if we are afraid, we are losing."
Members of the Jewish community, which has many synagogues and kosher shops dotted around the city, speak of segregation with the Muslim communities here, despite mosques and Jewish places of worship lying just minutes from each other in the city center.
"The people of Nice are not united. Not with the Muslims. With the Jewish, yes. But not with the Muslim. A lot of people want (National Front leader Marine) Le Pen here," says Zaoui, adding that he's on the side of Estrosi, a center-right politician. Both Zaoui, Aimo-Boot and Michael, a 75-year-old worshipper at Bet Yossef, speak of the danger of some of Nice's banlieues, such as L'Ariane, because of the high volume of the immigrant population living there.
"Muslim people feel kind of isolated. We have tried to get in contact more but they stay on their side," says Aimo-Boot. "We have to find a solution because we need to get together and fight terrorism together."
While there is a flicker of defiance among Nice's patriotic Jews, Aimo-Boot has a stark warning for the government.
"Everybody is shocked, I think people will think about moving to Israel in the next weeks, at the moment it's fresh. If they don't ensure the security, not only the Jewish people will leave, everybody will leave."