French Jews Are Moving To Israel; What Happens When They Get There?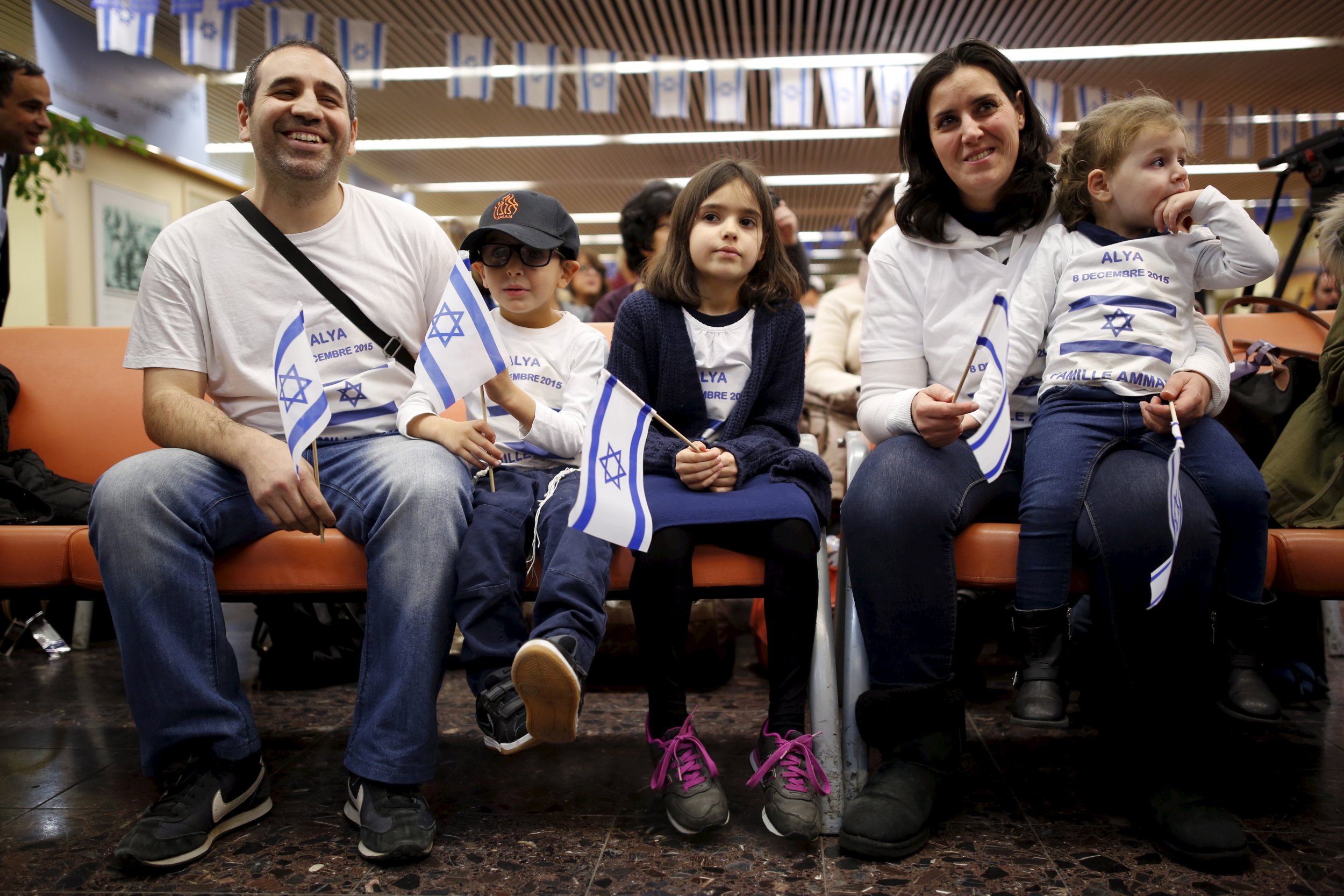 Updated | French Jews are moving to Israel in higher numbers than they have in at least a decade, which has led not only to more macaron shops and chic cosmetic stores, but also to concerns about finding jobs.
According to Israeli government figures, 7,469 French immigrants made aliyah (moved to Israel) in 2015. That number is up from 6,658 in 2014 and 3,263 in 2013. A decade ago, the number was 2,948. For the past two years, the French have been the largest immigrant group arriving in Israel, overtaking Russians and Ukrainians.
"What we are witnessing, in my opinion, is a whole shift in history," says Rabbi Yechiel Eckstein, founder and president of the International Fellowship of Christians and Jews (IFCJ), which helps people immigrate to Israel. Previously, Jews emigrated from Eastern Europe, North Africa and elsewhere in the Middle East, he says. "Now we're seeing waves from Western Europe, which we never thought we'd see—France, Belgium and I predict it's going to be others."
French immigrants to Israel (olim in Hebrew) are moving especially to the seaside cities of Ashdod and Netanya, likely because French-speaking immigrants from North Africa had previously settled there, as well as to larger cities such as Tel Aviv and Jerusalem and the smaller city Ra'anana.
One of Ashdod's newer French residents is Joel Laloux, who owned the Bataclan concert hall in Paris, which assailants targeted during the attacks last November. Laloux and his brother had sold the Bataclan last September and Laloux was already in Israel when the attacks happened.
Reached by phone from New York, Laloux says, slightly joking, that in some heavily French cities, "in the street in the middle of the city, in the center, if you speak Hebrew, maybe they don't understand you."
He says he chose to live in Ashdod because it seemed calmer than the kind of Parisian metropolis he was used to. "I didn't want a city like Tel Aviv. Why? It's because all my life I was in the entertainment and the gig and the theater [industries]." He lives with his wife and says some of his children have also moved to Israel, including a son who made aliyah last week. Laloux, 64, says he is in semi-retirement and continues to work in entertainment, booking smaller-scale gigs.
In phone interviews, multiple French immigrants and officials from aliyah agencies say that many restaurants in heavily French cities now include French on their menus, in addition to Hebrew and English. French advertisements appear in local publications, and new French bakeries are reportedly setting up shop. Even Ladurée, the renowned French macaron purveyor, plans to open in Tel Aviv, according to Haaretz. A Ladurée spokesperson tells Newsweek it expects to open sometime after September.
Ilan Taieb, who moved from Paris to Israel with friends two weeks ago, says by phone that he has been busy getting a driver's license, opening a bank account and finding an apartment. Unlike Laloux, Taieb says he craved the bustle of city life.
"I'm single, I'm 29, I have nothing to do in Netanya," Taieb says. "Tel Aviv is the city where everything happens in Israel."
News accounts have tied the so-called exodus from France to anti-Semitism. France has the largest population of Jews in Europe, but recent events there have left many Jews afraid: the 2006 abduction and killing of Ilan Halimi; the 2012 murders of a rabbi and three children at a Jewish school; the 2015 Paris attacks, including the killing of four Jews at a kosher market; and since October, attacks in Marseille on two Jewish teachers, a rabbi and two Jewish worshippers.
The Jewish Community Security Service, a not-for-profit, says there were 808 reported anti-Semitic incidents in France in 2015, nearly twice the number reported just two years earlier. In January, the nonprofit Human Rights First said, "An increasing number of Jews are relocating in or outside of France for security reasons."
But speaking with Newsweek, some French immigrants and aliyah agencies downplay the connection between immigration and anti-Semitism.
"Of course that has an effect, but I can't say that there's a direct [relation] between an attack and a wave of aliyah," says Yigal Palmor, director of public affairs and communications at the Jewish Agency for Israel, which has long helped people move to Israel. "People see the attack or are directly affected by some anti-Semitic events, then they just pack up everything and move? It doesn't happen like that."
Rather, Palmor says, the French are leaving mainly for job opportunities. According to the French government, as of 2012, the number of all French citizens living abroad had grown 60 percent since 2000, to 1.6 million, and more than half of those people said they moved for professional reasons or new experiences. Eight percent were living in the Near or Middle East.
Laloux, the former Bataclan owner, says anti-Semitism played little part in his decision to move. "I made aliyah because I worked all my life," he says. "I made my life in France and I love France. France gave me everything. But now it's time to go make a new life in Eretz Yisrael," he adds, referring to the land of Israel.
Laloux has previously dismissed the theory that the attackers in November targeted the Bataclan because he is Jewish and because it had once hosted an event related to Israel.
"I think you have many, many, many reasons," Laloux tells Newsweek, including that the venue is popular with the gay community. "If I'm Jewish and they did that, I think that you're right, it's one of the reasons," he says, "but it's not a direct connection."
Israel continues to endure its own violence against Jews. Since September, there have been 282 stabbings or attempted stabbings, shootings and car rammings, according to government figures. The government says the attacks have killed 30 people and injured 346. At least two people from the United States have been victims, one fatally, according to media accounts; People involved in French communities in Israel say that to their knowledge, no one from France has been a victim.
Officials at IFCJ and the Jewish Agency dismiss concerns that Israel is unsafe. "There really is a gap between the way Israel is perceived out of the country and the way it is when you're walking the streets of Tel Aviv or even in Jerusalem. There is a feeling of safety and security," says Jeff Kaye, executive vice president of IFCJ, who immigrated to Israel from Scotland. "This is a society that unites around times like this."
According to aliyah agencies and people in French expatriate communities, French immigrants generally seem more concerned with finding jobs and learning the language.
"The French are very bad at language," Patricia Hassoun, a French immigrant who with her family runs the Francophone website Ashdod Café, says by email. "The first problem is the Hebrew. Then it's the jobs, because if someone does not speak the language or master it sufficiently, it is difficult to integrate into Israeli companies."
Hassoun adds that work in Israel tends to pay less than in France. "The French are not always ready to lower their standard of living or roll up their sleeves" as previous immigrant groups have done, she says.
The Jerusalem Post recently reported that French medical professionals are having trouble securing licenses to work in Israel. YNet reported that about 70 percent of French immigrant dentists fail the theoretical dentistry test and about 90 percent fail the practical test.
Various agencies offer, rather competitively, to help immigrants find housing, learn Hebrew and adjust to Israeli life, a process the Israeli government calls "absorption."
"We don't just give them a plane ticket," says Eckstein of IFCJ, which had previously supported aliyah through the Jewish Agency and about a year ago opened its own aliyah program. "We're not going to let go until six months after your aliyah."
The Jewish Agency makes similar claims: "If you come with the Jewish Agency, the great advantage is that you're never alone. There's always someone there for you, from beginning to end," Palmor says.
Israeli officials have said they expect French immigration numbers to continue to grow. As of early February, 271 French immigrants had come to Israel in 2016, according to Israeli government numbers released to Newsweek.
"As a Jewish person, this is where I belong," says Taieb, the recent immigrant. "I don't speak the language, I don't know the country, I don't know the culture, but I feel like I'm home."
This article has been updated to include comments from a spokesperson for Ladurée.