'Inevitability' of Nice Attack Fuels Public Anger at Hollande's Leadership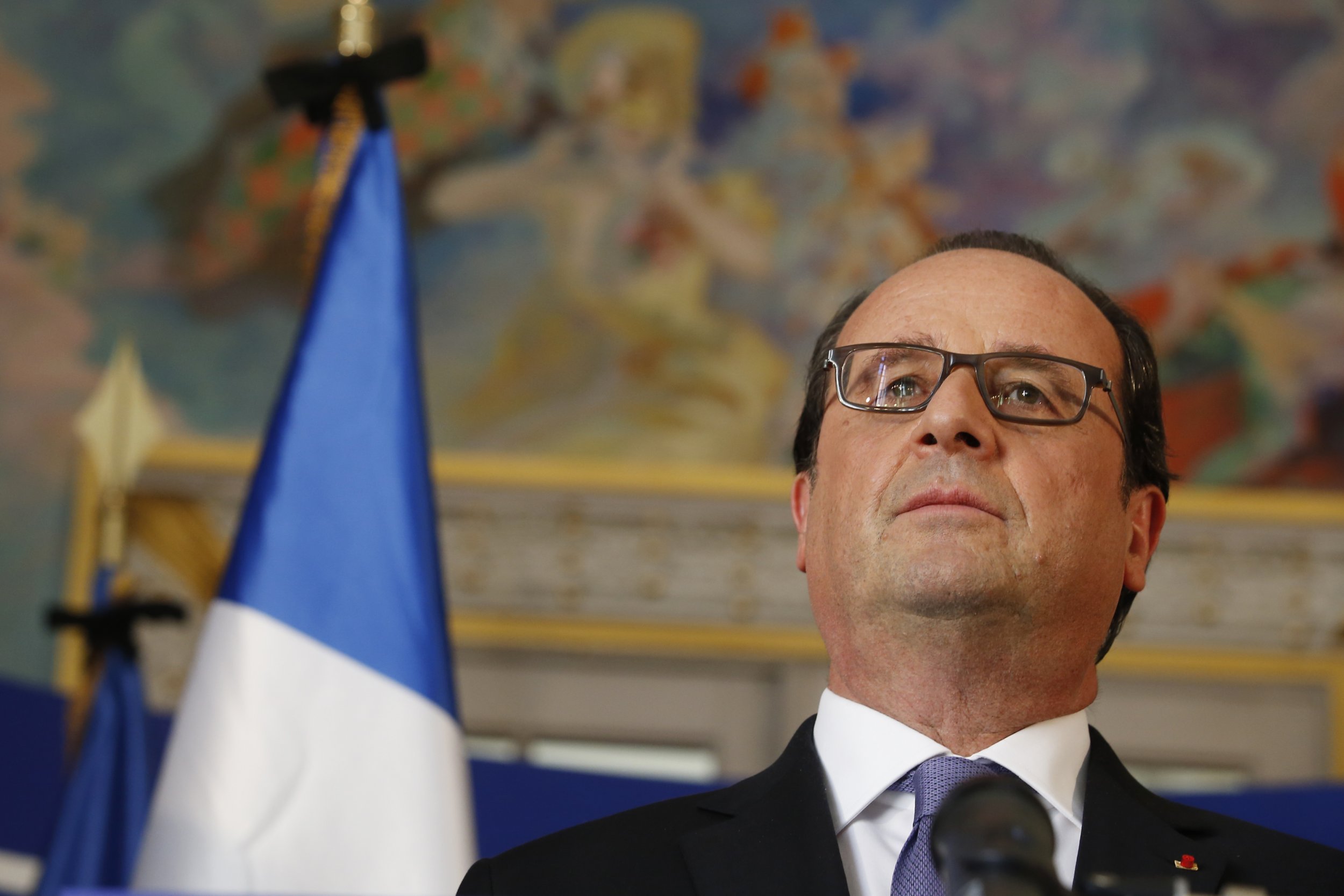 One man has silenced an entire city. Twenty-four hours after the horrific thuds of a 19-tonne truck ramming into revelers during Nice's Bastille Day fireworks, you can hear your own footsteps in the streets that jut off the usually bustling coastal city's balmy Promenade des Anglais, the scene of Thursday's attack.
Mohamed Lahouaiej-Bouhlel killed at least 84 people and left dozens fighting for their lives in his high-speed targeting of civilians, including several children, along this two kilometer stretch of road on Thursday night, before police brought the massacre to an end, shooting him dead.
The attack has not only left the city's residents and tourists wondering why someone would commit such an act in one of the French cites seemingly least-affected by radical Islamism, but how the country's leadership and authorities could have allowed it to happen in the crown jewel of the French Riviera.
The sombre mood of residents on the first and second days of a three-day national mourning period following the attack quickly turns to animation upon mention of socialist French President Francois Hollande or the center-right Regional President Christian Estrosi. Both men were booed as their convoys drove through Nice on Friday for being unable to protect the city.
Residents say that such an attack was expected and that the country's elite should have anticipated this morbid eventuality, especially as France remains under an eight-month-long state of emergency.
"There is a big radicalization in Nice. This is very important," says taxi driver Patrick, 51, who declined to give his surname. "Lots of people from Nice went to Syria and came back. There is another problem, it's not all Arabic people; it's not good to think that."
Raphael Abadie, a 31-year-old chef from Nice, who is reopening his restaurant on Saturday, ran into the sea to hide from Bouhlel after his truck passed "a few meters" in front of him and recalls that "everything was red" when he surfaced from the beach.
"In Paris, everybody was thinking about the next time will be in the south," he says, recalling his work in the city after November's attacks. "Maybe the festival of Cannes or Nice. So it was Nice, it's crazy and maybe so I think [Islamic State] want to show us they can attack everywhere.
"[Hollande] is not a good president for us, because he does nothing. The guy is lazy. Everybody doesn't understand why he stays as president so we want to change," he adds. "Today it is hard to speak about this because it is very ugly after the truck, but I think in a few days everybody will be angry."
The Islamic State militant group's (ISIS) Amaq news agency claimed Bouhlel as one of its "soldiers" on Saturday morning. This is the fifth attack the group has been linked to in France since January 2015. The country is the western target where the group has had the greatest success, killing more than 200 people, leaving Hollande's standing on security in tatters and a government in crisis, months before a general election due in April and May 2017.
Stefan Quincy, a 45-year-old Moroccan-French bartender at a pokey Tabac shop off the city's Boulevard Gambetta, says he will now be voting for Marine Le Pen's right-wing, anti-immigration Front National party because it will make life "better for French people." He laments Hollande's failure on security, vilifying him for being a reactionary leader.
"There was not good security. It's not normal. Not just in Nice but in France, there is not enough security for people," says Quincy. "Political people say they will do this, they will do that. They should do it before, not after. They are waiting for such things to then do something. French people are fed up."
Quincy speaks of radicalization already being a potent problem that authorities are not sufficiently dealing with in the city, jotting down the suburbs of L'Ariane, Les Moulins and Quartiers Nord—to the east, west and north of the city—on the back of a makeshift beer mat. He warns that these areas are so dangerous you need "someone that can protect you" to go there. In 2015, French authorities blacklisted 8,250 people on suspicion of becoming radicalized, but Bouhlel was not on that list.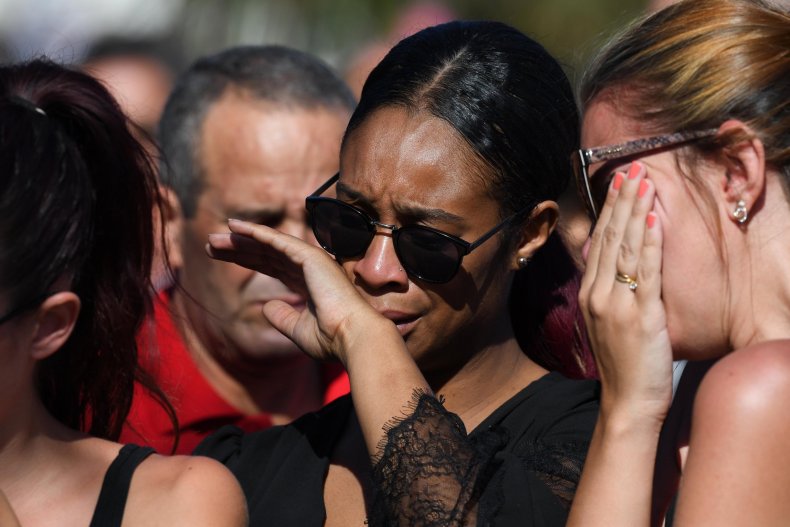 Hollande's reaction to the attack has been to repeat bellicose rhetoric about the war on extremism as he did after the Paris attacks, mobilizing the country's military reserves and announcing intentions to extend the country's state of emergency by another three months. He has said that the country will intensify its campaign against ISIS in Iraq and Syria. But this is the one policy that the residents of Nice say should end.
Magamed, a 31-year-old taxi driver from Chechnya who does not wish to provide his last name for security reasons, says Hollande must end the "guerre," or war, as it "brings many problems," while Adrien Moncomble, a 30-year-old roofer, says that if France continues its war, "a lot of incidents like the truck will arrive" in France and across Europe because "Daesh cannot survive in Iraq and Syria," using an Arabic acronym for the radical Islamist group.
His wife, a yoga teacher, believed that such an attack was only a matter of time, he says. "It's strange but maybe five hours before the attack came, we were on the Promenade des Anglais and she said it is a real target for Daesh. And I saw 'wow, why?', she said 'I don't know why but I am feeling this.'"
The anger in reaction to the attack is not limited to those who live in Nice, but manifests itself in a right-wing political opposition that has wasted little time in condemning the Socialist government of Francois Hollande and the country's security apparatus with just nine months until the country's presidential elections.
It's clear that the residents of Nice are united in their opposition of Hollande, who has endured some of the worst approval ratings in political history post-World War II, but where Quincy speaks of his support for the Front National, others caution against the party's rise and are uncertain of who should replace the embattled president.
"A lot of people start to think about Marine le Pen," says Abadie. "But this is extreme. This is like Donald Trump in America. So this is not very good for us. We have to have a new president; we don't have a name for a new guy, you know?"
Moncomble is of the same view: "If she wins the next election, it could be more attacks and more killings. Daesh will kill more people."
As the city comes back to life on Saturday with the zips of mopeds and chatter outside cafés returning, the French tricolour can be seen flickering out of the odd window along Nice's side streets. It is a symbol of a city that is proud of its country, but right now, not so much of its leader.