Piece Of The Berlin Wall With Message For Trump Goes On U.S.-Mexico Border Tour After White House Rejects 'Gift'
Protesters who tried to deliver a piece of the Berlin Wall to President Donald Trump earlier this month have taken the 2.7-tonne slab on a U.S.-Mexico border tour after the White House rejected their "gift."
Members of the Berlin-based pro-democracy group Die Offene Gesellschaft, or The Open Society, had flown the wall from Germany to New York before driving it to the White House on November 9, marking the 30th anniversary of the day the Berlin Wall fell.
The concrete slab had been inscribed with a clear message for Trump, asking him to honor the U.S.'s "dedication to building a world without walls."
"We really learned the hard way in Germany that walls shouldn't be a political solution," Philip Husemann, the managing director of Die Offene Gesellshaft, told Newsweek in an interview on Monday. "Of course, that is the big message we want to send."
Their missive, however, was quickly intercepted by Secret Service members, who were "very clear that they could not accept or deliver this quite heavy letter to President Trump," Husemann said.
Of course, the activist said, he and his fellow organizers had already anticipated that the White House might reject their gift.
"One thing which is interesting is that any gift that the president accepts or gets or receives is automatically not his property, but public property," Husemann said. "So, therefore, we thought, okay, this is not just a present to the president, but to the people, the citizens of the United States."
So, in order to spread their message that walls do not work, members of Die Offene Gesellshaft decided they would take their 2.7-tonne chunk of Berlin Wall on a tour across the U.S.-Mexico border.
"To us, it made sense to bring it all the way from the east coast to the west coast," Husemann said. "So, we drove it from [Washington] D.C. to San Diego and we had stops in El Paso and in Sunland Park in New Mexico."
"Of course, we want to give out the message that walls are not a solution," he said.
With the chunk of Berlin Wall having traversed the earth from Berlin to New York and then across the U.S.-Mexico border, organizers are now deciding what to do with their "letter" to Trump.
Husemann said the group has already received a number of requests, including one from a history professor at a university who hopes to see the slab put on display somewhere on campus.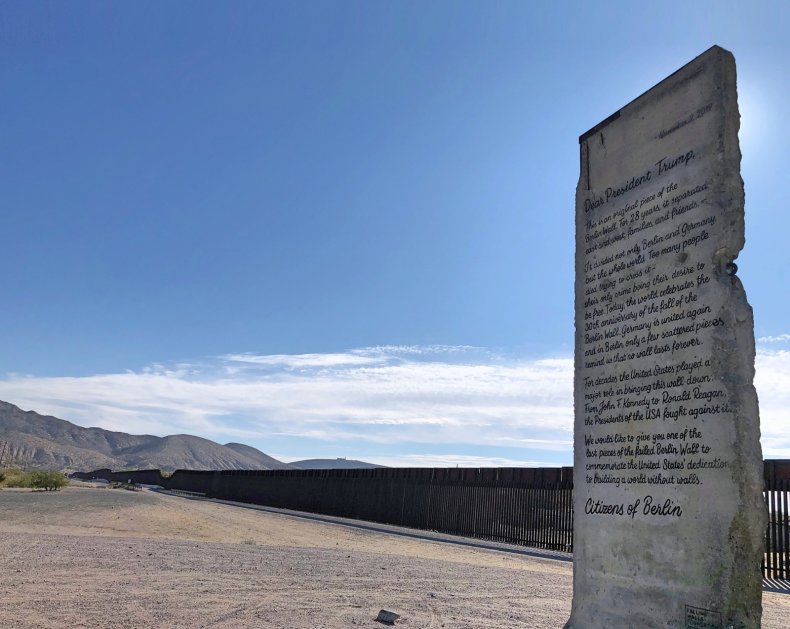 "We want to find the best solution, but most importantly it should be public and everyone should be able to see it and interact with it," Husemann said.
The more people who can grasp the wall's message, the better, he told Newsweek.
"We have a problem with mental walls," Husemann said. "We need to overcome these mental walls, as well as these physical walls and not build new walls."
Newsweek has contacted the White House for comment.