Berlusconi Wins Confidence Vote While Rome Burns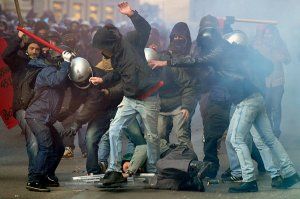 The smell of tear gas and thick black smoke from burning cars marked the first few hours of Silvio Berlusconi's new era in Italian politics. Italy's 74-year-old prime minister narrowly won back-to-back confidence votes in the Senate and lower house of Parliament amid shouts of "coward" and a barrage of insults lobbed at him from opposition lawmakers as they cast their votes. At one point, Berlusconi got up and left the chambers as parliamentarians heckled him. Gianfranco Fini, the speaker of the lower house, had to stop the voting to settle a scuffle between lawmakers after those accused of taking bribes from Berlusconi henchmen cast their votes in his favor. "Soon the prime minister will be able to go to a less pressurized place," former anti-mafia magistrate and opposition leader Antonio DiPietro said to whoops of applause. "Maybe the Bahamas."
Outside, a student protest against education cuts slowly spiraled out of control as anarchists who had infiltrated the group donned face masks and hurled paper bombs. At the news of the prime minister's survival, anti-Berlusconi protesters joined the students, and the 1,500 police officers in riot gear could not contain the growing crowds. A dozen police officers were injured and several protesters were arrested. The angry mob smashed shop windows decorated for Christmas, overturned motorcycles, and dumped manure along the normally busy Via del Corso. Shopkeepers pulled their grates and locked in frightened shoppers caught in the crossfire. Police used tear gas to break up the crowd, but the protesters still managed to light cars in Piazza del Popolo, Via Babuino, and along the Tiber River, filling the sky with thick smoke.
Meanwhile, as Rome literally burned, Berlusconi and his party immediately began negotiating with moderates to try to build stronger support. In the hours before the vote, he promised lawmakers that if they kept him in power, he would broaden his power base to include more of the moderate centrists who felt less at home supporting the center-left opposition. That promise paid off, and in the end, the swing voters supported the prime minister. But no one has any hope or illusion that this confidence vote will be the last. With the government holding just a three-vote majority in the Parliament, it will take very little to send the country into another crisis. "It's very bad for Italy," said James Walston, political analyst and professor at the American University in Rome. "It is simply more of the same, more instability, with the near certainty of a crisis coming up again in a month or two months' time."
Fini, whose brave intentions to oust his former ally fell flat, does not give this government much hope. "It won't be long until he realizes this isn't a clean win," Fini said of Berlusconi after the vote. "He cannot govern like this."
Berlusconi may have somehow managed to pull off the impossible by winning another chance to keep governing, even after a year of sex scandals and corruption allegations that would have easily unseated a leader in almost any other country. But the win isn't enough to allow him to lead, ensuring that he will be crippled for the rest of his mandate.
"This is not a loss for the opposition," former center-left prime minister Massimo D'Alema said after the vote. "It's a loss for the country."
Berlusconi Wins Confidence Vote While Rome Burns | World