Bernie Sanders Slams 'Wall Street Democrats,' Hints at 2020: 'Our Agenda Terrifies the Political and Financial Establishment'
Vermont Senator Bernie Sanders hinted at a 2020 presidential run while slamming the establishment in a fundraising email this week.
Sanders outlined what would inspire him to run in 2020 and re-emphasized his familiar message that he would take on Wall Street were he elected.
"Whenever I am asked about running for president in 2020, I answer that if I am the best candidate to beat Donald Trump, then I will probably run," Sanders's email read. "That is the truth."
In the email asking for small donations, Sanders then said that the elite in the United States would work to stop his candidacy.
"If that happens, the political, financial and media elite of this country will stop at nothing to defeat us. You know that," the email read, via PBS reporter Yamiche Alcindor. "We've lived through it together once before. Our ideas terrify them. So what they will do is try to divide us up with attacks—some old, some new—and our political opponents will spend obscene sums of money on ads to defeat us."
Sanders's email then noted that a centrist group called Third Way—which the email dubbed as "Wall Street Democrats"—was already running ads against him in early primary states.
"They not only want to discourage or defeat a Sanders candidacy, they want to make sure that the progressive agenda is not advanced by anyone," the email read.
Sanders wrote: "Our agenda terrifies the political and financial establishment of this country. But the truth is, their agenda should terrify all of us."
The message from Sanders went on to say that "their agenda," funded by wealthy contributors, has led to income inequality, massive health care costs and "grotesque amounts" of student debt.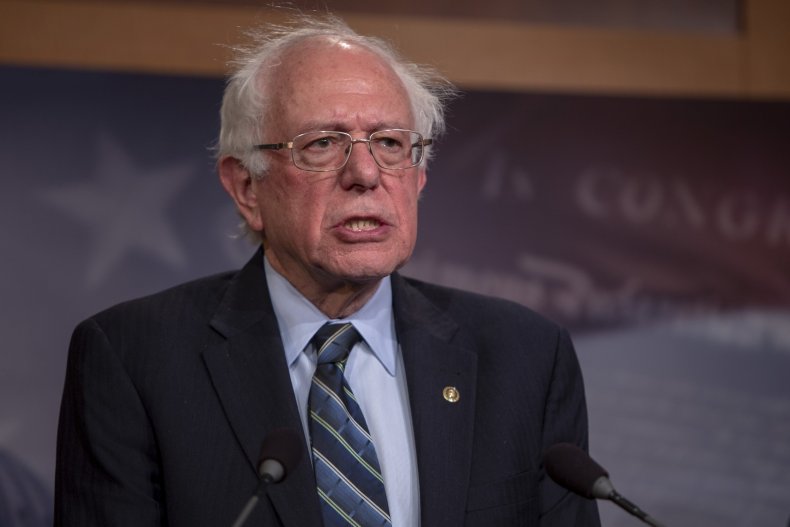 Matt Bennett, a spokesman for Third Way, claimed that the 2018 midterms showed that Sanders's approach was not the path to beat Trump. "It just is not what Democratic and independent voters want," he told The Hill. "So yes, it's an honor to be included in his fundraising effort—he clearly sees us as an influential critic."
Third Way seems committed to its attacks on Sanders, who, polls have shown, is one of the early leading potential Democratic candidates in 2020, alongside former Vice President Joe Biden and Texas Representative Beto O'Rourke.
Former Vermont Governor and Chair of the Democratic National Committee Howard Dean tweeted on Thursday: "It would be very helpful to the country if Third Way would stop attacking Bernie Sanders and if some of the more left elements would stop attacking Beto O'Rourke. One of them may well be our nominee and both are better than Trump."
In response, Third Way committed to going after Sanders.
"We have enormous respect for Gov Dean," the group tweeted. "But we disagree on this. Democrats must say no to litmus tests, but yes to vigorous debate about whose ideas are best to beat Trump. And Sen. Sanders' ideas were crushed in the midterms - they're not the way to win."