Some of the Democratic Party's top political voices were quiet on Monday as discussions buzzed about anti-government protests that erupted in Cuba over the weekend.
While several high-profile Republicans issued statements aligning with Cuba's latest protest movement, the absence of statements from politicians like Vermont Sen. Bernie Sanders and Rep. Alexandria Ocasio-Cortez of New York was noticed by the news media Monday morning, with Fox News suggesting in one article that they and other "Democratic socialists" decided to "ignore" the protesters' fight against their country's Communist government.
Sanders, an Independent who frequently aligns with Democratic policies, tweeted about "tremendous pain and suffering" in the U.S. caused by the coronavirus pandemic shortly before noon on Monday but did not issue a statement about the protests in Cuba. Ocasio-Cortez, who like Sanders has become a vocal advocate for left-leaning policies since she began representing New York's 14th District as a Democrat in 2019, tweeted about a new poll assessing support for police funding but did not address the recent events in Cuba.
Newsweek reached out to Sanders and Ocasio-Cortez for comment and will update this article with any response.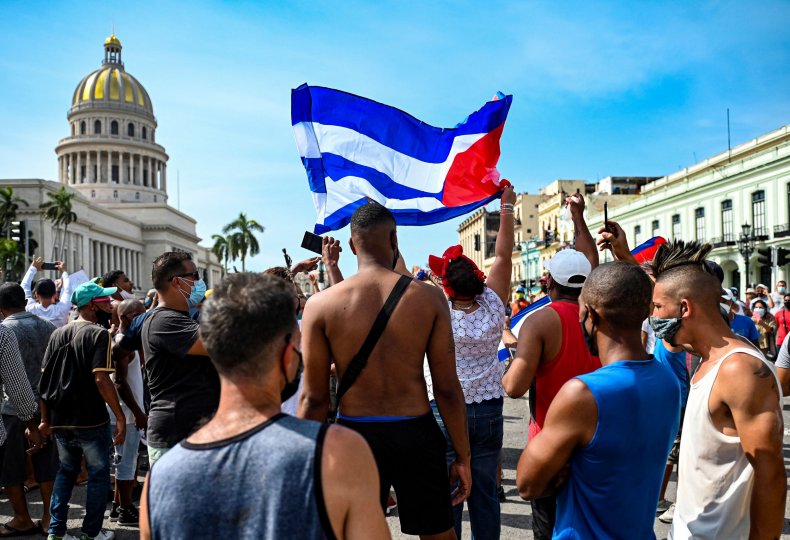 Both Sanders and Ocasio-Cortez have become known in recent years for their support of Democratic socialist policies, perspectives that conservatives in Washington, D.C. have often criticized. Despite the differences between Cuba's Communist government and socialism, some Republicans in Congress denounced socialism in statements announcing their support for Cuban protesters.
"Socialism promises guaranteed food,medicine & income if you give up your freedom," Florida Sen. Marco Rubio tweeted Monday morning. "When, as always, it fails to deliver you don't get your freedom back."
"Socialism leads to pain and suffering," Tennessee Sen. Marsha Blackburn tweeted on Sunday. "Will the Democrats acknowledge what is happening in Cuba? Will the media cover it?"
After sharing a Fox News article questioning Sanders' position on the Cuban protesters, Blackburn posted another tweet that said "Leftist Democrats need to decide if they'll stand with Cuba or stand against communism."
"The Cuban people are exemplifying great bravery as they take on their abusive communist regime," Blackburn added in another tweet on Monday.
Fellow Republicans Sen. Ted Cruz of Texas and Gov. Ron DeSantis of Florida also voiced their support for Cuba's protesters, though neither Cruz nor DeSantis mentioned socialism in their official statements.
In comments emailed to Newsweek, Cruz's office said Cruz mentioned Communism multiple times in the news release he issued Monday in response to the protests in Cuba.
"Sen. Cruz expressly mentioned Communism twice in the statement. Communism was mentioned 3 times in the press release overall, which is the same thing as socialism," an official with Cruz's office said.
Cruz also called on President Joe Biden's administration to "unequivocally and forcefully tell the world" that the American people "stand squarely with the men and women of Cuba and their noble fight for liberty."
Biden did so later Monday.
"We stand with the Cuban people and their clarion call for freedom and relief from the tragic grip of the pandemic and from the decades of repression and economic suffering to which they have been subjected by Cuba's authoritarian regime," Biden's statement said.
The president continued, "The Cuban people are bravely asserting fundamental and universal rights. Those rights, including the right of peaceful protest and the right to freely determine their own future, must be respected. The United States calls on the Cuban regime to hear their people and serve their needs at this vital moment rather than enriching themselves."
Updated 7/12 at 7:24 p.m. ET: This article has been updated to include comments from Texas Sen. Ted Cruz's office.