A question from Senator Bernie Sanders (I-Vt.) to Donald Trump's defense team prompted a heated moment on day four of the former president's impeachment trial.
The inquiry was made during the question-and-answer portion of the trial, which began around 3 p.m. on Friday. It is the only time lawmakers are allowed to ask questions, but they must be written inquiries. Under Senate rules they are not permitted to speak during the proceeding and if they fail to stay silent they could face jail time.
The question posed to Trump's attorney, which Michael van der Veen rose to answer, was, "The House prosecutors stated over and over again that President Trump was perpetrating a big lie when he repeatedly claimed that the election was stolen from him and that he actually won the election by a landslide. Are the prosecutors right when they claim that Trump was telling a big lie or in your judgment did Trump actually win the election?
"My judgment—who asked that?" van der Veen said.
"I did," Sanders yelled back.
"My judgment is irrelevant in this proceeding. It absolutely is," van der Veen said, which prompted audible groans from some members of the chamber.
"No, it isn't!" Sanders shot back.
The fiery exchange prompted Senator Patrick Leahy (D-Vt.), who is presiding over the trial, to pound his gavel and remind lawmakers they cannot challenge the content of the response made to their inquiries. Van der Veen then requested the question be read aloud again.
"In my judgment, it's irrelevant to the question before this body," van der Veen said. "What's relevant in this impeachment article is, were Mr. Trump's words inciteful to the point of violence and riot. That's the charge, that's the question and the answer is no."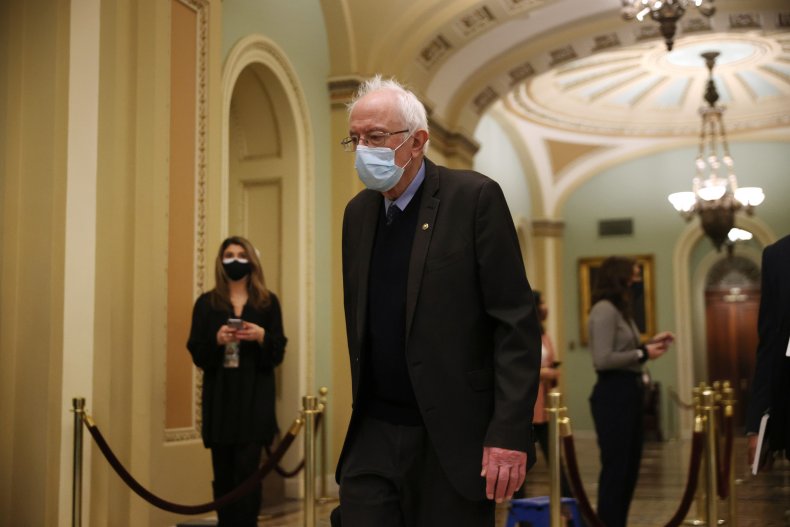 The question-and-answer portion of the proceeding began after both sides presented their case to the 100-member body. The Democratic House impeachment managers used up most of the 16 hours allotted to them while Trump's defense rested their case after just three hours.
Democrats will need 17 Republicans to join them in order to convict Trump, which could result in him being barred from holding political office in the future. But all signs point to the former president's acquittal. A final vote is expected to take place on Saturday.
In his closing argument, Trump attorney Bruce Castor Jr. reminded the senators that Trump had been threatening them with primary threats during his speech on January 6.
"Nobody in this chamber is anxious to have a primary challenge. That is one truism I think I can say with some certainty. But that's the way we operate in this country," Castor said.