Bernie Sanders Warns 'Authoritarian' Trump is Trying to 'Destroy Faith' in Democracy
Senator Bernie Sanders warned his supporters that President Donald Trump was trying to "destroy faith in democracy" by challenging key 2020 election results as part of a deliberate shift toward authoritarianism.
The former Democratic primary candidate added that the commander-in-chief was trying to undermine "the legitimacy of an election" as he sought to halt the counting of ballots in several battlegrounds by pursuing lawsuits in state courts.
The Quote
"This election is about many things, but it is mostly about protecting American democracy from a demagogue and an authoritarian. Every day, Trump undermines American democracy and our values."
The Vermont senator later added: "As all of you will remember, back in 2016, when Trump won Pennsylvania, Michigan, and Wisconsin, by a handful of votes, less than 110,000 votes combined, the election system then worked just great, perfect, no problems.
"But now that he appears to be losing, that very same system is a 'fraud.' And according to Trump, they are stealing the election.
"Undermining the legitimacy of an election, which Trump is doing now, and in fact has done for months, is how demagogues destroy faith in democracy and move us toward authoritarianism. Let us make sure that we do not let him get away with that."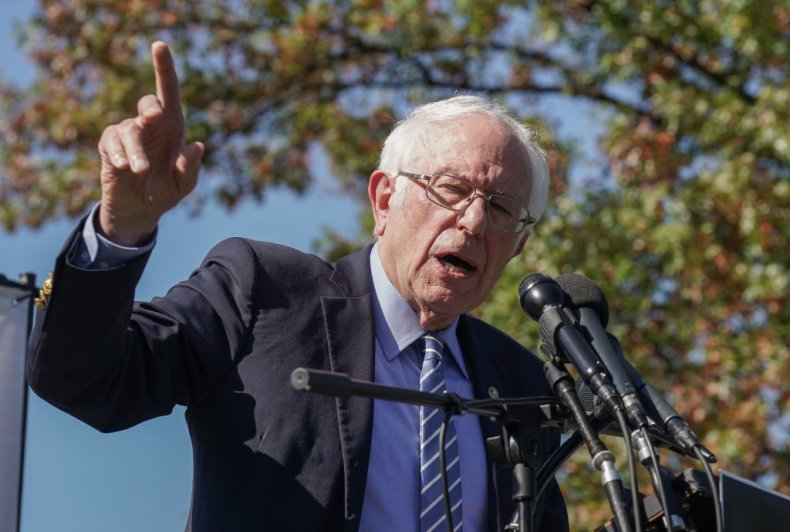 Why it Matters
The results of the 2020 presidential election are unclear three days after voters took to the polls on Election Day, with a handful of key battleground states still completing their tallies.
At the time of writing, the Democratic nominee Joe Biden's electoral college tally stands at 253 votes compared with Trump's 214 votes (according to NEP/Edison Research data) as races in Pennsylvania, North Carolina, Georgia, Arizona and Nevada still hang in the balance.
But in spite of the ongoing counting of votes, the president has repeatedly declared himself to be winner when supposedly "illegal votes" are discounted from tallies in crucial swing states.
"I easily WIN the Presidency of the United States with LEGAL VOTES CAST," Trump tweeted on Friday morning. "The OBSERVERS were not allowed, in any way, shape, or form, to do their job and therefore, votes accepted during this period must be determined to be ILLEGAL VOTES."
The commander-in-chief also delivered an election night speech in which he said the counting of ballots beyond Election Day had been a "fraud on the American public" while falsely calling himself the victor.
Counterpoint
The Trump campaign has filed several lawsuits raising issues with the counting of mail-in ballots and Republican poll watchers allegedly being blocked from having access to observe vote counting.
"President Trump's campaign has not been provided with meaningful access to numerous counting locations to observe the opening of ballots and the counting process, as guaranteed by Michigan law," Trump campaign manager Bill Stepien said in a Wednesday statement.
It was reported on Thursday that a Michigan state court judge had thrown out a lawsuit filed by the campaign that requested ballot counting be stopped until GOP poll watchers had proper access to counting stations.