Bernie Sanders Becomes Latest 2020 Candidate to Defend Tulsi Gabbard Over Russia Accusation: Here Are the Others
Senator Bernie Sanders this week became the latest 2020 Democratic candidate to rally behind Hawaii congresswoman Tulsi Gabbard after former Secretary of State Hillary Clinton suggested that she is really a "Russian agent" who's being groomed by foreign powers.
Clinton made the remarks about Gabbard, a military veteran, last week in a podcast with former Obama aide David Plouffe during a discussion about possible Russian interference in the upcoming 2020 presidential election. "They've got their eye on somebody who is currently in the Democratic primary and are grooming her to be the third-party candidate," the 2016 Democratic nominee said. "She's the favorite of the Russians. They have a bunch of sites and bots and other ways of supporting her so far."
Sanders took to Twitter on Monday to defend Gabbard from the attack, saying it is "outrageous" for anyone to suggest she is a "foreign asset."
"Tulsi Gabbard has put her life on the line to defend this country," the Vermont Senator added.
His remarks come after several other Democratic candidates⁠—including former Texas congressman Beto O'Rourke, South Bend Mayor Pete Buttigieg, and ex-entrepreneur Andrew Yang⁠—threw their support being Gabbard after Clinton's accusations last week.
"Tulsi Gabbard deserves much more respect and thanks than this," Yang tweeted on Friday. "She literally just got back from serving our country abroad."
O'Rourke echoed Yang's sentiments in an interview with The Hill over the weekend.
"Tulsi is not being groomed by anyone. She is her own person," O'Rourke said. "Obviously she has served this country, continues to serve this country in uniform, in Congress, as a candidate for presidency so I think those facts speak for themselves."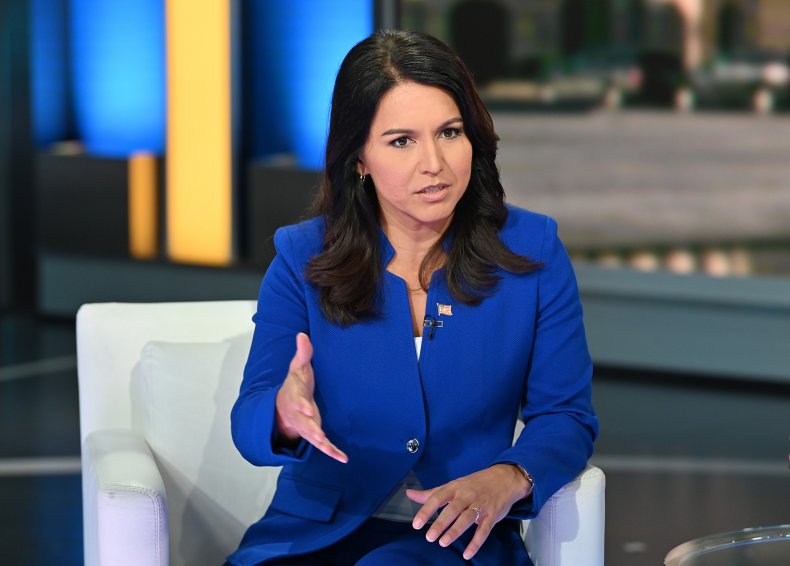 Author Marianne Williamson urged Gabbard to "stay strong" in a tweet on Friday, where she also called for the Democratic establishment to stop what she referred to as the "smearing of women it finds inconvenient."
"The character assassination of women who don't toe the party line will backfire," she added. "You deserve respect and you have mine."
Buttigieg dodged several questions on various Sunday talk shows asking him to comment on Clinton's allegations. However, on CNN's State of the Union, he eventually criticized Clinton for failing to produce evidence to back up her claims.
"Statements like that ought to be backed by evidence," he said. "I don't know what the basis is for that. I consider [Gabbard] a competitor. I respect her service... I would prefer we had arguments in terms of policy."
Former Maryland congressman John Delaney disagreed with Clinton's assessment but made clear that he respects her.
"I consider Tulsi to be a very good friend. As best I can tell, there's absolutely no basis for any of those allegations," he said, before noting that he was a "huge" Clinton supporter in 2016 and still holds her "in the highest regard."
Senator Elizabeth Warren and former Vice President Joe Biden, both tier one candidates, have remained largely silent on the issue.
Gabbard responded to Clinton on Friday afternoon in a series of tweets, where she called the former secretary of state "the queen of warmongers, embodiment of corruption, and personification of the rot that has sickened the Democratic Party for so long."
Nick Merrill, a Clinton spokesperson, fired back at Gabbard in a statement. "Divisive language filled with vitriol and conspiracy theories?" he said. "Can't imagine a better proof point than this."