Bernie Sanders Blasts Donald Trump's 'Trade Policy Based on Tweets,' Calls for Changes
Democratic 2020 presidential candidate Bernie Sanders took aim at President Donald Trump's trade policies and propensity to make public threats against trading partners via Twitter, while also calling for changes to U.S. trade policy.
Sanders, an Independent senator from Vermont, appeared Sunday for an interview with CNN's State of the Union. During the segment, the presidential hopeful was asked to share his perspective on Trump's recent threat to implement tariffs on Mexican imports if the vital U.S. trading partner did not take major steps to curb the flow of undocumented Central American migrants at America's southern border.
Although Mexico and the U.S. came to an agreement on Friday and the president withdrew the threat, the proposed plan was harshly criticized by Republicans and Democrats alike.
"You can't use [tariffs] to threaten," Sanders said. "You can't have a trade policy based on tweets. What you need is comprehensive trade policies which represent the working people of this country, and not just the CEOs of large corporations."
Newsweek subscription offers >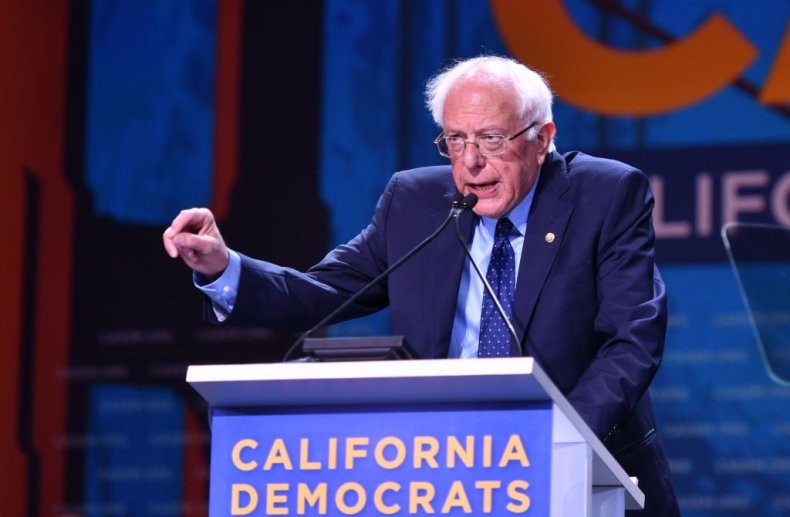 "So, do we need to change our trade policies so that we protect jobs in America?" the senator asked, before answering his own question: "Yes. Do we need to work with other countries to lift up the poorest people around the world? Yes, we do."
The self-described democratic socialist also took issue with Trump's "demonization" of migrants, saying that the president constantly tries to divide people for political gain. The influx of asylum seekers and undocumented migrants "is a serious problem, but it is not the kind of crisis that requires demonization of desperate people," Sanders said.
The president had threatened to implement 5 percent tariffs on all goods imported from Mexico starting on June 10 unless the North American neighbor took steps the White House deemed sufficient to address the issue of Central American migration. Trump had said the tariffs would be steadily increased to 25 percent if Mexican authorities didn't take serious action.
Newsweek subscription offers >
Business leaders and lawmakers from across the political spectrum strongly criticized the move, arguing it would work as a massive tax increase on Americans, who would be forced to pay significantly higher prices as a result. Some GOP lawmakers also argued that Trump's move represented overreach by the executive branch, as the president was threatening to combine trade policy with immigration. But on Friday, Mexico and the U.S. announced that they had reached an agreement and Trump said he was "indefinitely" withdrawing the tariff threat.
When it comes to immigration, Sanders has regularly pushed back against the president, evening calling him a "racist" for some of his hardline policies. At the same time, Sanders has voiced his opposition to completely open borders, arguing that too many poor people would come to the U.S.
"I think what we need is comprehensive immigration reform," the senator said in April. But he added: "Oh my god, there's a lot of poverty in this world, and you're going to have people from all over the world. And I don't think that's something that we can do at this point. Can't do it."
Correction: An earlier version of this article inaccurately stated that Sanders appeared on ABC News This Week. He was actually interviewed by CNN's State of the Union.
Bernie Sanders Blasts Donald Trump's 'Trade Policy Based on Tweets,' Calls for Changes | U.S.